Outils
FMcarte_INNOVER_19_oct_2011_198953.pdf (application/pdf Object) Com - Vos eBooks simplement. Tagxedo - Word Cloud with Styles. Générateurs en ligne. GENERATEURS en LIGNE Mise à jour le 15 avril 2014, proposez vos liens Vous trouverez également sur Liens Utiles une série d'outils et de convertisseurs en ligne.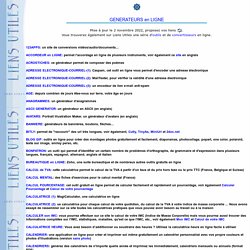 ACROSTICHES: ce générateur permet de composer des poèmes ADRESSE ELECTRONIQUE-COURRIEL-(1): Caspam, cet outil en ligne vous permet d'encoder une adresse électronique ADRESSE ELECTRONIQUE-COURRIEL-(2): autre générateur d'adresses codées permet également le codage de n'importe quel bout d'HTML. Using PBworks in Education. Using PBworks in your academic environments.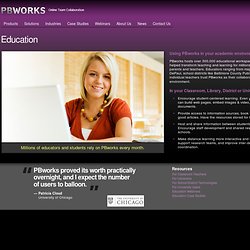 PBworks hosts over 300,000 educational workspaces, and has helped transform teaching and learning for millions of students, parents and teachers. Educators ranging from major universities like DePaul, school districts like Baltimore County Public Schools and individual teachers trust PBworks as their collaborative learning environment. In your Classroom, Library, District or University Encourage student-centered learning. Wiki : outil du travail collaboratif.
---