Tutorials
A very nearly invisible increase. Here is an increase which is as invisible as any increase can well be--the sort of increase you would do in the middle of a field of stockinette, should you ever need to do such a thing.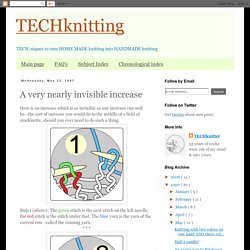 Step 1 (above): The green stitch is the next stitch on the left needle, the red stitch is the stitch under that. The blue yarn is the yarn of the current row--called the running yarn. The Fish - return! This is my version of tesselated fish.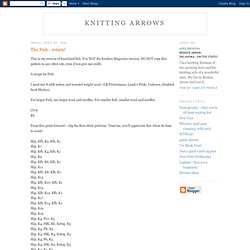 It is NOT the Knitters Magazine version. DO NOT copy this pattern to any other site, even if you give me credit. A recipe for Fish I used size 8 addi turbos and worsted weight wool. (LB Fishermans, Lamb's Pride, Unkown, Doubled Sock Merino) LANA GROSSA Knitting Tip Sewing on Sleeves. Perfect Seams Only neat, almost invisible seams finish off your knitted garment perfectly.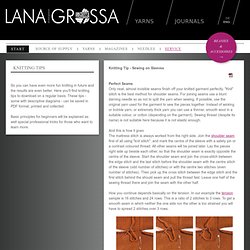 "Knit" stitch is the best method for shoulder seams. For joining seams use a blunt darning needle so as not to split the yarn when sewing. If possible, use the original yarn used for the garment to sew the pieces together. Instead of wicking or bobble yarn, or extremely thick yarn you can use a thinner, smooth wool in a suitable colour, or cotton (depending on the garment). Silver's Sock Class. These patterns are sized for the average adult foot, male or female, and will fit a very wide range of feet.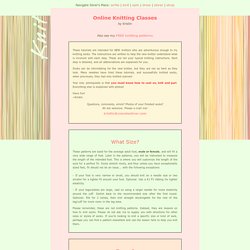 Later in the patterns, you will be instructed to measure the length of the intended foot. This is where you will customize the length of the sock for a perfect fit. Socks stretch nicely, and thus unless you have exceptionally sized feet, fit should not be an issue... with the following exceptions: Magazine - Short rows for bust shaping (technique feature)
Short Rows for Bust Shaping Short rows have lots of uses.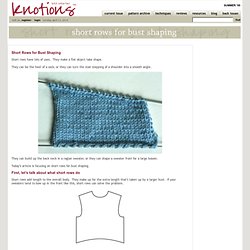 They make a flat object take shape. They can be the heel of a sock, or they can turn the stair stepping of a shoulder into a smooth angle. DROPS Tutorial Videos. A crochet cobweb.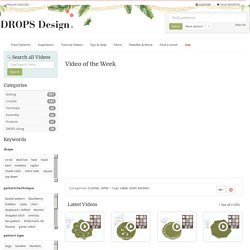 A crochet fly A crochet spider A little crochet decoration heart.
---