Video
TubeChop: Chop YouTube Videos - tubechop. New Video: Video Editing Explained by Common Craft. What it Teaches: We are shooting and sharing video more than ever before.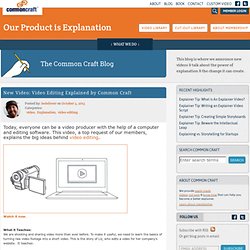 To make it useful, we need to learn the basics of turning raw video footage into a short video. This is the story of Liz, who edits a video for her company's website. It teaches: The Mad Video inc - Interactive Video Platform. WireWAX - interactive video tool. VideoANT - Video Annotation Tool [Academic Technology Services, UMN] Bookmarklet to Directly Download Videos from YouTube, DailyMotion, Facebook, Vimeo, and more. Play & create video trivia games. 8 Great Tools for Teachers to Add Interactive Animations to Videos. Gone are the days when you would have to pay so much to buy a software to create videos.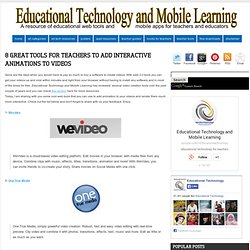 With web 2.0 tools you can get your videos up and viral within minutes and right from your browser without having to install any software and in most of the times for free. Educational Technology and Mobile Learning has reviewed several video creation tools over the past couple of years and you can check this section here for more resources. Today, I am sharing with you some cool web tools that you can use to add animation to your videos and render them much more interactive. Check out the list below and don't forget to share with us your feedback.
Enjoy. YouTube. Description This is an opt-in beta for a simple Video Questions Editor on YouTube.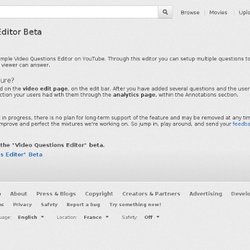 Through this editor you can setup multiple questions to be displayed on top of your video during playback that a viewer can answer. How can I use this feature? The editor itself can be found on the , on the edit bar. Index. CaptionTube: Home. YouTube Face Blurring Tool Now Available. YouTube Face Blurring Tool Privacy is one of the most pressing issues in today's insanely public world.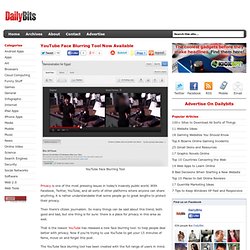 With Facebook, Twitter, YouTube, and all sorts of other platforms where anyone can share anything, it is rather understandable that some people go to great lengths to protect their privacy. Then there's citizen journalism. So many things can be said about this trend, both good and bad, but one thing is for sure: there is a place for privacy in this area as well. That is the reason YouTube has released a new face blurring tool: to help people deal better with privacy.
Splicd · Get Straight To The Point. Video Editing By Magisto | An Automatic Online Video Editor. WeVideo - Collaborative Online Video Editor in the Cloud. Free Online Video Editor/Converter. Video Editor. Lightworks. Overstream -- Welcome. Viewbix - Empower your video. Add apps to any video: YouTube, Vimeo, Facebook. Add a call-to-action. Easiest Video Creation and Sharing Platform. This is Dragontape. Research Cliplets.
EmbedPlus - Video editing, chopping, looping, annotations, slow motion, and chapters tool for YouTube embeds and WordPress video plugins. Chop YouTube Videos. vReveal Video Enhancement Software - Fix Dark, Shaky, Noisy, Blurry, Low-Resolution Videos | www.vreveal.com.
---