Collaborating
5 Great Sites for Student Collaboration. The education technology revolution has been fantastic in helping teachers get closer to students and communicate with them better, but another commonly overlooked benefit has been its ability to get students collaborating successfully and productively with one another.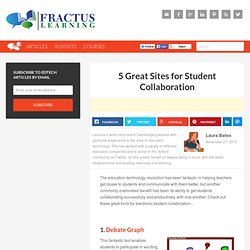 Check out these great tools for electronic student collaboration… 1. Debate Graph. Answers. Grockit Answers is just-in-time Q&A for video lectures.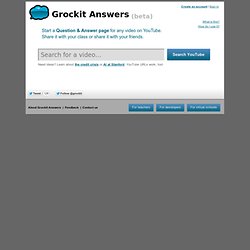 In Grockit Answers, interactions happen around video lectures, and participants ask and answer questions about specific points in the lecture. Since every question is attached to a specific point in time in the video, Grockit Answers displays a question and its answers at the point in the lecture that they are most relevant. And since the things that confuse you are likely to be the same things that confuse others, you'll find that answers to your own questions pop up on the screen just as you're starting to get confused. Leanback. A b c.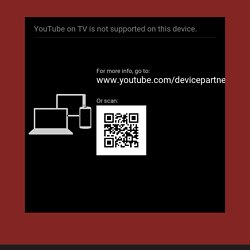 Enjoy synchronized Videos With Friends. Watch2gether.com - Watch videos. Together. Collaborize Classroom | Online Education Technology for Teachers and Students. Wiggio - Makes it easy to work in groups. Meetings.io. MySimpleSurface.com - agile management utility.
---