Tech Teaching Tools
Offliberty - evidence of offline life. Help Center. Teaching with Video - Educators sharing experiences using GoAnimate For Schools. Kerpoof provided a fun, flexible tool that allowed its users to spell a picture, make a movie, make a drawing, and tell a story.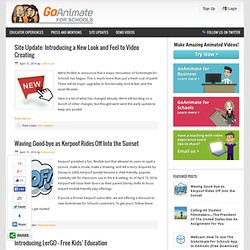 Acquired by Disney in 2009, Kerpoof quickly became a child-friendly, popular creativity site for classroom use in the K-8 setting. As of April 15, 2014, Kerpoof will close their doors as their parent Disney shifts its focus toward mobile-friendly play offerings. If you're a former Kerpoof subscriber, we are offering a discount to new GoAnimate for Schools customers.
To get yours, follow these easy steps to get started: PowToon, free business presentation software animated video maker and PowerPoint alternative. iPad Presentation Support Page - Kathy Schrock's iPads4teaching. PART 2 iBooks Author Tutorial - Create a Custom Template. PART 1 iBooks Author Tutorial - Create a Custom Template. Technology and Education | Box of Tricks. Latest update 4th June 2013 - These are some of the best free internet resources for education.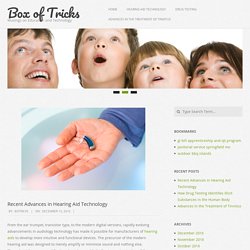 This page is constantly updated; every time I come across a new piece of software or an exciting website, I list it here. This list is not exhaustive in any way. In fact, if you think there is a tool or application for use in education that should be added to this list, please don't hesitate to get in touch and suggest it! Visible Tweets – Twitter Visualisations. Now with added prettiness! Create. Great Tech Tools. Used wisely, technology empowers students to take responsibility for their own learning.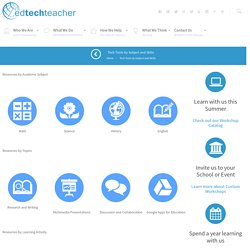 In Leonardo's Laptop, Ben Shneiderman provides teachers with a powerful framework, Collect-Relate-Create-Donate (CRCD), for designing student-centered learning opportunities using computers. In particular, Shneiderman's CRCD framework emphasizes the importance of the social aspects of learning in generating creative work. In CRCD projects, students research information, work collaboratively to create a meaningful product that demonstrates their learning, and contribute that project to a larger learning community. Google Url Shortener.
Symbaloo | Access your bookmarks anywhere. 50 Ways to Use Wikis for a More Collaborative and Interactive Classroom. Wikis are an exceptionally useful tool for getting students more involved in curriculum.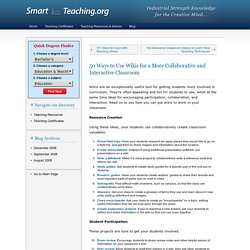 They're often appealing and fun for students to use, while at the same time ideal for encouraging participation, collaboration, and interaction. Read on to see how you can put wikis to work in your classroom. Resource Creation Using these ideas, your students can collaboratively create classroom valuables. 5 Ways Apps Fit Into Curriculum and Learning Strategies. As the recently released "2012 Horizon Report: K-12 Edition" suggests, mobile devices and apps will become mainstream in a year or less.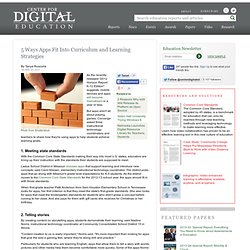 But apps aren't all about playing games. Converge asked three instructional technology coordinators and teachers to share how they're using apps to help students achieve learning goals. 1. Diigo - Web Highlighter and Sticky Notes, Online Bookmarking and Annotation, Personal Learning Network. Delicious.com - Discover Yourself! PBworks | Online Team Collaboration. Organize your resources in an online binder - LiveBinders. FindingDulcinea | Online Guides | Internet Library | Web Resources. Glogster EDU - 21st century multimedia tool for educators, teachers and students | Text, Images, Music and Video.
Artful storytelling. Zotero | Home. Track Changes on an iPad with Office2. For many academics, the ability to track changes and otherwise make comments on a shared document is an essential part of one's work.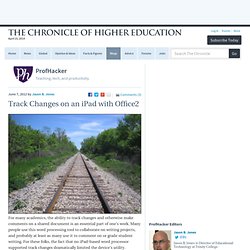 Many people use this word processing tool to collaborate on writing projects, and probably at least as many use it to comment on or grade student writing. For these folks, the fact that no iPad-based word processor supported track changes dramatically limited the device's utility. Mac OS X keyboard shortcuts. To use a keyboard shortcut you press a modifier key with a character key.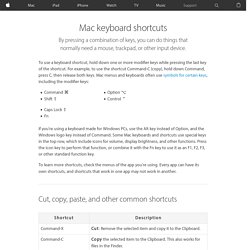 For example, pressing the Command key (it has a symbol) and then the "c" key copies whatever is currently selected (text, graphics, and so forth) into the Clipboard. This is also known as the Command-C keyboard shortcut. A modifier key is a part of many keyboard shortcuts. A modifier key alters the way other keystrokes or mouse/trackpad clicks are interpreted by OS X. How to Use Google Search More Effectively [INFOGRAPHIC] Among certain circles (my family, some of my coworkers, etc.)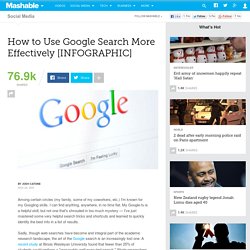 I'm known for my Googling skills. I can find anything, anywhere, in no time flat. Teaching with Evernote: A 6th and 8th Grade Science Teacher Shares His Top Tips (Back-to-School Series) Posted by Kevin Buran on 30 Aug 2011 Comment Bio Kevin Buran teaches 6th and 8th grade science to students at Carmel Middle School.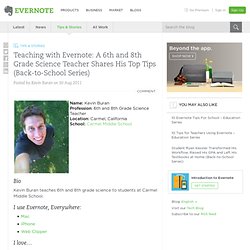 I use Evernote, Everywhere: Home. 62 EdTech Resources You May Have Missed–Treasure Chest June 12, 2011. Welcome to this week's edition of Treasure Chest—62 EdTech Resources You May Have Missed.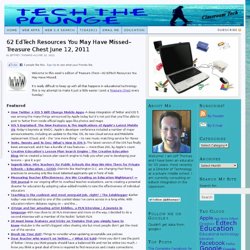 It's really difficult to keep up with all that happens in educational technology. This is my attempt to make it just a little easier. I post a Treasure Chest every Sunday! Featured. Developing a Digital Classroom – Working Smarter Not Harder – Part 1. So in this first of many in the series, I would like to cover some of the simple and easy things you can do to help bring some of your course content into the digital age. Specifically, ways you can connect with students at their level, and still maintain your own sanity. Technology is all about us, and many people feel overwhelmed when it comes to solving pedagogical problems.
You might be looking at some of this technology or some of my advice and think, "Where do I even begin?"
Flipped Classroom. Tech Teaching Tool Links. Page 1/20 1. While we are waiting...2. BASD Technology Wikispace3. Discovery Education's Puzzlemaker: Create your own cross word puzzles! Pixton - Comic Making Tool. 92 Teen Text Terms Decoded for Confused Parents | Techland | TIME.com | TechTalk. 7 Ways To Keep Students Focused While Using Technology. When used effectively, technology plays an important role in enhancing the learning process. Teachers can use digital devices to present supplemental material for lessons or to encourage students to take a more hands-on role in their education.
Even with all of the benefits of technology in the classroom, however, educators must use caution to ensure that students are focusing on the lesson and not giving in to distractions.
---