Startup Stories
Get flash to fully experience Pearltrees
Today, Keynotopia is two months old. What started as a single blog post last June became a product that got over 1,500 customers in the first 60 days. Before jumping into the story and lessons learned, here are some quick stats: Total time spent creating the minimally viable product: less than 3 hours Total startup cost: $47.50 ($5 hosting, $7.50 domain, and $35 wordpress theme) First paying customer within 10 minutes of launch Copies downloaded in the first 60 days: 1,491 Page views on the original blog post: 40,894 Unique visitors to Keynotopia: 19,235 Link backs/mentions: 769 Total product returns: 2 Total variations/tests on the landing page: 29 Made it to Google's first results page in less than 2 weeks for the following search terms: iPad prototyping, iPhone prototyping, Android prototyping, Keynote prototyping, Keynote wireframes, … I've never sold any products in my life (except my old laptops on eBay and CraigsList).
Editor's note : The following excerpt is from Mastering The VC Game , a new book by Jeffrey Bussgang that goes on sale Thursday. It tells the backstory of Twitter from the perspective of founder Jack Dorsey , from his early obsession with couriers and his attempts to create a better dispatch system to his "Aha" moment with Twitter ("What if we simply set status, archive it on the Web, use SMS to do it, and it all happens in real time?") to why the company picked Fred Wilson of Union Square Ventures as its first venture investor ("I want a VC who is always thinking a few steps ahead of me"). Bussgang interviewed both men, and details how the VC and entrepreneur clicked in the second half of this excerpt. The first part recounts the tale of how Dorsey came to invent Twitter. Bussgang is a general partner at Flybridge Capital Partners and previously co-founded Upromise , the college savings service which was bought by Sallie Mae.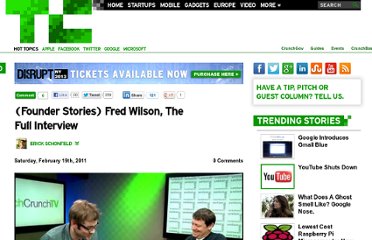 What was the best business decision VC Fred Wilson ever made? What was the worst? What part of his job does he dislike the most? The answers might surprise you. In the video above, Wilson answers some rapid fire questions (delivered in a not-so-rapid fashion) from Founder Stories host Chris Dixon.
The founder was home in his kitchen cooking dinner when the call came. It was one of those moments when the color seems to drain out of the food in front of you. The voice on the other line was the contact at the company that has been trying to acquire his small startup for several months. "Our engineers looked at what you showed us during the due diligence and told our CEO, 'It doesn't look so hard, we can build it ourselves.'" His thoughts flashed to the NDA the two companies had signed. He tried to focus on not exploding in a stream of curses.
Update: This article is now available as a 63-page e-book on Amazon's Kindle bookstore. Zynga has turned the video game world upside down in its short five-year history. As it's poised on the verge of a massive initial public offering, the social game startup is now one of gaming's great success stories.