Skillshare
How Skillshare Solved Their Chicken and Egg Problem | Matthew Moore Design. The chicken and egg problem is common for a user generated content driven startup.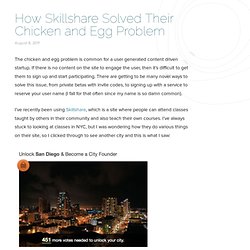 If there is no content on the site to engage the user, then it's difficult to get them to sign up and start participating. There are getting to be many novel ways to solve this issue, from private betas with invite codes, to signing up with a service to reserve your user name (I fall for that often since my name is so damn common). I've recently been using Skillshare, which is a site where people can attend classes taught by others in their community and also teach their own courses. I've always stuck to looking at classes in NYC, but I was wondering how they do various things on their site, so I clicked through to see another city and this is what I saw: Skillshare's Users Are Solving the Company's Problems. By Erin Griffith On March 7, 2012 When your startup focuses on feel-good stuff like sharing, community, giving, teaching, and learning, there's an unplanned benefit attached: Your sharing, giving, teaching users may end up solving some difficult problems for you.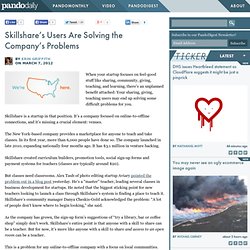 Skillshare is a startup in that position. It's a company focused on online-to-offline connections, and it's missing a crucial element: venues. The New York-based company provides a marketplace for anyone to teach and take classes. Why don't you have a search feature? Why College Is Overrated - Education. We need to debunk the myth that a college degree leads to success.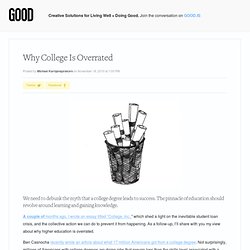 The pinnacle of education should revolve around learning and gaining knowledge. A couple of months ago, I wrote an essay titled "College, Inc.," which shed a light on the inevitable student loan crisis, and the collective action we can do to prevent it from happening. As a follow-up, I'll share with you my view about why higher education is overrated. Ben Casnocha recently wrote an article about what 17 million Americans got from a college degree.
Not surprisingly, millions of Americans with college degrees are doing jobs that require less than the skills level associated with a bachelor's degree: Alexandre Dana's answer to Skillshare: How does skillshare.com make money. Skillshare. Potential Skillshare Classes. Skillshare Raises $3.1 Million to Turn Everyone Into Teachers. SkillshareA Skillshare class on baking scones.
Would-be bed-and-breakfast owners can turn to Airbnb to get their operations off the ground, and basement inventors have Kickstarter to test the waters and see if their creations have a market. Now, Skillshare is hoping to turn the average person with a bit of know-how into a teacher. The service, based in New York, lets people sign up to teach and attend short classes that touch on subjects as diverse as beer tasting, photography, programming and making baby food from scratch.
Michael Karnjanaprakorn: Let's Start a Learning Revolution. College, Inc: The Animation Video by Michael Karnjanaprakorn. WHAT'S THE PROBLEM?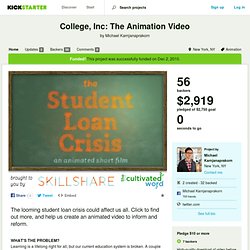 Learning is a lifelong right for all, but our current education system is broken. A couple of months ago, I wrote an article titled, "College, Inc. " which talked about the problems with our higher education system. Today, the pinnacle of education is getting into college, and not about learning. In this day and age, the skyrocketing cost of a college education heavily outweighs the value it provides.
All told, some 17M Americans with college degrees are doing jobs that require less than the skill levels associated with a bachelor's degree. Skillshare Founder, Champion of Lean Start-Up Mantra, On Why He Needed That $3 Million | Betabeat — News, gossip and intel from Silicon Alley 2.0. By Adrianne Jeffries 8/17/11 8:00am Share this: Skillshare CEO Mike Karnjanaprakorn with Skillshare friend, investor and office mate Zach Klein.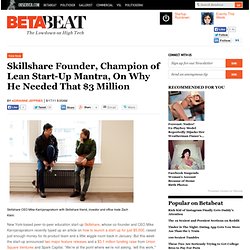 See What Zach Klein Just Did There With His SkillShare Scholarship? | Betabeat — News, gossip and intel from Silicon Alley 2.0. By Nitasha Tiku 8/10/11 5:47pm Share this: Les savvy fav.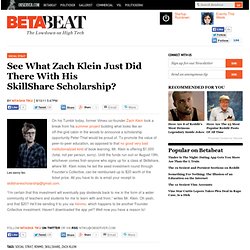 On his Tumblr today, former Vimeo co-founder Zach Klein took a break from his summer project building what looks like an off-the-grid cabin in the woods to announce a scholarship opportunity Peter Thiel would be proud of. To promote the value of peer-to-peer education, as opposed to that no good very bad institutionalized kind of book learning, Mr. About. Education is what someone tells you to do.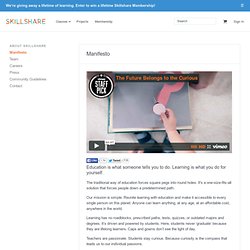 Learning is what you do for yourself. The traditional way of education forces square pegs into round holes. It's a one-size-fits-all solution that forces people down a predetermined path. Our mission is simple. Skillshare Unveils a New Online Experience. 30 November '11, 04:15pm Follow The Web has brought human beings together in a tremendously powerful way.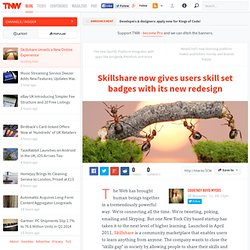 We're connecting all the time. Skillshare: Non-Traditional Education 2.0. The concept behind Skillshare is simple: empower everyone to teach anything, anywhere.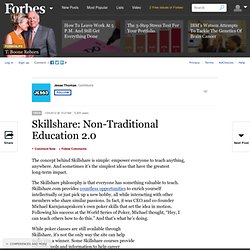 And sometimes it's the simplest ideas that have the greatest long-term impact. The Skillshare philosophy is that everyone has something valuable to teach. Skillshare.com provides countless opportunities to enrich yourself intellectually or just pick up a new hobby, all while interacting with other members who share similar passions. Penny Conference 2012 | Skillshare. Let's Start a Learning Revolution. P2P Learning Startup Skillshare Gets $550,000 From Founder Collective and SV Angel.
Peer-to-peer education startup Skillshare, which just launched in April, raised a $550,000 angel round, according to an SEC filing. Investors in the New York City startup include Founder Collective, SV Angel, Collaborative Fund, David Tisch, and Scott Heiferman. Skillshare is a community where people can offer classes to other members. People sign up online, and meet in person for real classes for everything from how to bake cupcakes to how to get startup funding. Classes to learn anything from anyone.
Does Skillshare allow or plan to allow online streaming of lessons. The Future Belongs to the Curious.
---