Around product updates/culture/milestones
The Word of Notch. Let's say you're Neo, and you were the first person ever to come up with the idea of a novel.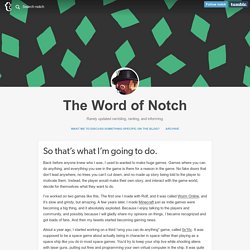 It's like a short story, but longer, and you're really proud of it. Trinity then runs up to you and takes one of the few printed copies of your novel. You don't want her to do that, as you paid good money to have it printed, and was hoping to get that money back, so you taze her. Trinity tried to commit theft. She sulks for a bit, then asks if she can borrow one copy to read it. Foursquare Blog. The Dropbox Blog. Svpply. Disqus: The Official Blog. GroupMe Blog. Hashable Team Blog. The Official SoundCloud Blog.
---