Google + & Learning
18 Ways Teachers Can Use Google+ Hangouts. Whether you teach online classes or just love bringing social media and technology into the classroom, Google offers up some amazing tools to help you get students thinking, learning, connecting, and sharing.
One of the newest, and perhaps the coolest, additions to Google's suite of online tools is the recently updated Google+ Hangouts. Through Hangouts, up to ten users can video conference at once, and the service is easily connected to existing Google+ circles, offering up a whole host of exciting ways teachers can make use of it for educational applications. If you haven't tried out Google+ Hangouts yet, take the time to learn more about it and consider some of these amazing ways you can use it to add to your existing curriculum and make class time easier, more fun, and a more rewarding experience for you and your students alike. 25 Great Google+ Tips for Teachers. Some schools are just getting on board with Facebook and Twitter, but now there's a new kid in town: Google+, a social network poised to make a difference, especially for educators.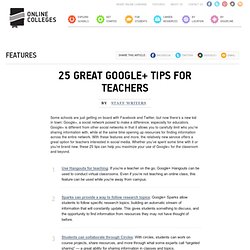 Google+ is different from other social networks in that it allows you to carefully limit who you're sharing information with, while at the same time opening up resources for finding information across the entire network. With these features and more, the relatively new service offers a great option for teachers interested in social media. Whether you've spent some time with it or you're brand new, these 25 tips can help you maximize your use of Google+ for the classroom and beyond. Will Google+ Replace Twitter or Facebook for Teachers? Digital Tools It's been almost two weeks since the launch of the "field trial" of Google's new social network, Google Plus.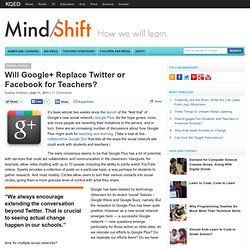 As the hype grows, more and more people are receiving their invitations to the service, and in turn, there are an increasing number of discussions about how Google Plus might work for teaching and learning. (Take a look at this collaborative Google Doc that lists all the ways the social network site could work with students and teachers.) The early consensus seems to be that Google Plus has a lot of potential, with services that could aid collaboration and communication in the classroom. Google+ and Privacy: Better for Educators? One of the biggest ongoing concerns surrounding social networking continues to be questions of privacy -- users' private conversations or users' personal data exposed, whether as a result of error, negligence, or intent.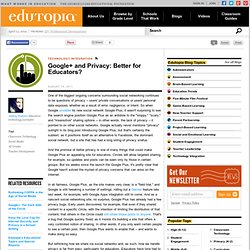 So when Google unveiled its new social network Google Plus, it wasn't surprising to see the search engine position Google Plus as an antidote to the "sloppy," "scary," and "insensitive" sharing options -- in other words, the lack of privacy -- it pointed to on other social networks. Google actually never mentions "privacy" outright in its blog post introducing Google Plus, but that's certainly the subtext, as it positions itself as an alternative to Facebook, the dominant social network, but a site that has had a long string of privacy snafus. And the promise of better privacy is one of many things that could make Google Plus an appealing site for educators. How are Educators Using Google Plus Hangouts? Digital Tools Phillip Torrone As more people join Google's new social network, Google+, they're figuring out how to take advantage of some of the innovative uses for the site.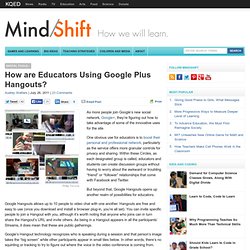 One obvious use for educators is to boost their personal and professional network, particularly as the service offers more granular controls for privacy and sharing. Google Plus and the Future of Sharing Educational Resources. It's been almost three weeks since the launch of Google Plus and in what is probably a good sign for the future success of the new social network, we haven't stopped talking about it yet.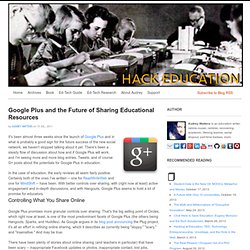 There's been a steady flow of discussion about how and if Google Plus will work, and I'm seeing more and more blog entries, Tweets, and of course G+ posts about the potentials for Google Plus in education. In the case of education, the early reviews all seem fairly positive. Google Plus: Is This the Social Tool Schools Have Been Waiting For? There seem to be three forces at play when it comes to education and social media.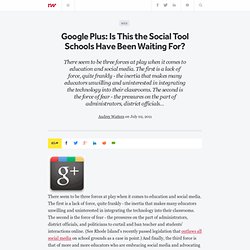 The first is a lack of force, quite frankly - the inertia that makes many educators unwilling and uninterested in integrating the technology into their classrooms. The second is the force of fear - the pressures on the part of administrators, district officials, and politicians to curtail and ban teacher and students' interactions online. (See Rhode Island's recently passed legislation that outlaws all social media on school grounds as a case in point.) And finally, the third force is that of more and more educators who are embracing social media and advocating its use on- and off-campus - for student learning and for teacher professional development alike. I spent this past week with many of those teachers at the International Society for Technology in Education conference in Philadelphia, and when Google unveiled Google+ on Tuesday, most of us were otherwise preoccupied.
Google Hangouts: Now with Google Docs Integration, Now Even Better for Edu. When Google launched its new social network, Google Plus earlier this summer, there was a flurry of stories about the site's potential for education.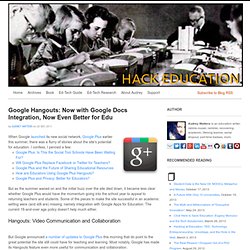 I confess, I penned a few: But as the summer waned on and the initial buzz over the site died down, it became less clear whether Google Plus would have the momentum going into the school year to appeal to returning teachers and students. Some of the pieces to make the site successful in an academic setting were (and still are) missing: namely integration with Google Apps for Education. The current 18-and-over age policy doesn't help much either. Hangouts: Video Communication and Collaboration But Google announced a number of updates to Google Plus this morning that do point to the great potential the site still could have for teaching and learning.
---