CourseKit / Lore
Penn Students Leave School to Launch CourseKit With $1 Million Seed Round. Three students at the University of Pennsylvania—Joseph Cohen, Dan Getelman, and Jim Grandpre—are quitting school to launch a new education startup called Coursekit, and they've raised $1 million in a seed round to do it.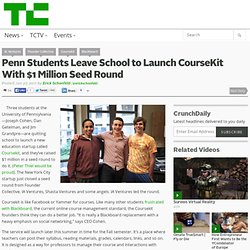 (Peter Thiel would be proud). The New York City startup just closed a seed round from Founder Collective, IA Ventures, Shasta Ventures and some angels. IA Ventures led the round. Coursekit Is Ready for Its Closeup. By Adrianne Jeffries 11/29/11 12:58pm Share this: Coursekit, the TechStars company that raised $1 million from Founder Collective, IA Ventures, TechStars and a few angels before the program even started, just launched to the public.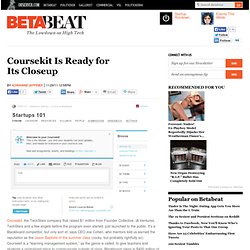 New Course-Management Software Promises Facebook-Like Experience - Wired Campus. Three University of Pennsylvania students who recently dropped out to start an upstart course-management system today unveiled their software, called Coursekit, after having raised more than $1-million in venture capital.
The trio, frustrated with the systems offered by universities, such as Blackboard, decided to team up and design their own online course platform, which emphasizes social networking and an easy-to-use interface. By May, the founders, Joesph Cohen, Dan Getelman, and Jim Grandpre, had raised so much start-up cash, from sources including the Founder Collective and IA Ventures, that they decided to quit school to focus on developing Coursekit. Thirty universities tested Coursekit this fall, including Stanford and the University of Pennsylvania. Coursekit offers a platform for hosting discussions, posting grades and syllabi, sharing calendars and links, and creating student profiles.
Coursekit. Will Coursekit Launch Up-End Blackboard? Coursekit. Coursekit Aims To Overhaul How Teachers Run Their Classrooms | Co.Design. A couple years ago, I sat in on a "Technology in the Classroom" course.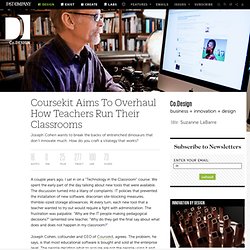 We spent the early part of the day talking about new tools that were available. The discussion turned into a litany of complaints: IT policies that prevented the installation of new software, draconian site-blocking measures, thimble-sized storage allowances.
---