Blog
MakeSense Hold-Up @ CRI. First visit?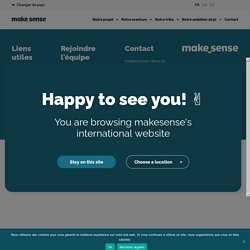 Click here to understand the MakeSense story . Second visit? F. TADDEI - Education et numerique - ACIDD. TEDxParis - François Taddei - 01/30/10. Réformer le système éducatif avant 2025. Peter Thiel: We're in a Bubble and It's Not the Internet. It's Higher Education. Fair warning: This article will piss off a lot of you.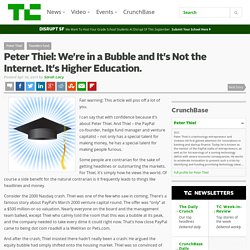 I can say that with confidence because it's about Peter Thiel. And Thiel – the PayPal co-founder, hedge fund manager and venture capitalist – not only has a special talent for making money, he has a special talent for making people furious. Some people are contrarian for the sake of getting headlines or outsmarting the markets. For Thiel, it's simply how he views the world. Le jugement sévère des Français sur la jeunesse. LE MONDE | • Mis à jour le | Par Luc Bronner La fracture entre les générations serait-elle en train de se creuser ?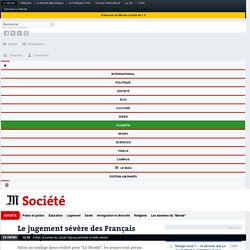 Un sondage réalisé par Ipsos-Logica Business Consulting à l'occasion du premier colloque sur "les enjeux de l'élection présidentielle", organisé, jeudi 24 novembre, par Le Monde à Bordeaux, montre que l'opinion publique française porte un regard compatissant mais critique sur la situation de la jeunesse en France. Réalisée par téléphone auprès d'un échantillon représentatif de 1 014 personnes, les 18 et 19 novembre, l'enquête, réalisée en partenariat avec France Inter, dresse le portrait d'une société qui peine à comprendre sa jeunesse.
---