אתרי סרטים
Animation for the Masses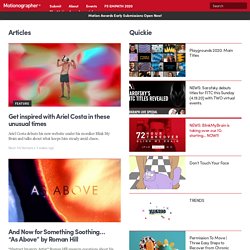 January 16, 2014 In Release 2014, HUSH gathers 100 vocal "releases" about the end of 2013 and beginning of 2014 and translates them into visual forms. Naoki Yoshibe (aka yotube) totally killing it with his 2D FX Reel. January 13, 2014 Keep Wednesday February 5th free for the first See No Evil of 2014!
Israeli animation on Vimeo
Animation Progression Reels
Everything Animated on Vimeo
Ogilvy&Mather approached us with a very entertaining concept for a series of Fanta ads involving all our favorite characters from previous Fanta films. The main idea was to communicate that with the new intense Fanta flavor, anyone who drinks it gets lost in their crazy world of imagination and forgets all else. We've taken this concept and made sure to emphasize and reflect the Fanta world as much as we could with a lot of design elements and colors.