Scoop.it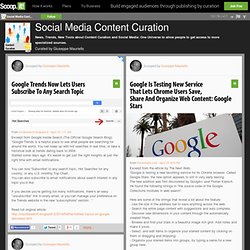 Excerpt from article written and curated by Robin Good and first published on MasterNewMedia:"Content curation tools are in their infancy. Nonetheless you see so many of them around, there are more new curation tools coming your way soon, with lots of new features and options. Enormous progress has been made since the early days of the first news curation tools to what is available today, but yet, I feel we have only barely scratched the surface. To illustrate what I expect to see on this front, here is a panoramic tour of the traits, features, patterns and trends that I expect will characterize the future of digital content curation tools, organized into specific feature areas. 1) Display Formats of Curated Content CollectionsThe first area in which I expect to see lots of improvement and innovative ideas is the one of how a curated collection or stream can be displayed to the user.This is one of the most underestimated and underutilized areas of improvement for content curation tools.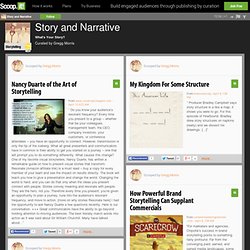 Story and Narrative
"The plumber, the roofer and the electrician sell us a cure. They come to our house, fix the problem, and leave. The consultant, the doctor (often) and the politician sell us the narrative. They don't always change things, but they give us a story, a way to think about what's happening. Often, that story helps us fix our problems on our own. The best parents, of course, are in the story business.
Journalism in the Digital Age
This is about drug companies, but the implications could impact on journalism. From the site: "Venturing into a new frontier of First Amendment law, the Supreme Court on Thursday gave constitutional protection to those seeking to use the vast stores of data collected by modern information technology. The court ruled 6-3 that Vermont could not stop pharmaceutical companies from obtaining data on doctors' prescription-writing practices -- data the companies used to market their more expensive, brand-named drugs to the doctors. Vermont had tried to block this data mining of prescription information to protect the privacy of the doctor-patient relationship and to keep down health-care costs."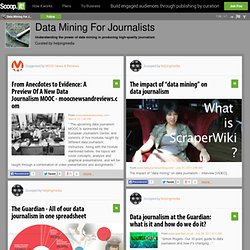 Data Mining For Journalists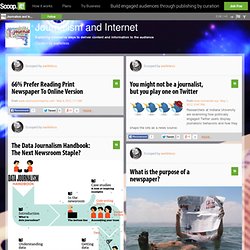 Digital news is becoming a multi-device experience. For now, desktop and laptop computers remain the most popular way that people in the U.S. access digital news venues. However, PEJ notes: "Nearly a quarter of U.S. adults, 23%, now get news on at least two devices: a desktop/laptop computer and smartphone, a computer and a tablet, a tablet and a smartphone, or on all three." Also: "For most with multiple devices, there is not a single place for news. People who acquire mobile devices appear to be using them to get news on all their devices. This also suggests they may be getting more news more often.
Journalism and Internet
I'm seeing more Scoopit links in my Twitter stream and I'm not crazy about it. Sure it's quick and easy to share with Scoopit. But it not quick and easy to consume. For me it's all about the econ... Marty Note (here is comment I wrote on Dr. V's blog)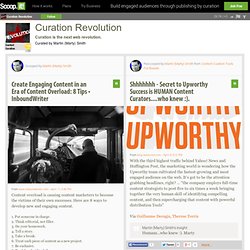 Curating-Social-Learning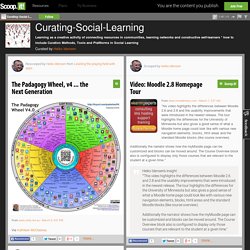 Now I understand that this is Google trying to sell a product. But really isn't that exactly what we hear educational institutions say? If only it was easier, faster and of course cheaper. What I love is Google is taking on those challenges and is continuing to try and knock down the barriers of technology in the classroom. At some point educational institutions will run out of reasons not to fully integrate technology. The only reason that will be left is fear….and fear is no way to run a school.
Online Collaboration Tools | Scoop.it
Curating the internet
Reading Steven Rosenbaum's Curation Nation. Seems interesting, on his site I read this quote from Guy Kawasaki: "Curation, not creation, is king and Rosenbaum shows you why and what you can do with this knowledge. This is a great piece of research and analysis." I think that there the opposition between "curation" and "creation" is often exagerated. Using curation tools such as Storify I do add context and my own analysis, and writing an article I do use other people's ideas and texts, trying to add my stuff to it or to react on what others say.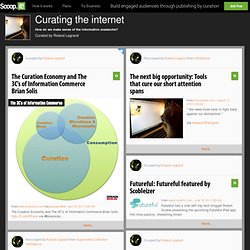 Alternative education
Online Video Publishing | Scoop.it
Scoop.it - Selected Content
Online Newsrooms
Multimedia Journalism
Editorial Ethics
"Our brains, neuroscientists warn, are developing new circuits with a big impact on non-digital reading." "We can't turn back," [Doctor Maryanne] Wolf said. "We should be simultaneously reading to children from books, giving them print, helping them learn this slower mode, and at the same time steadily increasing their immersion into the technological, digital age. It's both. We have to ask the question: What do we want to preserve?" Wolf is training her own brain to be bi-literate.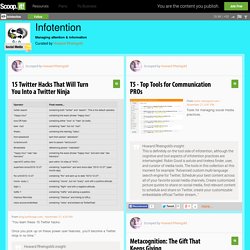 Corporate Journalism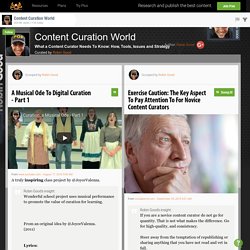 Excerpt from article by Mashable:"How each story is told is as important as the story itself," begins the promo video for Facebook's new much-hyped Paper app.The app mixes curated news feeds with your Facebook timeline to create a platform that integrates news discovery and sharing into your timeline. With its tiled layout and gesture-based user interface, it feels very similar to Flipboard's suite of apps. We put both apps side by side to see how the two stack up. Here's how they compare: Design: Tiles And Gestures