2010
Dark World (2010. The Expendables (2010. Edit Storyline Barney Ross leads the "Expendables", a band of highly skilled mercenaries including knife enthusiast Lee Christmas, martial arts expert Yin Yang, heavy weapons specialist Hale Caesar, demolitionist Toll Road and loose-cannon sniper Gunner Jensen.

When the group is commissioned by the mysterious Mr. Church to assassinate the merciless dictator of a small South American island, Barney and Lee head to the remote locale to scout out their opposition. Once there, they meet with local rebel Sandra and discover the true nature of the conflict engulfing the city. Red (2010. Edit Storyline Frank (Bruce Willis) is retired, bored and lonely living off his government pension in a nondescript suburb in an equally nondescript house.

The only joy in Frank's life are his calls to the government pension processing center when he gets to talk to his case worker Sarah (Mary-Louis Parker). Sarah is as bored and lonely as Frank and marks her conversations with the unknown Frank and her spy novels as the only things fun in her life. Robin Hood (2010. Edit Storyline Birth of a legend.

Following King Richard's death in France, archer Robin Longstride, along with Will Scarlett, Alan-a-Dale and Little John, returns to England. They encounter the dying Robert of Locksley, whose party was ambushed by treacherous Godfrey, who hopes to facilitate a French invasion of England. Robin promises the dying knight he will return his sword to his father Walter in Nottingham. The A-Team (2010. Clash of the Titans (2010. Black Death (2010. Quotes [first lines] Wolfstan: The fumes of the dead are in the air like poison.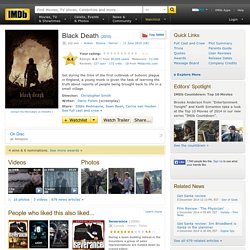 The plague, more cruel and more pitiless than war, descended upon us. A pestilence, that would leave half of our kingdom dead. Where did it come from? The Last Airbender (2010. Edit Storyline The world is divided into four kingdoms, each represented by the element they harness, and peace has lasted throughout the realms of Water, Air, Earth, and Fire under the supervision of the Avatar, a link to the spirit world and the only being capable of mastering the use of all four elements.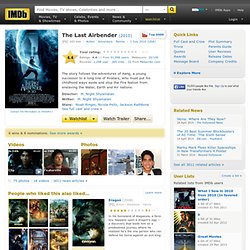 When young Avatar Aang disappears, the Fire Nation launches an attack to eradicate all members of the Air Nomads to prevent interference in their future plans for world domination. 100 years pass and current Fire Lord Ozai continues to conquer and imprison anyone with elemental "bending" abilities in the Earth and Water Kingdoms, while siblings Katara and Sokka from a Southern Water Tribe find a mysterious boy trapped beneath the ice outside their village.
Upon rescuing him, he reveals himself to be Aang, Avatar and last of the Air Nomads. Devil's Playground (2010. The Lost Future (TV 2010. Edit Storyline A group of post-apocalyptic survivors struggle to survive in a world where jungles, forests, primeval wetlands and deserts have obliterated civilization.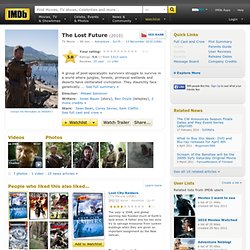 They staunchly face genetically mutated beasts and mysterious diseases in an attempt to re-establish the human race as masters of Earth. Written by Punch Malloy Plot Summary | Add Synopsis. Resident Evil: Afterlife (2010. Edit Storyline In a world ravaged by a virus infection, turning its victims into the Undead, Alice (Jovovich), continues on her journey to find survivors and lead them to safety.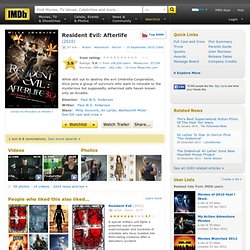 Her deadly battle with the Umbrella Corporation reaches new heights, but Alice gets some unexpected help from an old friend. A new lead that promises a safe haven from the Undead takes them to Los Angeles, but when they arrive the city is overrun by thousands of Undead - and Alice and her comrades are about to step into a deadly trap. The Next Three Days (2010. Edit Storyline Lara Brennan is arrested for murdering her boss with whom she had an argument.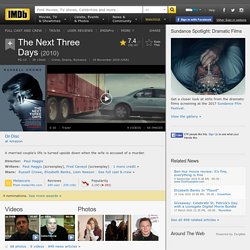 Tomorrow, When the War Began (2010. The Book of Eli (2010. Edit Storyline In a violent post-apocalyptic society, a drifter, Eli, has been wandering westward across North America for the last thirty years.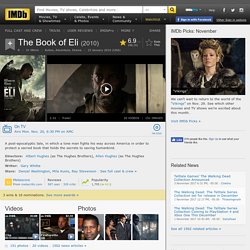 He finds solace in a unique book which he carries on his person and guards closely, whilst surviving by hunting small animals and seeking goods in destroyed houses and vehicles to trade in villages for water and supplies. When he reaches a village ruled by the powerful mobster, Carnegie, the man views Eli's impressive fighting skills and offers Eli a place within his gang.
Carnegie presses his blind lover Claudia to send her daughter, Solara, to at least convince Eli to spend the night by sleeping with him. Inception (2010. Edit Storyline Dom Cobb is a skilled thief, the absolute best in the dangerous art of extraction, stealing valuable secrets from deep within the subconscious during the dream state, when the mind is at its most vulnerable.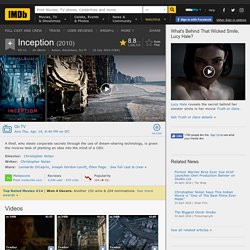 Cobb's rare ability has made him a coveted player in this treacherous new world of corporate espionage, but it has also made him an international fugitive and cost him everything he has ever loved. Now Cobb is being offered a chance at redemption. One last job could give him his life back but only if he can accomplish the impossible-inception. Green Zone (2010. Edit Storyline Following the American invasion of Iraq in 2003 Chief Warrant Officer Roy Miller and his men are charged with finding the so-called weapons of mass destruction, whose existence justified American involvement, according to the Pentagon and their man in Baghdad, Poundstone.
Wild Target (2010) Trivia The character played by Bill Nighy holds guns with just a thumb and middle finger, with his index on the trigger. This unusual grip is because he suffers from Dupuytren's contracture, which means he can't straighten the ring and little fingers on each hand See more » True Grit (2010. Edit Storyline Following the murder of her father by hired hand Tom Chaney, 14-year-old farm girl Mattie Ross sets out to capture the killer. To aid her, she hires the toughest U.S. marshal she can find, a man with "true grit," Reuben J. "Rooster" Cogburn. Monsters (2010. Goofs A cephalopod mollusk (or even a vertebrate animal) of that giant size would have no ability to walk or move on land. It would be crushed by it's own massive weight.
Since the creature is of extraterrestrial origin, however, its alien anatomy might have certain adaptations that allow it to walk on land without being crushed by its own weight. Jonah Hex (2010. Dark Island (2010. Skyline (2010. Salt (2010. The Wolfman (2010. Machete (2010. Inhale (2010.
---