2000
Battlefield Earth: A Saga of the Year 3000 (2000. Edit Storyline In the year 3000, humanity is no match for the Psychlos, a greedy, manipulative race on a quest for ultimate profit.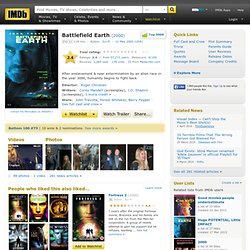 Led by the seductive and powerful Terl, the Psychlos are stripping Earth of its resources, using the broken remnants of humanity as slaves. The 6th Day (2000. Edit Storyline In the near future, cloning is now technically advanced, but human cloning is still illegal.
Adam Gibson (Schwarzenegger) returns home after working with his friend Hank Morgan (Rapaport), only to find a clone of himself with his family. Before he has chance to find out the truth, he is attacked by a group who want him dead. Adam must escape and find out the truth from the creator of the clones, Michael Drucker (Goldwyn).
Gladiator (2000. Edit Storyline Maximus is a powerful Roman general, loved by the people and the aging Emperor, Marcus Aurelius.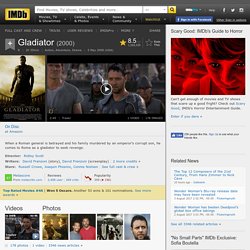 Before his death, the Emperor chooses Maximus to be his heir over his own son, Commodus, and a power struggle leaves Maximus and his family condemned to death. The powerful general is unable to save his family, and his loss of will allows him to get captured and put into the Gladiator games until he dies.
---