Team Megadeth
MEGADETH Blood In The Water Live In San Diego Full Concert
Megadeth United Abominations
Megadeth - Of Mice and Men HQ
Megadeth - Moto Psycho HQ
Megadeth - Crush 'em Official Video
Megadeth - Angry Again Official Video
Megadeth - Die Dead Enough
Top 10 Solos of Marty Friedman
CHRIS BRODERICK (Megadeth) - Tornado Of Souls
Marty Friedman vs Chris Broderick
Chris Broderick This is How you Shred
Betcha Can't Play This - Chris Broderick (Megadeth)
Chris Broderick.com
Chris Broderick.com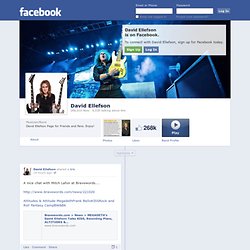 David Ellefson Bass
Chat Live With David Ellefson Sunday, March 30 Megadeth Cyber Army members! David Ellefson will take part in a special online chat at the Megadeth Cyber Army on Sunday, March 30 at 2 p.m. PST (21:00 GMT). Stop by for some prizes which will... include an autographed copy of David's autobiography! This is a fan-club-members-only chat.
Chris Broderick (Official Fan Page)
Join these guys tonight for a good cause. ROCKERS AGAINST TRAFFICKING Kevin Estrada Presents: Rockers Against Trafficking All-Star Benefit Show. April 11, 2014 at Paladino's - 6101 Reseda Blvd, Tarzana, CA 91335 (818) 342-1563.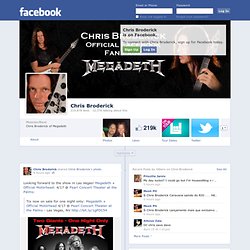 Dave Mustaine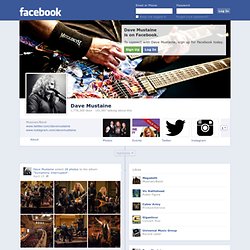 ndorsers; Dean Guitars (Official Dean Guitars Page) for the StradiVMNT and Marshall Amplification for the JVM 410 and Dave Mustaine DMB 1960 2 x 12" cabinet. I also want to thank my management, my staff, and Mrs. Anne Campbell and Dave Campbell for making this happen. I will be leaving soon for Latin America after we play Las Vegas and Tucson, but before I do, I have to let you know how deeply I am impressed by your continued love and support. Last night was an experiment; a challenge that I was up for, and continuing to improve myself for this show has already made me write ideas that are more twisting and turning, than the straight ahead songs like "Skin O' My Teeth," or "A Tout Le Monde." We did not record the show because we knew I was going to be still getting used to this whole thing, that I would have a little getting used to this new environment, as well as following Ken-David do to me, what appears to be playing air drums.
Megadeth
Gigantour 2012
Gigantour (gigantour2012) on Twitter
Vic Rattlehead (vic4prez) on Twitter
Chris Broderick (chris_broderick) on Twitter
Have an account? Sign in New to Twitter? Join Today » Forgot password? Already using Twitter via text message? Language: English
David Ellefson (ellefsondavid) on Twitter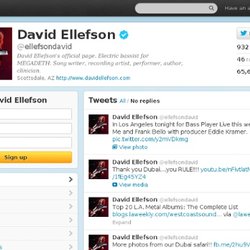 Dave Mustaine (davemustaine) on Twitter
After he left Metallica in 1983, guitarist/vocalist Dave Mustaine formed the thrash metal quartet Megadeth. Though Megadeth followed the basic blueprint of Metallica's relentless attack, Mustaine's group distinguished themselves from his earlier band by lessening the progressive rock influences, adding an emphasis on instrumental skills, speeding the tempo up slightly, and making the instrumental attack harsher. By streamlining the classic thrash metal approach and making the music more threatening, as well as making the lyrics more nihilistic, Megadeth became one of the leading bands of the genre during the mid- and late '80s. Each album they released went at least gold, and they continually sold out arenas across America, in addition to developing a strong following overseas.
Megadeth's Channel -Youtube
Megadeth - Whose Life (Is It Anyways?) [Lyrics Video]