Team heavy metal
Jekyll & Hyde by Wolf on Spotify
Gojira - Bordeaux Rockschool Barbey 2009 Full
Gojira Live At Hellfest 2013 Full
Gojira Live At Festival Garock 2009 Full
Gojira - The Link Live Full Concert
Gojira - Live At Les Eurockéennes 2009 Full
Black Magic by Wolf on Spotify
Black Sabbath Medley by Candlemass on Spotify
Welcome To Hell by Venom on Spotify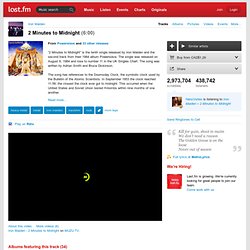 Iron Maiden – 2 Minutes to Midnight – Discover music at Last
"2 Minutes to Midnight" is the tenth single released by Iron Maiden and the second track from their 1984 album Powerslave. The single was released on August 6, 1984 and rose to number 11 in the UK Singles Chart. The song was written by Adrian Smith and Bruce Dickinson. The song has references to the Doomsday Clock, the symbolic clock used by the Bulletin of the Atomic Scientists.
Voodoo by Wolf on Spotify
Mirror Mirror by Candlemass on Spotify
Iron Maiden
Rammstein - Koln 1996 Full Concert Live HQ
Home
Link Bloodstock Festival stream / 2013-08-09 05:53 Hey, we're gonna try something new. As many of you may know, this weekend is the Bloodstock Festival in the UK. I learned today that the fest will actually offer a live stream of the shows on the main stage, and it's possible for third-party websites to embed the video. This seems like it could be of interest to a lot of MA visitors so... here you go. Also, here is the Bloodstock forum thread for those who want to comment.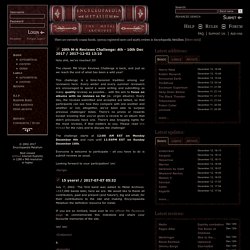 Deep Purple | Deep Purple - | Deep Purple
Pantera - The Badge (The Crow)
pearltrees (pearltrees) on Twitter
Dethklok - Hatredcopter [FULL VIDEO CLIP]
500 Thrash Metal Riffs Part 1
metalflakes.com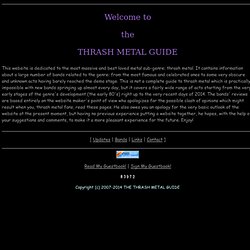 www.thethrashmetalguide.com
Welcome to the This website is dedicated to the most massive and best loved metal sub-genre: thrash metal.
Metal Edge (metaledge) on Twitter
Savatage
Metalheads take note - September will see the first-ever performances from fast rising rockers, Machines of Grace. The shows will include a pair of performances in New York, as well as an additional one in Ohio. Additionally, the group will appear the same month on several renowned radio shows, including House Of Hair, CNN's Measure To Measure program, The Chop Shop Radio Show, Tour Bus Radio, and SiriusXM Radio with Eddie Trunk. Comprised of band members Zak Stevens (vocals, whose credits include Circle II Circle, Savatage), Matt Leff (guitars), Chris Rapoza (bass), and Jeff Plate (drums, whose credits include Trans Siberian Orchestra, Savatage, Metal Church), the Boston-based band manages to both pay tribute to their metal forefathers while also keeping a modern hard rock edge throughout their just-issued self-titled debut.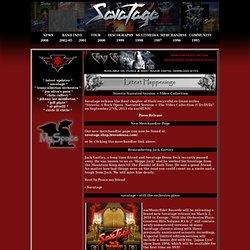 Scream For Me - The Official Bruce Dickinson Site
Official MANOWAR Website - The Kingdom Of Steel
Iron Maiden Official Website
I was lucky enough to get to go and see the boys play in Camden last night. The show was awesome! Typically tight sounding thrashing Slayer show. Getting to see "Old School Slayer Night" was perfect for me as 85-90 was when my musical taste was developed and I know the lyrics of every album front to back from that time period. Absolutely all my favorites! The pit was a little active throughout the show but I can tell that the Slayer audience is getting a little older as I ...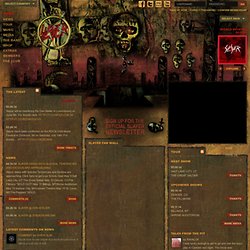 The Official Slayer Site
megadeth
Anthrax | The Official Website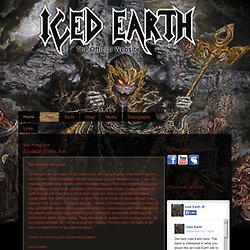 Friends, Band and Crew have gathered and we have begun rehearsals for the Volbeat-Tour that kicks off this Friday in Milan. We are really excited to begin this new touring cycle even though it feels like the previous one only ended yesterday.
The Official Iced Earth Website
Official Pantera
Candlemass
Pagan Altar Holding Page
Witchfinder General Website
Judas Priest
Rob Halford
Rolling Stone: Metallica Explain How 'Through the Never' Became 'Sonically Awesome' February 3, 2014 When Metallica's monolithic statue of Lady Justice detonates and collapses around the band midway through their feature film, Metallica: Through the Never, its pieces thud and crash in ways that moviegoers could hear and feel. It's the sort of sensory overload the metal group was going for with the whole film, which follows a roadie on a drug-fueled surrealistic quest to retrieve a bag for the band, as Metallica play a concert to a packed arena. "We wanted to use the 3-D to bring people up onstage, to give the audience a feeling of immersion and being a part of what was happening," drummer Lars Ulrich tells Rolling Stone.
METALLICA.com
Metal Injection | Heavy Metal Videos, Podcasts, Blog, Latest News, Tour Dates, Photos and more Metal Injection Latest News
Diamond Head
SAXON
AC/DC
AC/DC
Uriah Heep
ACCEPT
rush
Whitesnake
Deep Purple
The Highway Star
Deep Purple
Led Zeppelin
Robert Plant
John Bonham
JimmyPage
Jimmy Page
Led Zeppelin
Jimmy Page
Ozzy Osbourne
Ozzyhead
Black Sabbath
Ronnie James Dio
Ritchie Blackmore
heaven & hell
Tony Iommi