Student Resources
Get flash to fully experience Pearltrees
50 Web 2.0 Ways to Tell a Story ( return ) Note! 50+ Ways is no longer being updated here but over at the new site for 50+ Web 2.0 Ways to Tell a Story -- http://50ways.wikispaces.com/ It has more organizational features and includes ways for you to add content to the site once you join the new wiki. Below you will find 50+ web tools you can use to create your own web-based story.
Public Domain Pictures This page is a repository for public domain images. It is maintained solely by its users, who can upload and download images for free. Some photos require a model or property release, when used commercially. This, however, is a general requirement for photos. Material can easily be browsed by various categories, including professional or seasonal photos.
Information is very powerful but for the most bit it is bland and unimaginative. Infographics channel information in a visually pleasing, instantly understandable manner, making it not only powerful, but extremely beautiful. Once used predominantly to make maps more approachable, scientific charts less daunting and as key learning tools for children, inforgraphics have now permeated all aspects of the modern world. I designed a couple of infographics back in college, the need arising especially around the time Soccer World Cup fever spiked. It was a fun process representing the different groups, predicting winners in each group at each stage and creating a mock pairing of teams that would clash all the way leading upto the finals.
Infographics (or Information Graphics) are graphic visual representations of data or information, presented in a way to make it easier to consume information. Infographics gained popularity in the mid-2000′s with the advent of sites like Digg and Reddit, and have quickly become one of the most popular methods to display researched data. There are three main types of infographics – where data is presented in a timeline, where statistical data is presented in graphs or with icons, or where data is presented on a map. In order to create an infographic which will be widely shared, think about your typography, colours, and layout. Make it easy for people to understand the information that's being provided.
Who can resist a colourful, thoughtful venn diagram anyway? In terms of blogging success, infographics are far more likely to be shared than your average blog post. This means more eyeballs on your important information, more people rallying for your cause, more backlinks and more visits to your blog. In short, a quality infographic done well could be what your blog needs right now. Designing An Infographic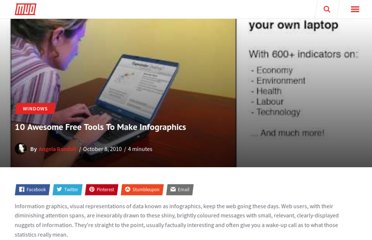 This entry is part 3 of 16 in the Infographic Design Session - Show All « Previous Next » A few times a each month we revisit some of our reader's favorite posts from throughout the history of Vectortuts+. This tutorial by Jonathan was first published on April 14th 2010.
Not even the experts agree. Despite sharing a common goal – to create solutions that meet their respective communication objectives – designers fight over the most basic notion in information design: what does and what doesn't constitute an infographic? (Case in point: the comment section of this article on the do's and don'ts of infographic design in Smashing Magazine.) Among the different approaches to visualization, one design element stands out in dividing the schools of thought: decoration. Business intelligence expert Stephen Few sums up his disdain for the ornamentation of infographics: "When visualizations are used primarily for artistic purposes, they are not what we call data visualizations or infographics, which are terms that have been in use for a long time with particular meanings." Another highly visible figure, David McCandless , has popularized artistic visualizations and introduced data as a storytelling category to a wider audience.