Tools
News. We wish to inform our users in this period we are developing some features of our platform, including multi-lingual support.Due to this fact, at the moment we are forced to slow down the updating of X-Software, which will be speeded up again as soon as possible.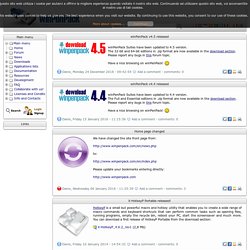 Unfortunately, the mainly voluntary approach of the project and the small number of active contributors, don't let us to manage updates, development of winPenPack components and website as we would like. Therefore, we decided to push for the expansion of winPenPacks Team, giving the opportunity for new developers to join our group. The only requirements are a good knowledge of Autoit3 programming language for the launcher and .NET for the menu, and a great passion for portable programs.
If You want to join our team, please through the contact form or in our forum. AeroFS - File Sync Without Servers. Ninite - Install or Update Multiple Apps at Once. Proxmox VE. Proxmox VE is a complete open source virtualization management solution for servers.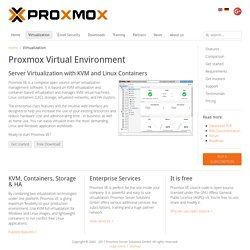 It is based on KVM virtualization and container-based virtualization and manages virtual machines, storage, virtualized networks, and HA Clustering. The enterprise-class features and the intuitive web interface are designed to help you increase the use of your existing resources and reduce hardware cost and administrating time - in business as well as home use. You can easily virtualize even the most demanding Linux and Windows application workloads. Gladinet Products & Services « Gladinet Content Platform. Miro Video Converter FREE - Convert any video to MP4, WebM (vp8), iPhone, Android, iPod, iPad, and more. Twitcker » Create your own Twitter-Ticker-Bar for your website or blog. DinoPass - Simple password generator for kids. Web Sudoku - Billions of Free Sudoku Puzzles to Play Online.
Google
WebPA | An Online Peer Moderated Marking Tool for Group Work. Digital Signage Software | Flypaper. SEO Keyword Graph Visualization | SEO Browser. Use this free Java application to explore the connections between related websites.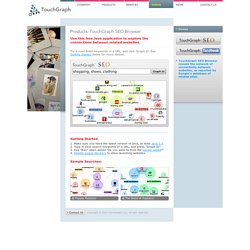 Try it now! Enter keywords or a URL, and click 'Graph it!' See Getting Started below for more details. Keybr.com - Take typing speed test and practice typing online. Teachweb2 - home. Printable Worksheets, Arts and Crafts, Chore Charts - Handipoints. Group conversations around images, documents, and videos. Ken Tothero · University of Texas at Austin VoiceThread conversations are media-centric, which keeps the discussions focused.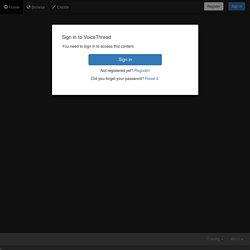 They also provide an opportunity to reflect, resulting in higher quality input. And finally, the system just plain works. Edtags.org: Bookmarks for the field of education. Share Your Story · Scrapblog. Stu's Quiz Boxes! Media-rich presentations for everybody - Freepath. Sign in to your SpokenText Account. Education Video Slideshows. Motivator: Create your own motivational posters! Create, share, and buy your own customized motivational posters.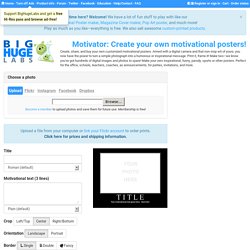 Armed with a digital camera and that non-stop wit of yours, you now have the power to turn a simple photograph into a humorous or inspirational message. Print it, frame it! Make two—we know you've got hundreds of digital images and photos to spare! Make your own inspirational, funny, parody, sports or other posters. Create Great-Looking Interactive Quizzes (in minutes) - embed in any website / blog! 50GB of Free Online Storage & Backup. Direct sound recording software (freeware/shareware) - How to record any sound produced by your sound card including live input or microphone. How to record any sound produced by your sound card including live input or microphone.
Simple direct sound recording software can record any signal produced by your sound card (Internet stream, music, audio from videogames, ...). If you want to record music from internet radio stations or digital music services making individual files from each song and tagging each MP3 file with the name of the song and artist, see Replay Music. Freecorder 7 (Freeware/Windows) is a free sound recorder - a revolutionary new browser-based audio recording program, combining state of the art recording technology, ease-of-use, and some great browser enhancements. It works with any sound card, even those that don't support recording (like RealTek and SigmaTel) and even if your sound card doesn't have the Stereo Mix / Wave-Out Mix / What U Hear. LiveWeb - insert and update web pages real-time in PowerPoint.
Use LiveWeb to insert web pages into a PowerPoint slide and refresh the pages real-time during slide show.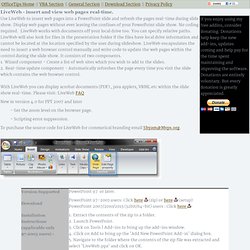 Display web pages without ever leaving the confines of your PowerPoint slide show. No coding required. LiveWeb works with documents off your local drive too. You can specify relative paths. LiveWeb will also look for files in the presentation folder if the files have local drive information and cannot be located at the location specified by the user during slideshow. Plagiarism.org.
Graphics. E-Learning Software | E-Learning Authoring Tools | PowerPoint to Flash Converter | Convert PowerPoint to Flash. Text 2 Mind Map – The text-to-mind-map converter. Royalty Free Sound Effects (FX) Library for Download. Kerpoof Studio. Online Photo Editor. Flash cards, vocabulary memorization, and study games.
---