Teaching with iPad Tools
TV Carts & Accessories - Mobile Flat Panel Carts. This product ships directly from the manufacturer.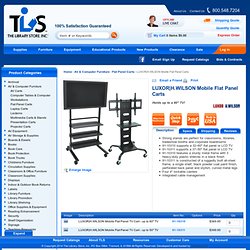 This product ships within 10 - 14 business days, upon receipt of your order confirmation. This product requires assembly. 50 Of The Best Resources For iPads In Education - Teachers With Apps. iPad art: How to sketch and paint anywhere. You don't need a Mac and a high-end graphics tablet to create your next digital painting.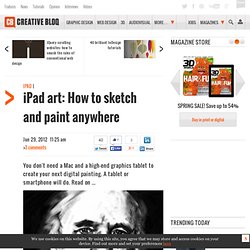 A tablet or smartphone will do. The portrait of author Richard Matheson (above) was created by Flickr user New Chemical History on an iPad using Autodesk Sketchbook Pro and a wide-grip Cosmonaut stylus. The iPad app costs a mere £2.99. Yet it's a fully-featured mobile art studio with an arsenal of customisable painting and drawing tools. It's all controlled via an intuitive, flexible UI that rarely gets in the way. ISTE Leadership Forum. My Aspergers Child: Best iPhone and iPad Apps, Books and Audiobooks Related to Autism Spectrum Disorders. iPAD Apps. How do I get Apps to this device?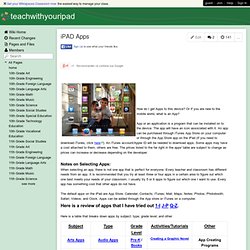 Or If you are new to the mobile world, what is an App? App or an application is a program that can be installed on to the device. The app will have an icon associated with it. An app can be purchased through iTunes App Store on your computer or through the App Store app on the iPad (If you need to download iTunes, click here). How to Connect an iPad to a TV. How to Connect an iPad to a Projector. Apple TV In The Classroom – The New Smart Board. An iPad and Apple TV can combine to provide an advantageous alternative to more expensive, traditional interactive white boards.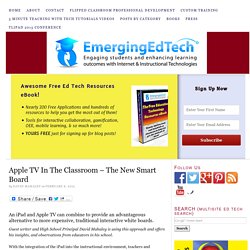 Guest writer and High School Principal David Mahaley is using this approach and offers his insights, and observations from educators in his school. With the integration of the iPad into the instructional environment, teachers and students have discovered many new ways in which the device can expand and enhance the learning environment. Be an iPad Superstar: 8 Collections of iOS 5 Tips. Just when I think I know a lot of about Apple's iOS, someone shows me a clever feature, setting, or shortcut I've never seen before.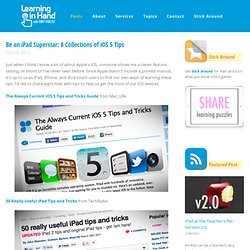 Since Apple doesn't include a printed manual, it's up to us as iPad, iPhone, and iPod touch users to find our own ways of learning these tips. I'd like to share eight links with tips to help us get the most of our iOS devices. The Always Current iOS 5 Tips and Tricks Guide from Mac|Life 50 Really Useful iPad Tips and Tricks from TechRadar.
The Amazing iPad - productivity, games, watching video using the amazing iPad. How to Add Typing Shortcuts to Your iPad: Make Abbreviations for Common Phrases. All of us have phrases we use frequently when writing.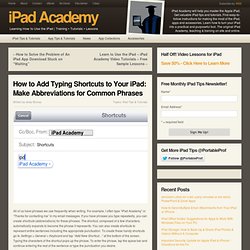 For example, I often type "iPad Academy" or "Thanks for contacting me" in my email messages. If you have phrases you type repeatedly, you can create shortcuts (abbreviations) for these phrases. ISTE12 Resources - iPads in Education. 50 Best iPad Apps for STEM Education. Despite early doubts, the iPad has proven to be an incredibly valuable tool for education, both in the classroom and in homes around America.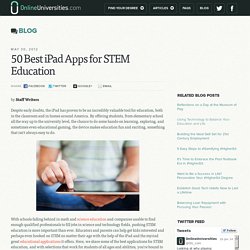 By offering students, from elementary school all the way up to the university level, the chance to do some hands-on learning, exploring, and sometimes even educational gaming, the device makes education fun and exciting, something that isn't always easy to do. With schools falling behind in math and science education and companies unable to find enough qualified professionals to fill jobs in science and technology fields, pushing STEM education is more important than ever. Educators and parents can help get kids interested and perhaps even hooked on STEM no matter their age with the help of the iPad and the myriad great educational applications it offers.
Myths about iOS, iPad, iPhone & iPod touch. I have the pleasure of working with educators who get to use iPads and iPod touches with students.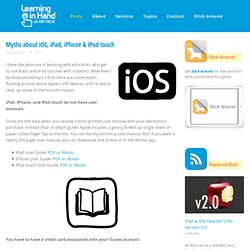 Wherever I facilitate workshops, I find there are some myths floating around about Apple's iOS devices, and I'd like to clear up some of the misinformation. iPad, iPhone, and iPod touch do not have user manuals. Gone are the days when you receive a thick printed user manual with your electronics purchase. Instead of an in-depth guide, Apple includes a glossy folded-up single sheet of paper called Finger Tips in the box. You can hardly call this a user manual. Watch a master iPad artist at work.
Popplet. MakeUseOf.com_-_iPad_Guide. Iapps. iPad implementation. Handheld learning. 100 iPad Tips and Tricks.pdf. Critical evaluation of an ipad/ipod app. 15 Presentation Apps for the iPad. As teachers one of the most important aspects of our day is the way that we present information.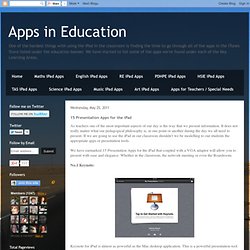 It does not really matter what our pedagogical philosophy is, at one point or another during the day we all need to present. If we are going to use the iPad in our classroom shouldn't we be modelling to our students the appropriate apps or presentation tools. iPad. The student experience with Discovery Education on an iPad device is focused on exploration and interaction with relevant educational content.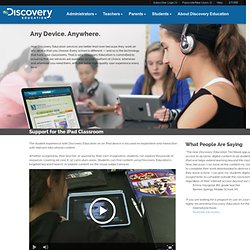 Whether assigned by their teacher, or spurred by their own imagination, students can explore thousands of resources covering all core, K-12 curriculum areas. Students can find content using Discovery Education's targeted keyword search, or explore content via the visual subject browse. Introducing the Discovery Education Techbook™ iPad App. iPads in the Classroom. The 100 Best Web 2.0 Classroom Tools Chosen By You. The Wordle of this list!
(Click image to enlarge) One of the most popular posts on Edudemic in 2010 was The 35 Best Web 2.0 Classroom Tools Chosen By You and I felt it might be time for an update to that list for 2011. In order to put together a list of the best Web 2.0 classroom tools, I polled my Twitter followers, Facebook fans (are they still called fans? Likes?) 68 Interesting Ways to use an iPad in the Classroom. iPod Touch & iPad Resources.
---