Google
CloudMagic 2.0 Adds Speedy As-You-Type Search to Google Docs and Contacts. Google Wave Morphs Itself into New Offerings. Google Wave was seen as one of the spectacular failures of 2010.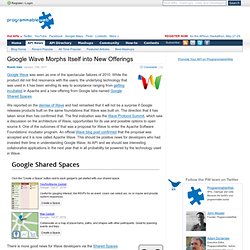 While the product did not find resonance with the users, the underlying technology that was used in it has been winding its way to acceptance ranging from getting incubated in Apache and a new offering from Google labs named Google Shared Spaces. We reported on the demise of Wave and had remarked that it will not be a surprise if Google releases products built on the same foundations that Wave was built on.
The direction that it has taken since then has confirmed that. Google Docs Plays Videos. Google Docs lets you upload any kind of files, but not many of them can be previewed in Google Docs.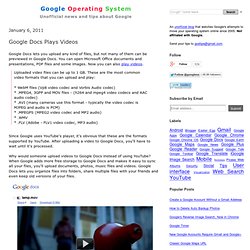 You can open Microsoft Office documents and presentations, PDF files and some images. Now you can also play videos. Uploaded video files can be up to 1 GB. These are the most common video formats that you can upload and play:* WebM files (Vp8 video codec and Vorbis Audio codec)* .MPEG4, 3GPP and MOV files - (h264 and mpeg4 video codecs and AAC audio codec)* .AVI (many cameras use this format - typically the video codec is MJPEG and audio is PCM)* .MPEGPS (MPEG2 video codec and MP2 audio)* .WMV* .FLV (Adobe - FLV1 video codec, MP3 audio) Since Google uses YouTube's player, it's obvious that these are the formats supported by YouTube.
New hacked site notifications in search results. Webmaster level: All Today we've added a new notification to our search results that helps people know when a site may have been hacked.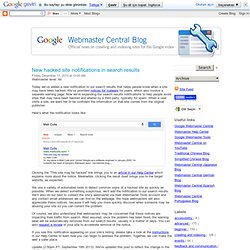 We've provided notices for malware for years, which also involve a separate warning page. Now we're expanding the search results notifications to help people avoid sites that may have been hacked and altered by a third party, typically for spam. When a user visits a site, we want her to be confident the information on that site comes from the original publisher. Here's what the notification looks like: Body Browser - Google Labs.
Your world in 3D. 21st Century Toolbox For Teaching & Learning. Welcome to the Google Apps: 21st Century Toolbox For Teaching & Learning workshop!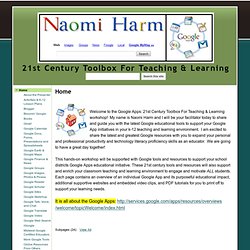 My name is Naomi Harm and I will be your facilitator today to share and guide you with the latest Google educational tools to support your Google App initiatives in your k-12 teaching and learning environment. I am excited to share the latest and greatest Google resources with you to expand your personal and professional productivity and technology literacy proficiency skills as an educator.
Apps Education Edition: K-12 schools and classrooms. Apps for Education - Free hosted email (Gmail) for EDU. Let Google Help To Improve Your Website. Free Technology for Teachers. FreeApps Download, All Must-have Free Apps in One Click | FreeNew.
---