Text messages
Engage your classroom with polls, exit tickets, after-class reminders, and more — delivered to each student on their own phone or tablet. It's a new generation of classroom clicker. Run classroom-wide polls using text messages. Give personalized feedback to individuals or groups. Broadcast updates and info to parents and students. ClassPager works on any device, including iPod Touch.All phone numbers are hidden, so you can use it safely.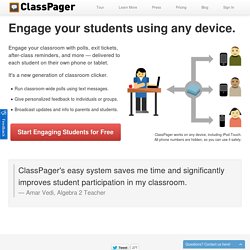 A safe way for teachers to text message students and stay in touch with parents. Free. By signing up, you agree to our Terms of Service. I'm a student or parent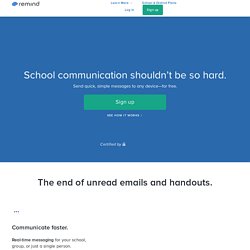 Kikutext - Connecting Teachers and Parents through Text Messaging
Professional look and feel Poll Everywhere gives you the power to design and customize polls to your own specifications. Match your presentation template, use your organization's logo and color scheme, or let your own imagination run wild. A joy to use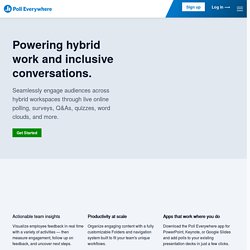 WeTxt - Free Group Text Messaging
A public benefit corporation dedicated to engaging and empowering parents to meaningfully increase their children's success in school — and life. We believe in the potential of parents and families from every community and background to raise kids who fulfill their maximum potential. Partnering with schools and community organizations, we create technology and content specifically designed for parents and families to support their child's individual learning, and to support each other.
www.snappschool.com/teachers/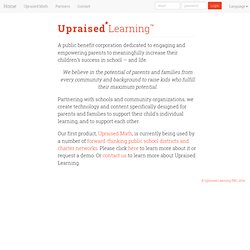 Multi DM - Send Direct Messages to Multiple People