Links
Stich.It - Turning the Web into Stiches!
LinkBunch - Put multiple links into one - http://linkbun.ch
19Pencils - Quick and Easy Tools for Learning. Quizzes, Games, Websites and More!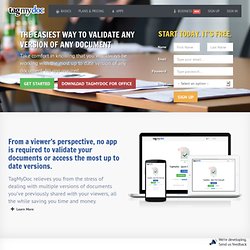 When someone wants a copy of your document, and chooses to scan it in order to retrieve its virtual copy, it relieves you from the burden of having to print it physically. You'll save precious energy, time and paper. Until now, our significant contribution to the environment is well illustrated by: 2,363,883 sheets of paper saved 283.7 trees saved1 Join our green initiative, and bring your own meaningful contribution by creating an account on TagMyDoc, and participating in the new way to share documents.
Home – TagMyDoc
fur.ly | shorten multiple urls into one
bitly | shorten, share and track your links