Collaboration
Powered By Screencast-O-Matic What do you want to share? What's your name? About QuickScreenShare.com: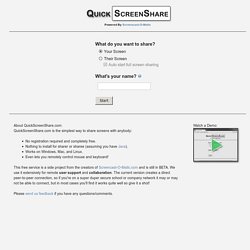 Nothing to download or install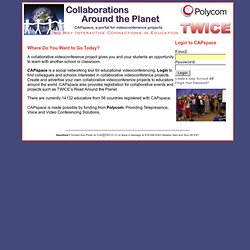 CAPSpace
Where Do You Want to Go Today? A collaborative videoconference project gives you and your students an opportunity to learn with another school or classroom. CAPspace is a social networking tool for educational videoconferencing. Login to find colleagues and schools interested in collaborative videoconference projects. Create and advertise your own collaborative videoconference projects to educators around the world. CAPspace also provides registration for collaborative events and projects such as TWICE's Read Around the Planet.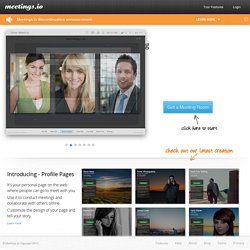 We've transitioned all of our meetings over to Meetings.io! I haven't encountered a video conference software more reliable and simple use than Meetings.io. It literally takes seconds to get everyone in a meeting. Cindy Wu - Co-Founder of Microryza
Landmarks Class Blogmeister