Blogs-Wikis
BlogBooker, Xtra Math. Elementary Tech Teachers - A place for elementary tech teachers to share. Digital Differentiation. Technology is a tool that can be used to help teachers facilitate learning experiences that address the diverse learning needs of all students and help them develop 21st Century Skills.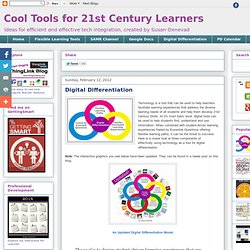 At it's most basic level, digital tools can be used to help students find, understand and use information. When combined with student-driven learning experiences fueled by Essential Questions offering flexible learning paths, it can be the ticket to success. Grades 6-8. Technology rocks. seriously. 20 techie problems every student can fix. In schools, there are twenty problems that cause about eighty percent of the tech stoppages.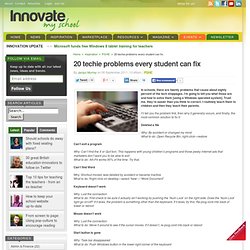 I'm going to tell you what those are and how to solve them [using a Windows operated system]. Trust me, they're easier than you think to correct. I routinely teach them to children and then they teach their parents. I'll tell you the problem first, then why it generally occurs, and finally, the most common solution to fix it: Mr. Byrne Teaches. Free Blog Backgrounds. Blogger Backgrounds | Shabby Blogs. Mr. Avery's Classroom Blog. Joycevalenza. I'm a teacher, get me OUTSIDE here!
Inspire My Kids | Inspiring Stories, Videos and Projects for Children and the Adults in Their Lives. Our World, Our Stories « Primary Students Connecting and Sharing. Best New Art Teacher's Blog.
Pearltrees videos
---