Teacher Resources
The edWebET47 - The A-List Collection by Michelle Luhtala.
Strategies for Finding Books for Common Core | NoveList Blog | EBSCOhost. Strategies for Finding Books for Common Core Post by Beth Gerall Posted September 10, 2012 in Kids & Book News, NoveList K-8 Plus, NoveList Plus Are you an educator trying to find Common Core resources for your classroom?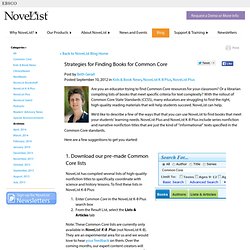 Or a librarian compiling lists of books that meet specific criteria for text complexity? Free Visual Dictionary & Thesaurus | Online Dictionary | Associated Words | Synonyms Dictionary at SnappyWords.com. It's an online interactive English dictionary and thesaurus that helps you find the meanings of words and draw connections to associated words.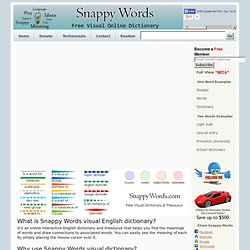 You can easily see the meaning of each by simply placing the mouse cursor over it. Why use Snappy Words visual dictionary? Easy to use dictionary and thesaurus. Learn how words associate in a visually interactive display. A Short Guide to Creating and Grading Quizzes Through Google Forms. One of the things that I always do in my Google Apps workshops and webinars is teach people how to create self-grading quizzes through Google Forms and Spreadsheets.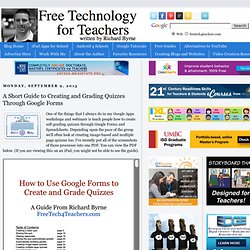 Depending upon the pace of the group we'll often look at creating image-based and multiple page quizzes too. I've recently put all of the screenshots of those processes into one PDF. You can view the PDF below. (If you are viewing this on an iPad, you might not be able to see the guide). TypingClub. TypingClub school portal gives you complete control over your students' typing progress.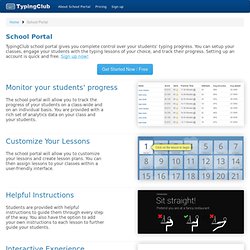 You can setup your classes, engage your students with the typing lessons of your choice, and track their progress. Setting up an account is quick and free. Sign up now! Monitor your students' progress. Natural Phenomena. Brinicle. ULTIMATE SUMMER READING LIST 2013 | ReadKiddoRead. Jump to your child's age group: Great Advanced Reads, ages 12 and UpGreat Pageturners, ages 9 -12Great Beginner Reads, ages 6 – 9Great Illustrated Reads, ages 2 – 6 GREAT ADVANCED READS (for tweens and teens, ages 12 and up) The Diviners By Libba Bray For ages 12 and up.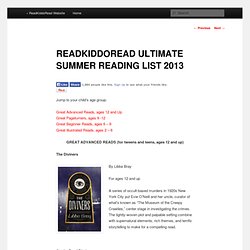 Picture Dictionary | Picture Dictionary for Kids. Picture Dictionary. Photographic Dictionary. Online Picture Dictionary. Mini Alphabet Coloring Books. These Free Printable Mini Alphabet Coloring Books make great abc worksheets for preschoolers on up.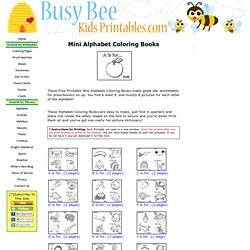 You find a least 4, and mostly 8 pictures for each letter of the alphabet! These Alphabet Coloring Books are easy to make, just fold in quarters and place one inside the other, staple on the fold to secure and you're done! Print them all and you've got one really fun picture dictionary! LITTLE EXPLORERS Picture Dictionary by EnchantedLearning. Advertisement.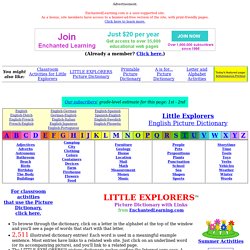 EnchantedLearning.com is a user-supported site. As a bonus, site members have access to a banner-ad-free version of the site, with print-friendly pages.Click here to learn more. (Already a member? Click here.) Tree knowledge | Booklet | Forest Academy - Domtar. The best way to identify a tree is to observe its general silhouette, along with the shape of its leaves, needles, fruit, seeds and bark.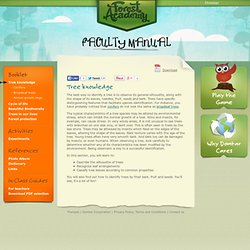 Trees have specific distinguishing features that facilitate species identification. For instance, you have probably noticed that conifers do not look the same as broadleaf trees. Blogs - Elementary Tech Teachers. Looking for help with Technology Integration I am looking for someone to conduct a summer conference with the teachers in my school.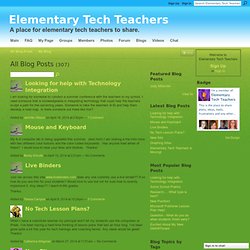 I need someone that is knowledgeable in integrating technology that could help the teachers sculpt a path for the upcoming years. Someone to take the teachers (k-8) and help them develop a road map. Daily Writing Prompts - March. Below are daily writing prompts for the month of March.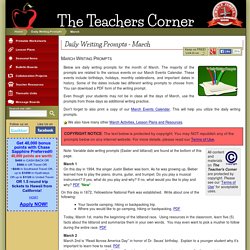 The majority of the prompts are related to the various events on our March Events Calendar. These events include birthdays, holidays, monthly celebrations, and important dates in history. Some of the dates include two different writing prompts to choose from. You can download a PDF form of the writing prompt. Read Across America Day Activities and Lesson Plans. To help you celebrate Dr. Seuss' Birthday we have provided you with a variety of resources and interactive ideas that explore the world of Dr.
Seuss. We have organized them by general activities, activities by various book titles and finally, general web sites. Enjoy! Valentine's Day Theme Unit - Free Printable Worksheets, Games, and Activities for Kids. Click and Drag - Make A Snowman. Teaching Resources. Teaching Resources See other versions of this page: Informal Educators How Big is a Blue Whale? Class Acts : Homeroom. Dictionary Day Activities. Great Resources. Great resources for teachers on grading rubrics, online quizzes, audio books, utilities, puzzle creators and more.
Send me an email with any you find invaluable to your teaching job. Partial image: Nemo Developers and/or authors: If you have a website and/or book you would like considered for this list, please contact me so I can review it by clicking here. Thanks! Classroom Resources. Great Resources. Teachers' Domain: Home. Spelling & Vocabulary Website: SpellingCity. Web Puzzler. Web Puzzler Welcome to the Web Puzzler. After you select an image from the list below, you will be shown the puzzle. Try to solve the puzzle by rearranging the pieces. United Nations Cyberschoolbus.
KOL Jr. Stories - Online Picture Books Read Aloud. SqoolTube Videos: Book Related. Listen and Read - Non-fiction Read Along Activities. Listen and Read is a set of 54 non-fiction stories from Scholastic for K-2 students. The stories are feature pictures and short passages of text that students can read on their own or have read to them by each story's narrator. The collection of stories is divided into eight categories: social studies, science, plants and flowers, environmental stories, civics and government, animals, American history, and community.
Lil' Fingers Storybooks: Original Toddler/preschool/kids(K-3) activites, storybooks, & coloring. k12in2012 by GenerationNation. A Book and a Hug - Reading Levels. Teaching with Ipads. Teacher. Teachers Homepage. Kenmeadows. Current books - Read to me. Dinobase: University of Bristol's Online Dinosaur Database.
Music
Women's biographies: Distinguished Women of Past and Present. St. Patricks Day Coloring Pages. Guided Reading and Reading Games with Roy the Zebra. Bembo's Zoo. Storyline Online. Book Adventure | Free Reading Program.
Teachers. Teachers. Prewriting Skills: Diagonal Lines 2 | Worksheet. Teacher Resources. EDU. Educational games Childtopia. PEEP and the Big Wide World. Read On Wisconsin! - This Year's Books. Weekly Reader: Curriculum-Rich Resources for Teachers. Monthly Theme. The teacher wife. Guest Blogger: Mélanie Watt | The TeachingBooks.net Blog.
---