Tea
It's been a while, hasn't it? Well, don't worry: after a very long hiatus, we're getting back into the swing of things! And I'm going to start out with a special treat: a tutorial! How to Make Iced Tea! Now, I know it's not going to be summertime much longer, but here in LA it's back in the 90s, so my beloved iced tea pitcher ( Bodum Bistro ) has come back out of the cabinet and sprung into action again. And besides, just because it's not hotside out doesn't mean you can't still drink iced tea from time to time – especially if you're like Derek and me, we can never seem to agree on the temperature in the apartment!

nerdiTEA
retail stores Cart Summary Search Tea Tea of the Month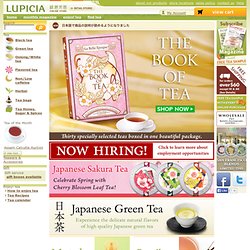 LUPICIA Fresh Tea
Green Tea
Mother's Day is Sunday, May 11 Give Mom the gift of delicious tea or a beautiful teapot, and every time she enjoys a cup of Teavana tea, she will think of you! We created a list of exquisite teas, teawares and accessories with big savings for you 20% off Belle Amitie Teapot + 20% off Peach Momotaro Blooming Tea Free 2 oz of Youthberry White Tea with purchase of a Breville One-Touch Tea Maker Coupon Code: ONETOUCH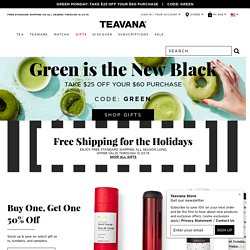 My girlfriend is sympathetic, texting me throughout the day. By the end of my work day I'm a bit grumpy, even irritable. My back still hurt, the boots I had worn had started to dig into one of my heels, now dead tired, and the six shots of espresso I had taken throughout the day to try to keep myself propped up had just added a strange bend to my reality which seemed to make things a bit further away than they really were. She's trying to be supportive, but she does it with "I'm sorry your back hurts,", "I'm sorry you're tired," and I know she's trying to be sympathetic, but "I'm sorry" comes off as an apology to me and it's a mild irritation, and in present mindset, it's a major irritation. I have to keep myself from re-addressing this because it's appearing as a bigger issue than it actually is.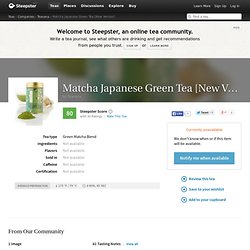 Matcha Japanese Green Tea [New Version] Tea by Teavana
JAS-eTea.com is your friendly neighborhood online tea shop. We offer over 300 premium teas and quality tea-related products. Don't take our word for it; read our customer reviews.
Pu-erh Tea - Premium Chinese Teas - JAS eTea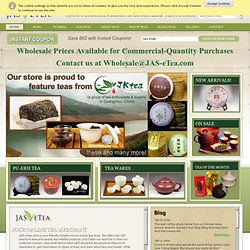 lesson #01 Two leaves and a bud Plucking tea Tea garden Welcome to the Beginners course of TeaClass.