Tea
nerdiTEA
LUPICIA Fresh Tea
Green Tea
I'm the President of the St. Louis Harp Society, which sounds way more important & prestigious than it really is. It just means I get to schedule events (our annual tea party, recitals, etc). My Vice President is a lovely Harpist from Japan, the most gracious woman I've ever known. I had my first cup of Matcha in her home, when she was the treasurer & I was a mere peon (before I worked my way up the ladder to greatness). There we were, a small group of teachers & officers, planning the year.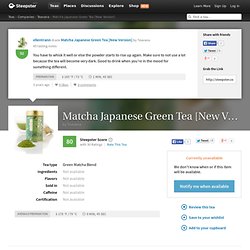 Matcha Japanese Green Tea [New Version] Tea by Teavana
Pu-erh Tea - Premium Chinese Teas - JAS eTea
Tasting tea is an art perfected only through experience. Professional tea tasters must undergo years of training in order to develop their pallet. Below is a list of some terms used by tasters for evaluating black tea . While we revere the art of tea tasting, we also wish to point out that you don't have to be an expert to appreciate tea—you just have to know what you like and be willing to experiment.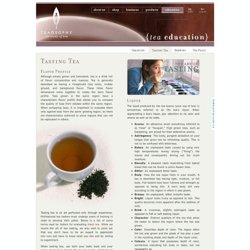 lesson #01 Two leaves and a bud Plucking tea Tea garden Welcome to the Beginners course of TeaClass.