Jogvédelem
STOP ACTA - HUN lang. / Magyar szinkron.
Élelmiszeripar Rt(teljes film)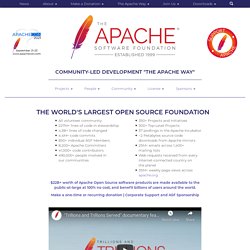 If you would like to keep up with news and announcements from the foundation and all its projects, you can subscribe to the Apache Announcements List or follow the Foundation Blog. The all-volunteer Apache Software Foundation (ASF) develops, stewards, and incubates over 200 Open Source projects and initiatives, many of which power mission-critical applications in financial services, aerospace, publishing, big data, government, healthcare, research, infrastructure, and more. Did you know that 50% of the Top 10 downloaded Open Source products are...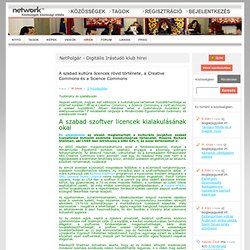 Tudomány és szabályozás Hogyan változik, hogyan kell változzon a tudományos tartalmak hozzáférhetősége az internet korában? Mi az a Creative Commons, a Science Commons, a nyílt archívum, a szabad hozzáférés?
Internet: A szabad kultúra licencek rövid története, a Creative Commons és a Science Commons
Király András 2010. szeptember 20., hétfő 16:54 | A választási eljárási törvény szerint csak az lehet jelölt, aki megfelel a törvényi előírásoknak. Az adatvédelmi törvény szerint az ajánlószelvényeket gyűjtő jelölteknek adatkezelőként nyilvántartásba kell vétetni magukat. Ezt csak 8650-en tették meg, miközben csak független jelöltből több mint 35 ezer van.
Belföld - Legalább huszonötezer jelölt nem felel meg a törvénynek