Visions d'avenir...maintenant?
Mobile learning et E-learning, des concepts de formation en pleine essor par Sophie Richard-Lanneyrie - Chronique e-Business
Le 'mobile learning' (ou m-learning) est un concept qui monte. Il offre une déclinaison au e-learning.
Tablettes numériques - Les enfants écrivent les prochaines mutations sociales
Le constat posé en début de semaine par un groupe de recherche indépendant aux États-Unis est pour le moins fascinant. Aujourd'hui, les enfants de zéro à huit ans passent plus de temps que jamais devant un écran, de télévision, bien sûr, et de plus en plus celui d'un téléphone intelligent ou d'une tablette numérique.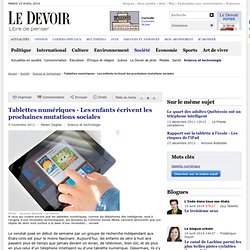 tablette numérique
À Ludovia en 2011, les promoteurs de l'ENT et ceux des réseaux sociaux s'opposaient ouvertement dans les débats.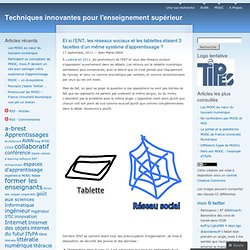 Freedom to Teach – the Doceri Blog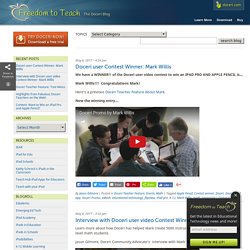 During the summer of 2013, I interviewed successful classroom flippers Jessica Rice and Megan Ahlberg. Together they have flipped their pre-calculus classrooms and made screencasts for intermediate algebra support classes at Kennedy High School in Bloomington, Minnesota.
On Saturday, November 5, 2011, I had the distinct pleasure to attend the Westchester Day of Discovery in White Plains, New York. I blogged about it in a previous post, but I wanted to share how I implemented an iPad app that I had learned about from Hall Davidson.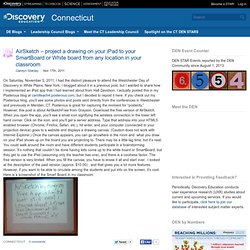 AirSketch – project a drawing on your iPad to your SmartBoard or White board from any location in your classroom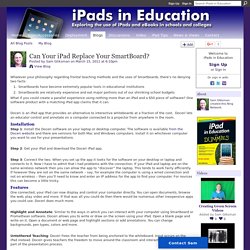 Can Your iPad Replace Your SmartBoard?
Whatever your philosophy regarding frontal teaching methods and the uses of Smartboards, there's no denying two facts: Smartboards have become extremely popular tools in educational institutionsSmartboards are relatively expensive and eat major portions out of our shrinking school budgets
iBand HD | Amazing! 24 Piece iPad Performance In School
Using an iPad as a Document Camera
Project Based Learning & iPad Integration
In the fall of 2011, India's Infrastructure Leasing and Financial Services Limited (IL&FS) will be launching a new Exploriments product that will integrate students' iPads with the lessons teachers deliver on a SMART Board interactive whiteboard.
SMART Technologies