Syria
Syria: Extrajudicial Executions. (New York) – Syrian security forces summarily executed over 100 – and possibly many more – civilians and wounded or captured opposition fighters during recent attacks on cities and towns, Human Rights Watch said in a report released today.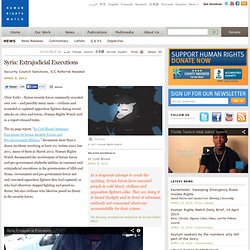 The 25-page report, "In Cold Blood: Summary Executions by Syrian Security Forces and Pro-Government Militias," documents more than a dozen incidents involving at least 101 victims since late 2011, many of them in March 2012. Human Rights Watch documented the involvement of Syrian forces and pro-government shabeeha militias in summary and extrajudicial executions in the governorates of Idlib and Homs. Government and pro-government forces not only executed opposition fighters they had captured, or who had otherwise stopped fighting and posed no threat, but also civilians who likewise posed no threat to the security forces. Syria: War Crimes in Idlib During Peace Negotiations. (New York) – Syrian government forces killed at least 95 civilians and burned or destroyed hundreds of houses during a two-week offensive in northern Idlib governorate shortly before the ceasefire, Human Rights Watch said in a report released today.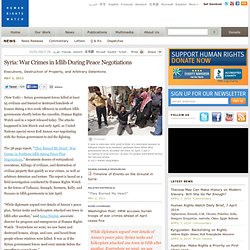 The attacks happened in late March and early April, as United Nations special envoy Kofi Annan was negotiating with the Syrian government to end the fighting. The 38-page report, "'They Burned My Heart': War Crimes in Northern Idlib during Peace Plan Negotiations," documents dozens of extrajudicial executions, killings of civilians, and destruction of civilian property that qualify as war crimes, as well as arbitrary detention and torture. The report is based on a field investigation conducted by Human Rights Watch in the towns of Taftanaz, Saraqeb, Sarmeen, Kelly, and Hazano in Idlib governorate in late April. The Five Worst Atrocities of the Syrian Uprising - By Uri Friedman.
The Syrian government's crackdown on protesters and armed rebels has produced a seemingly endless stream of grim and grisly days, with more than 9,000 civilians perishing in the violence since March 2011, according to U.N. estimates.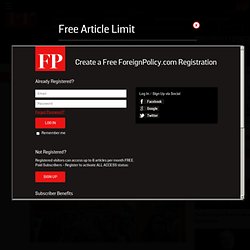 Yet some incidents have garnered more international attention than others, either due to the scale of the bloodshed or the savagery of the attack. The slaughter of more than 100 people on Friday in Houla, a series of villages near the Syrian city of Homs, is proving to be one of these incidents. The U.N. Security Council unanimously condemned the killings, U.N. envoy Kofi Annan hurriedly organized a meeting with Syrian President Bashar al-Assad in an effort to salvage his peace plan, and governments around the world expelled Syrian ambassadors and diplomats. Der Spiegel is calling the massacre "Syria's My Lai," while Reuters has described it as "an atrocity that shook world opinion out of growing indifference.
" SYRIA – A Journey to Hell. Syria – A Journey to Hell : in the heart of the Syrian Intelligence Service prisons (Le Monde, 7.6.2012; L'Espresso, 8.6.2012; Le Soir, 11.6.2012; Neue Luzerner Zeitung, 23.6.2012) © LB-Pierre PICCININ [photo : Tal-Biseh] To write is a heavy responsibility.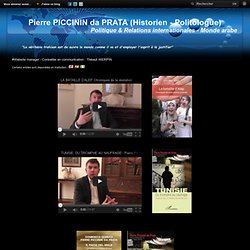 Syria: Torture Centers Revealed. (New York) – Former detainees and defectors have identified the locations, agencies responsible, torture methods used, and, in many cases, the commanders in charge of 27 detention facilities run by Syrian intelligence agencies, Human Rights Watch said in a multimedia report released today.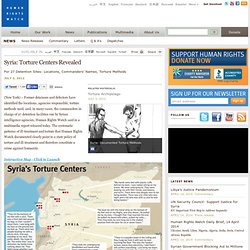 The systematic patterns of ill-treatment and torture that Human Rights Watch documented clearly point to a state policy of torture and ill-treatment and therefore constitute a crime against humanity. Interactive Map - Click to Launch (Embed this map in your blog) The 81-page report, "Torture Archipelago: Arbitrary Arrests, Torture and Enforced Disappearances in Syria's Underground Prisons since March 2011" is based on more than 200 interviews conducted by Human Rights Watch since the beginning of anti-government demonstrations in Syria in March 2011. Syria: Sexual Assault in Detention. (New York) – Syrian government forces have used sexual violence to torture men, women, and boys detained during the current conflict.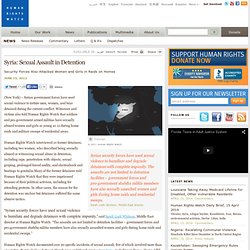 Witnesses and victims also told Human Rights Watch that soldiers and pro-government armed militias have sexually abused women and girls as young as 12 during home raids and military sweeps of residential areas. Human Rights Watch interviewed 10 former detainees, including two women, who described being sexually abused or witnessing sexual abuse in detention, including rape, penetration with objects, sexual groping, prolonged forced nudity, and electroshock and beatings to genitalia.Many of the former detainees told Human Rights Watch that they were imprisoned because of their political activism, including for attending protests.
In other cases, the reason for the detention was unclear but detainees suffered the same abusive tactics. Syrian Mire. Diplomatic pressure mounts on Syria after Houla massacre Assad's government faces problems on multiple fronts as the West and the UN blame it for the deaths of over a hundred civilians, though intervention is still unlikely Supporters of the Syrian President's regime hold portraits of Syrian President Bashar al-Assad as they demonstrate in front of the Syrian cultural center in Paris, on May 29, 2012 in Paris.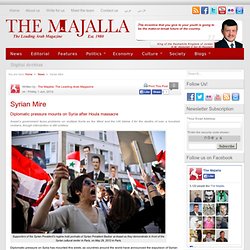 Diplomatic pressure on Syria has mounted this week, as countries around the world have announced the expulsion of Syrian diplomats in protest at the massacre close to the Syrian town of Houla last weekend, in the province of Homs. More than one hundred people were killed in the attack, including 20 women and almost 50 children, according to reports in Western newspapers. Patrick Cockburn: Why war is marching on the road to Damascus - Commentators - Opinion. I spent the last week in Damascus and the atmosphere reminds me of Beirut in 1975 at the start of the 15-year civil war.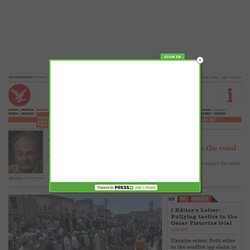 Again and again in conversations, people realistically laid out for me the nasty things that are all too likely to happen, but few were able to produce plausible ideas on how disaster might be averted. "I wish people abroad would stop talking about a civil war starting here because it is still the people against the government," said one committed member of the opposition as we sat in a café in Damascus (everybody I spoke to has to be nameless, for obvious reasons). "Where Are the Syrian Peacemakers?" by Christopher R. Hill. Exit from comment view mode.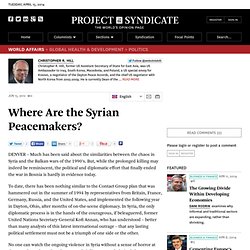 Click to hide this space DENVER – Much has been said about the similarities between the chaos in Syria and the Balkan wars of the 1990's. But, while the prolonged killing may indeed be reminiscent, the political and diplomatic effort that finally ended the war in Bosnia is hardly in evidence today. Life in Homs. [The following account of a day in the life of someone living in Homs was first published on the blog Thoughts and Feelings of a Syrian Freedom Fighter.]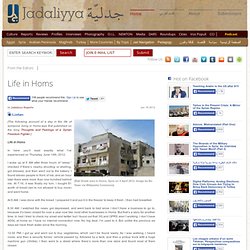 Life in Homs In here you'll read exactly what I've experienced on Thursday, June 14th, 2012. I woke up at 5 AM after three hours of "sleep," checked if there's nearby shooting or shelling, got dressed, and then went out to the bakery. Taramseh Killings Increase Pressure. The rising death toll in Syria this week is set against more high-profile defections Reports of over 200 deaths in town of Taramseh do nothing to help faltering diplomatic efforts to resolve Syrian crisis. A Syrian citizen holds the remains of a projectile shot by a tank near the town of Khan Sheikhun Syria's civil war entered a new and deadly phase this week, with reports of the largest massacre in the country since the uprising began, the defection of a senior Syrian diplomat and a continuing diplomatic row between the members of the UN Security Council.
The Syrian opposition reported on Friday that over 200 people were killed in the town of Taramseh, in the province of Hama, by government shelling, attacks by helicopter gunships, and summary executions by loyalist militias known as shabiha. UN observers are believed to be trying to reach the area to verify the claims. Hillary Clinton: Outraged at "credible" reports of new Syria massacre.
Secretary of State Hillary Clinton said Friday she was outraged at "credible" reports of mass killings in the Syrian village of Tramseh, and called for an immediate ceasefire so UN monitors could go in. "I was deeply saddened and outraged to learn of reports of yet another massacre committed by the Syrian regime that has claimed the lives of over 200 men, women, and children in the village of Traymseh," Clinton said in a statement Friday.
"Credible reports indicate that this unconscionable act was carried out by artillery, tanks, and helicopters – indisputable evidence that the regime deliberately murdered innocent civilians," Clinton's statement continued, calling for Bashar al-Assad to leave power so "a political transition begins." Maj. Gen. The Martyrdom of Al Qusayr. Free Salameh Kaileh! At 2am on Tuesday April 24, the Palestinian-Syrian intellectual and activist Salameh Kaileh was arrested from his home "without explanation," as his lawyer Anwar Bunni of the Syrian Centre for Legal Studies and Research put it. This is not Salameh Kaileh's first time in a Syrian prison. He was a guest of the Assad family in its several jails for eight years and eleven days in the 1990s.
Syrian Regime Closes University, Evicts Students. A man walks by a wall painted in the colors of the opposition flag in Aleppo province. (photo by REUTERS/Zohra Bensemra) Author: Al-Hayat (Pan Arab) Posted May 15, 2012. About Last Night. 24 Hours in Syria. The Country That Is the World: Syria's Clashing Communities. A Tour Inside Syria's Insurgency - Paul Wood - International. Was this Syria's Point of no Return? "The Anarchy Factor in Syria" by Itamar Rabinovich.
Acts of Kindness Offer Hope To Syrian Refugees in Salamiyah. Deadly Unrest in Syria - Alan Taylor - In Focus. Deadly Stalemate in Syria - In Focus. Undergunned and Overwhelmed - By Rania Abouzeid. Syria's crisis: The long road to Damascus. Syria Unravels | The Majalla. Anne-Marie Slaughter on Syria - the a-list. Syria's Long, Bloody Uprising - In Focus.
Challenge of estimating victims in Syrian conflict - science-in-society - 28 February 2012. Syria's Ground Zero - An FP Slide Show. Remembering Rémi Ochlik - An FP Slide Show. The Fog of War Covers Homs | The Majalla. Home Away From Homs. The battle for Homs - Middle East. Syrian Strife Isn't a Civil War It's a Regional Religious War. Syria's Sons of No One - NYTimes.com. The Real Me and the Hypothetical Syrian Revolution - Part 1. Assad's Alawites: The guardians of the throne - Features. A tale of two villages - Features. A tale of two Syrian villages: Part two - Features. Alawites for Assad. Hafez Al-Assad in 1976. The Brothers Assad | The Majalla. How Assad Stayed In Power—And How He'll Try to Keep It. Finish Him - By Daniel Byman. Twilight in Damascus by Anonymous. Syria Sans Assad | The Majalla.
Syria Comes of Age - By David Kenner. Bashar al-Assad Is Every Bit His Father's Son - By Jerrold M. Post and Ruthie Pertsis. A Syrian Paper Trail. The ambassador's daughter - By Colum Lynch. Assad Family Values. The Assad's Enforcer | The Majalla. "Syria after Assad" by Ronald S. Lauder. One Per Cent: Anonymous leaks emails from Syrian President's office. Wendell Steavenson: Assad's Hama Rules, Again. The Beginning of the End for Syria? | The Majalla. Self Defense. Assad: No News is Good News. A Way out for Assad? Hama: Post-Massacre. Syria's Alawite activists stuck in the middle - Features. Syrian Alawites Divided by Assad's Response to Unrest. The Last Tourist in Syria - By Emma Sky. How Iran Keeps Assad in Power in Syria. Hezbollah After Assad. Syrian Refugees in Turkey.
Syria's Currency Plunges, Raising Fears of Economic Chaos and Poverty. The Syrian Regime's Business Backbone. Eating Cinnabon in Damascus - By Katie Paul. Bombings Rock Aleppo | The Majalla. Jihadists Arrive in Syria. Running Out of Options. Syria's New Jihadis - By Aaron Y. Zelin. Syria's Electronic Warriors Hit Al-Jazeera. Launches Syria Page. Syria's Phase of Radicalisation. Hizballah, Development, and the Political Economy of Pain: For Syria, What is "Left" (Part 3-Final) Religion/Morality, Syria/Resistance: For Syria, What is "Left?" (Part 2 of 3) Syria Media Roundup (February 23) Prelude to an Uprising: Syrian Fictional Television and Socio-Political Critique. Dead on Arrival? Five Years in Damascus - By Stephen Starr. Observing the Observers - By Amal Hanano. Arab League Monitors Get No Love on Syria Mission: Noe & Raad. Talking Syria | The Majalla. Exclusive: Leaked Syria observers' report details failings of mission. Arab revolutions: How to set Syria free.
Saudi Arabia Is Arming the Syrian Opposition - By Jonathan Schanzer. The Current Impasse in Syria: Jadaliyya Interview with Haytham Manna` (Part 1) How the Syrian Uprising Started, the "Rise" of the Syrian National Council, and The Role of The Arab Gulf Countries: Interview with Haytham Manna` (Part 3) Intervention, Resistance, Transformation, and Exit in Syria: Interview with Haytham Manna` (Part 2)
The End of Taking the Syrian Revolution at Face Value. Al-Akhbar and Syria: No Room for Silence. Fouad Ajami: The Honor Of Aleppo. The Israeli Position Toward the Events in Syria. Palestinian Intellectuals to Syrian Regime: Not in Our Name! Syrian Parliamentary Elections: Cynicism Wins The Day.
---