Debating the case for foreign intervention
Moscow pledges to block UN over foreign intervention in Syria | World news. Russia has made clear that it will block UN support for foreign military intervention in Syria, scotching slim hopes that the massacre of more than 100 people at Houla would break the impasse in the international response to ongoing violence.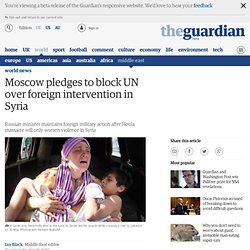 Moscow's crucial support for Syria's president, Bashar al-Assad, has not changed after confirmation from a UN human rights body that 108 people, including 49 children under 10, were killed in the weekend incident near Homs, mostly in summary killings by the feared Shabiha militia, linked to the Assad regime. Gennady Gatilov, Russia's deputy foreign minister, said: "We have always said that we are categorically against any intervention in the Syrian conflict from the outside, as this would only worsen the situation and would lead to unpredictable consequences both for Syria itself and the region on the whole. " Syrians should beware of some of their foreign 'friends' | Brian Whitaker. The US secretary of state, Hillary Clinton, meets with Saudi Arabia's foreign minister, Prince Saud al-Faisal, in Tunis during the Friends of Syria conference.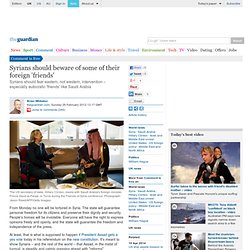 Photograph: Jason Reed/AFP/Getty Images From Monday no one will be tortured in Syria. The state will guarantee personal freedom for its citizens and preserve their dignity and security. People's homes will be inviolable. Everyone will have the right to express opinions freely and openly, and the state will guarantee the freedom and independence of the press. On intervention in Syria.
The shorter Steve Cook: Bashar al-Assad is massacring his own people, but the West doesn't want to intervene because they think he'll fall soon enough.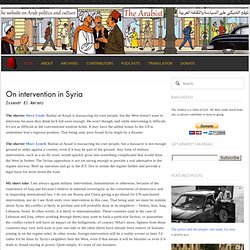 He won't though, and while intervening is difficult, it's not as difficult as the conventional wisdom holds. It may have the added bonus fo the US to undermine Iran's regional position. That being said, post-Assad Syria might be a disaster. Intervention in Syria will escalate, not stop the killing | Seumas Milne. There is no limit, it seems, to the blood price Arabs have to pay for their "spring".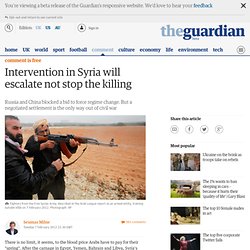 After the carnage in Egypt, Yemen, Bahrain and Libya, Syria's 11-month-old uprising grows ever more gruesome. Four days of bombardment of rebel-controlled districts in the Syrian city of Homs have yielded horrific images and reports from the embattled Bab al-Amr opposition stronghold: of mosques full of corpses, streets strewn with body parts, residential areas reduced to rubble. Television footage broadcast in the Arab world is still more graphic, and the impact convulsive. Whatever the arguments about the number of dead on either side, the scale of human suffering is unmistakable – and comes after almost a year of continuous bloodletting, torture and sectarian revenge attacks. Finish Him - By Daniel Byman. As world leaders huddle at the United Nations to debate whether to demand Bashar al-Assad's ouster, the smart money is already betting that his time is short.
The president of Syria is a "dead man walking," according to one U.S. diplomat, a view shared by Israel's military and predicted by a surveyed group of foreign policy experts. Reports of Assad's death, however, appear greatly exaggerated. The Syrian president has survived almost a year of demonstrations and growing violence, and if not pushed by outside actors he may yet cling to power. It's easy to see why many think Assad's time might be up. Despite the deaths of over 5,000 protesters and the arrests of thousands more, Syrians have bravely defied the regime, which seems unable to intimidate them into submission. On Syria. In the corner of many Twitter avatars is a small Syrian flag.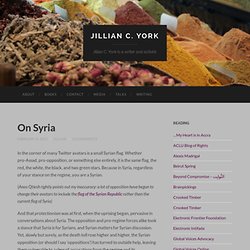 Whether pro-Assad, pro-opposition, or something else entirely, it is the same flag, the red, the white, the black, and two green stars. Because in Syria, regardless of your stance on the regime, you are a Syrian. (Anas Qtiesh rightly points out my inaccuracy: a lot of opposition have begun to change their avatars to include the flag of the Syrian Republic rather than the current flag of Syria) And that protectionism was at first, when the uprising began, pervasive in conversations about Syria. This Time, Assad Has Overreached - Room for Debate. Rime Allaf, a Syrian writer, is an associate fellow at Chatham House in London.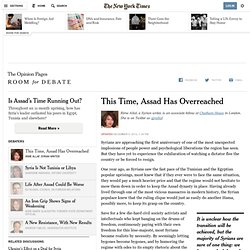 She is on Twitter as @rallaf. Syrians are approaching the first anniversary of one of the most unexpected implosions of people power and psychological liberations the region has seen. But they have yet to experience the exhilaration of watching a dictator flee the country or be forced to resign. One year ago, as Syrians saw the fast pace of the Tunisian and the Egyptian popular uprisings, most knew that if they ever were to face the same situation, they would pay a much heavier price and that the regime would not hesitate to mow them down in order to keep the Assad dynasty in place. Having already lived through one of the most vicious massacres in modern history, the Syrian populace knew that the ruling clique would just as easily do another Hama, possibly more, to keep its grasp on the country.
The case against military intervention in Syria. Princeton, NJ - Looking back to 2011, the effect of the Arab Spring is still lingering.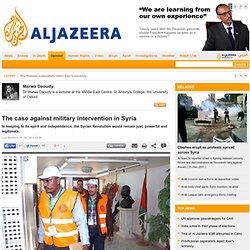 People have risen in Tunisia, Egypt, Bahrain, Yemen, Libya and Syria and initiated a worldwide quest for political rights and social justice. Once characterised as politically and economically stagnant by neo-Orientalists, the Arab world set the regional and international agenda of the last year. Syria: Nato must help us! | Politik. While travelling secretly through Syria, Wolfgang Bauer met with rebel leaders in the city of Homs and witnessed the brutality of a regime waging war against its own people.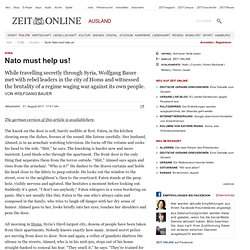 Aktualisiert 31. August 2011 17:41 Uhr. Imperialism, despotism, and democracy in Syria. New York, NY - In the context of the US invasion of the Gulf in 1991, British academic Fred Halliday announced his new right-wing affiliations in the British newspaper the New Statesman by declaring: "If I have to choose between imperialism and fascism, I choose imperialism.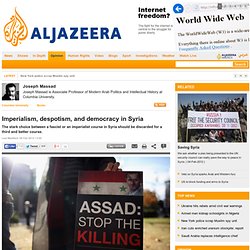 " It never occurred to Halliday that he could have opposed both and supported home-grown democratic struggles instead. This was indeed a watershed moment for Arab, American, and European anti-imperialist leftists who would become turncoats, moving from a principled opposition to imperialism to a principled and financially more rewarding support of it. On Massad: The Failure of the Anti-Imperialist Intellectuals. I just read Massad's new post, "Imperialism, despotism, and democracy in Syria and my initial reaction is that it is out of touch with what is happening in the country. There are good ways to overthrow a dictator and there are bad ways, he seems to say. The bad way is to ask for the West for help, the good way is, well, unclear. Massad tells us that a good anti-imperialist would oppose the dictator AND the West, which is pretty straightforward, but he doesn't tell us how that is going to help the people of Syria, or how he proposes that they get rid of Assad.
Where he refers to the "hijacking" of the Syrian revolution, does that mean it is any less deserving of support in light of the repression that it faces? Why foreign intervention is not welcome in Syria | Caabu. Why foreign intervention is not welcome in Syria, Guardian Comment is Free Article, To intervene or not to intervene? Having watched the Assad regime kill more than 1,400 Syrians, arrest tens of thousands, use helicopter gunships and tanks on its own population, reportedly abuse and kill children, many are asking why, if action was deemed necessary for Libya, it is not for Syria. "Syria's Opposition Must Find a Different Way," By Ehsani. Syria's Opposition Must Find a Different Way By Ehsani for Syria Comment February 10, 2012 As the death toll mounts on the streets in Syria, it is important to remember how we got here. Damascus has decided to reassert control over its restive cities by using the full might of its military. This should not come as a surprise to observers and policy makers.
---