Synthetic Life
Lartigue2007GenomeTransplantation. JCVI: Home. Socrates_logos. Craig Venter is on the verge of creating synthetic life. Craig Venter unveils "synthetic life" About / Bios / J. Craig Venter. Research Interests and Accomplishments J.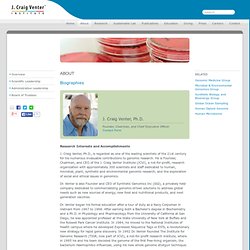 Craig Venter, Ph.D., is regarded as one of the leading scientists of the 21st century for his numerous invaluable contributions to genomic research. He is Founder, Chairman, and CEO of the J. About / Bios / Hamilton O. Smith. About Biographies Hamilton O.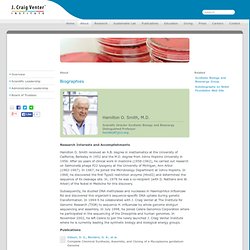 About / Bios / Clyde Hutchison. Clyde A. Hutchison III. Hutchison Home Page -- Research -- Publications -- Hutchison Laboratory -- Academic and Research Affiliations -- Contact Clyde -- Professional CV -- Non-Scientific Interests MOLECULAR GENETICS Research Interests This laboratory has carried out investigations on biological systems ranging from bacteriophage to mice.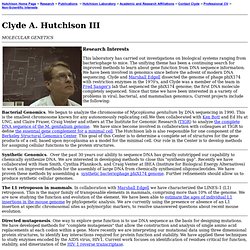 The unifying theme has been a continuing search for improved methods to learn about gene function from DNA sequence information. Penn | Center for Bioethics | Home. First-self-replicating-synthetic-bacterial-cell-constructed-by-j-craig-venter-institute-researchers-94485589. ROCKVILLE, Md. and SAN DIEGO, May 20 /PRNewswire-USNewswire/ -- Researchers at the J.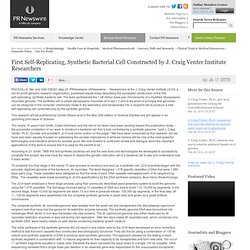 Craig Venter Institute (JCVI), a not-for-profit genomic research organization, published results today describing the successful construction of the first self-replicating, synthetic bacterial cell. The team synthesized the 1.08 million base pair chromosome of a modified Mycoplasma mycoides genome. The synthetic cell is called Mycoplasma mycoides JCVI-syn1.0 and is the proof of principle that genomes can be designed in the computer, chemically made in the laboratory and transplanted into a recipient cell to produce a new self-replicating cell controlled only by the synthetic genome.
Physiology or Medicine 1978 - Press Release. Press Release October 1978 The Nobel Assembly of Karolinska Institutet has decided to award the Nobel Prize in Physiology or Medicine for 1978 jointly to.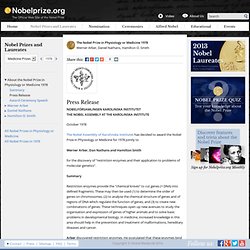 ---