Synthesizers [A-Z]
ADSR Sounds has introduced Dumb Ass Onions AH! – a sound library for Massive that they say is "sure to make you cry". Continue reading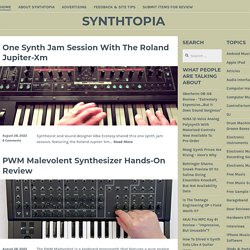 In einer zunehmend digitalisierten Welt war KORG mit dem handlichen monotron Analogue Ribbon Synthesizer eine analoge Sensation gelungen. Jetzt setzt KORG mit der fantastischen monotribe Analog Ribbon Station einen weiteren analogen Meilenstein: eine neue Form des Synthesizers im Handheld-Format mit einer erstaunlichen Vielfalt an Features und Technologien. Der monotribe enthält die gleiche analoge DNA wie der monotron. Aber sie taucht deutlich tiefer in das verzweigte, organische und häufig chaotische Universum der Analogsynthese ein und vereint intuitiven Bedienkomfort mit einer dreiteiligen, selbständigen analogen Rhythmussektion und dem spielerischen Sequencing des Electribe.
alle Infos auf der offiziellen Webseite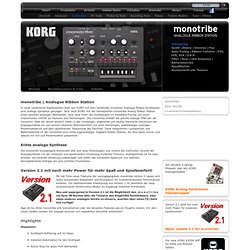 Knüller-Maschine zum Knaller-Preis Lightman am 22.07.2012 Hinweis: Diese Review bezieht sich auf die OS-Version 2, das Update kann von der Korg-Homepage heruntergeladen werden. Der Monotribe ist eine analoge Groovebox mit Ribbon-Keyboard, einem monophonen Synth, drei Drums und einem Sequencer mit bis zu 16 Steps. Der VCO bietet die Wellenformen Dreieck, Sägezahn und Rechteck, dazu gibts ein dem MS-10/20 entlehntes 12db Tiefpass-Filter mit Resonanz, eine VCA-Sektion mit Wahlschalter für drei Hüllkurvenverläufe (Decay, Attack, Gate), sowie ein LFO, der in drei Modi (schnell, langsam, 1-Shot) und den Wellenformen Sägezahn, Rechteck, Dreieck oder Sample & Hold wahlweise den VCO, VCF oder VCO+VCF modulieren kann.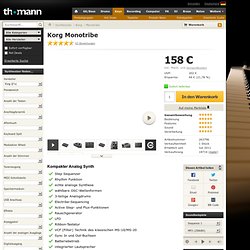 Korg Monotribe
virus synth
Access Music | The Virus TI - Totally Integrated Synthesizers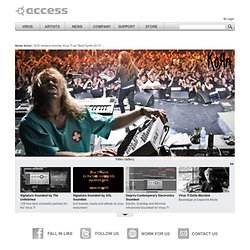 News ticker: Virus TI Darkstar available again SOS readers choose Virus TI as "Best Synth 2013" Ultimate X releases new soundbank for Virus TI Virus TI - Best Hardware Synthesizer 2012 A new signature sound bank by Howard Scarr ... Video Gallery Signature Soundset by The Unfinished
SYNTHESIZER + SEQUENCER News + Community - making better music with analog digital or modular or software synths & sequencers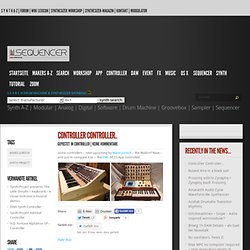 this is the message I read this morning – the sound of Prosoniq was always unique and innovative in everything sonic – I bought the first stuff for my EPS16+ to have a lot of very new effects and later there were SonicWorx and some years ago they introduced Isolate which is amazing for extracting audio parts like trumpets from a song, remove reverb (that was possible in sonicWorx already on OS9) – so I really really hope they maintain all the older stuff and re-release everything as VST/AU.. and possibly bringt the newer stuff to life in a plug in format. did you know they had a morphing tool for audio? the rayverb for impulse response / convolution reverbs to be changed not just wet'n'dry some filtering and that's it.. Prosoniq has been acquired by Zynaptiq in 2014.
Drummachine & Synthesizer Database, News & Community: Sequencer Synth Drum Machines Music Media Computer Mac & Nerdic Walking
Access Virus Synthesizer
Access Virus "Virtual Analog" Synthesizer <– click to enlarge..die TI funktioniert bisher nur zum editieren, die audio latenz ist für den normalen betrieb noch relativ wackelig mit OS 1.06, klanglich hat er aber kein Problem, hyperSäge und Rechteck morph mit syncklingt schon nett breit.. wenn auch nicht so breit wie ein analoger Oberheim Xpander oder sowas.. er ist optisch nochmal verbessert, oder besser haptisch: die matrix und die effekte kann man nur sehr gut überblicken und weniger umständlich als in den vorgängern.. macht wirklich spass , die wavetables sind nicht vom PPG oder waldorf geklaut, es sind komplett neue.. sie sind tauglich, leider gibts den schönen clipper aus dem MW nicht.. eigentlich ein super teil ,was eigentlich alles kann und wirklich mächtig viele soundsspeicher hat: 512 RAM und 2048 ROM.. und , obwohl ich nicht direkt der preset-liebhaber bin: hier haben sich die programmer mal mühe gegeben, die klingen sogar gut.. das sag ich nicht so schnell ;) ..