Synology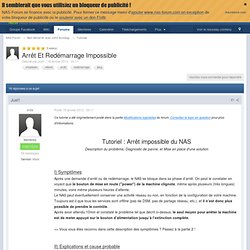 Ce tutoriel a été originellement posté dans la partie Modifications logicielles du forum. Consultez le topic en question pour plus d'informations.
Arrêt Et Redémarrage Impossible - Tutorials
Bloquer URL/mots clés/ports sur un serveur proxy Squid | BabyGeek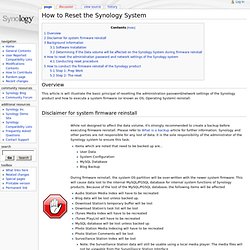 How to Reset the Synology System
From SynologyWiki Overview This article is will illustrate the basic principal of resetting the administration password/network settings of the Synology product and how to execute a system firmware (or known as OS, Operating System) reinstall. Disclaimer for system firmware reinstall Background Information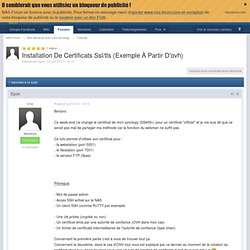 Installation De Certificats SSL/TLS
Bonjour, Ce week-end j'ai changé le certificat de mon synology (DS409+) pour un certificat "officiel" et je me suis dit que ce serait pas mal de partager ma méthode car la fonction du webman ne suffit pas. Ce tuto permet d'utiliser son certificat pour :- la webstation (port 5001)- le filestation (port 7001)- le serveur FTP (ftpes)
Connexion Nas Depuis Le Boulot - Installation, Démarrage et Configuration
Synology accéder à son NAS depuis le boulot | Cobestran
Mise en situation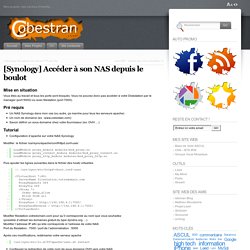 SynoCommunity - Dépôt de paquets pour NAS Synology
Dev - Code - Hack - Dépôts de paquets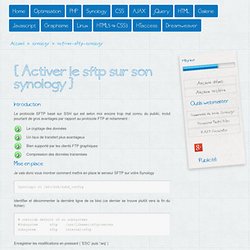 Introduction Le protocole SFTP basé sur SSH qui est selon moi encore trop mal connu du public, inclut pourtant de gros avantages par rapport au protocole FTP et notamment : Le cryptage des donnéesUn taux de transfert plus avantageuxBien supporté par les clients FTP graphiquesCompression des données transmises
Activer le SFTP sur son Synology - Astuces-webmaster.ch
Installer scp et sftp sur les NAS Synology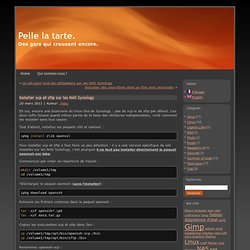 Eh oui, encore une bizarrerie du linux-like de Synology : pas de scp ni de sftp par défaut.
Auto Boot Pyload - Modifications Logiciels - NAS-Forum - Page 2
logo dlna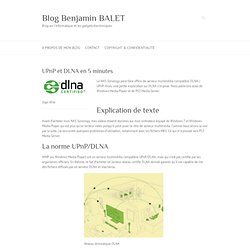 UPnP et DLNA en 5 minutes - Blog Benjamin BALET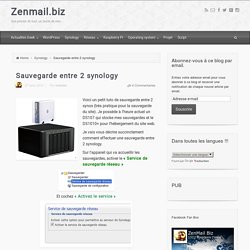 Sauvegarde entre 2 synology | ZenM
Voici un petit tuto de sauvegarde entre 2 synos (très pratique pour la sauvegarde du site). Je possède à l'heure actuel un DS107 qui stocke mes sauvegardes et le DS1010+ pour l'hébergement du site web.
Restore ipkg and related application after DSM 4 upgrade
(modifié le 15 janvier 2013 à 22:49)
[Tutoriel] Utiliser les newsgroups avec un NAS Synology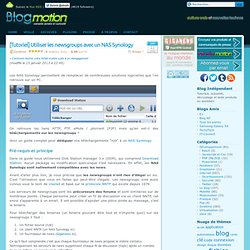 [Tuto] Proxy SOCKS via SSH sur Synology
[Tuto] Proxy SOCKS via SSH sur Synology Posté le 7 octobre 2011
Télécharger sur megaupload, rapidshare, fileserve, hotfile, uploaded.to..., ce logiciel va vous permettre d'automatiser vos téléchargements directement sur votre NAS synology grace à son interface web. pyLoad gère les captcha des différents sites, ainsi que les comptes Premium. pyload est un peu l'équivalent de jDownloader mais il n'a pas besoin de serveur X pour fonctionner. Si quelqu'un connait une technique pour installer un serveur X sur un NAS Synology, je suis preneur.
Installer pyload, logiciel de direct download
Getting Started with the Synology DiskStation - Diskless
From SynologyWiki
Plus loin dans la bidouille du disque dur
c'est LA perle des Syno, non ? by olive35 May 9
Pourquoi faire compliqué quand des solutions toutes prêtes existent?
Installer phpMyAdmin sur le NAS Synology (version package spk)
Objectif :Expliquer la structure d'un SPK, son fonctionnement, de simples applications et ses limitations
Créer Un Package Synology (.spk)