Synology
Créer Un Package Synology (.spk)
Dev - Code - Hack - Dépôts de paquets
HowTo install Periscope on Synology
install Periscope on Synology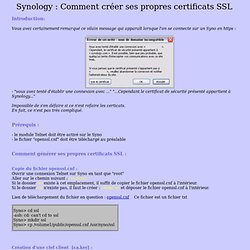 unnamed pearl
Introduction: Vous avez certainement remarqué ce vilain message qui apparaît lorsque l'on se connecte sur un Syno en https :
Logiciels Tiers Serveur de stockage sur réseau (NAS) Synology Inc. Nouvelle expérience NAS
SynoBlog - Things and Stuffs
Transmission 2.50 was release on teh 14th of February.
Transmission - SynoBlog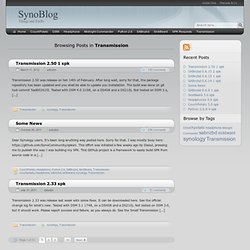 Transmission HowTo
From SynologyWiki Transmission is a bittorrent client that can be used with a Synology server. It includes a web interface and a programmatic (REST RPC) interface.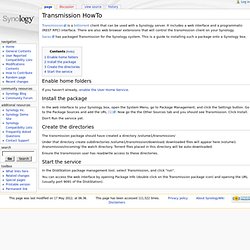 Downloads for sarav's syno-packager - GitHub
Download Center Synology Inc. Network Attached Storage NEW NAS Experience