Synology
Wiki Main Page - XBMC. Install Periscope on Synology. HowTo install Periscope on Synology login in as root Install the following if needed ipkg update # Download the latest package list ipkg install svn # Install ipkg install python # Install Python 2.6 (is already on your system if your using CouchPotato Installation in the appstore directory.
Untitled. Introduction: Vous avez certainement remarqué ce vilain message qui apparaît lorsque l'on se connecte sur un Syno en https : - "vous avez tenté d'établir une connexion avec ...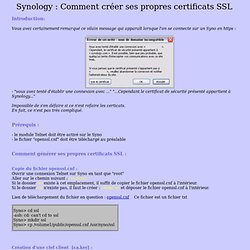 " "...Cependant le certificat de sécurité présenté appartient à Synology... " Impossible de s'en défaire si ce n'est refaire les certicats.En fait, ce n'est pas très compliqué.Prérequis : - le module Telnet doit être activé sur le Syno - le fichier "openssl.cnf" doit être téléchargé au préalable Comment générer ses propres certificats SSL : Logiciels Tiers Serveur de stockage sur réseau (NAS) Synology Inc. Nouvelle expérience NAS. SynoBlog - Things and Stuffs. Transmission - SynoBlog. Transmission 2.50 was release on teh 14th of February.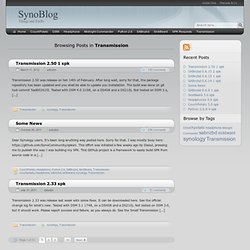 After long wait, sorry for that, the package repository has been updated and you shall be able to update you installation. The build was done on git hub commit 5ad60261f2. Tested with DSM 4.0 2198, on a DS408 and a DS210j. Transmission HowTo. From SynologyWiki Sarav has packaged Transmission for the Synology system.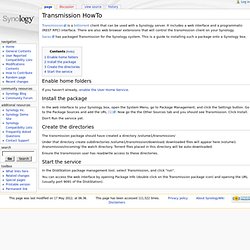 This is a guide to installing such a package onto a Synology box. Downloads for sarav's syno-packager - GitHub. Download Center Synology Inc. Network Attached Storage NEW NAS Experience.
---