SWITCHGRASS (Panicum virgatum)
Showing 1 to 10 of 701 matching Articles Results per page: Export (CSV)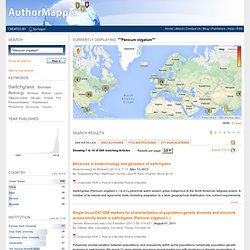 AUTHOR MAPPER - Sélection d'études et d'acteurs traitant de SWITCHGRASS
Ecological Applications, 22(1), 2012, pp. 3–7 Gene flow matters in switchgrass (Panicum virgatum L.), a potential widespread bio
FRANCE AGRICOLE 08/01/08 Le panic raide paraît prometteur pour produire de l'éthanol (étude américaine)
"Panicum virgatum", encore appelée panic raide, est une herbe haute de couleur bleu vert, brillante qui paraît très prometteuse pour produire de l'éthanol à moindre coût, selon des travaux publiés lundi par des biochimistes de l'Université du Nebraska (Etats-Unis).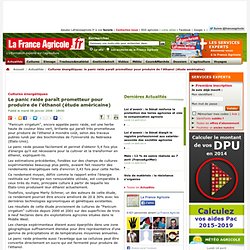 Panicum virgatum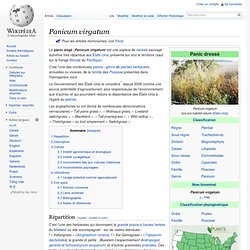 Un article de Wikipédia, l'encyclopédie libre.
NEMATROPICA - 2005, VOL 35; NUMB 1, pages 1-10 - PLANT-PARASITIC NEMATODES ASSOCIATED WITH SWITCHGRASS (PANICUM VIRGATUM L.) GRO
IUCN - PRESENTATION - Risks of invasion from biofuel feedstocks: terrestrial, freshwater and marineWorkshop on biofuel productio
TSEC-Biosys: Plant Crops Bioenergy Research UK - Switchgrass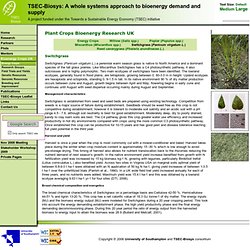 Switchgrass ( Panicum virgatum L. ) a perennial warm season grass is native to North America and a dominant species of the tall grass prairies. Like Miscanthus Switchgrass has a C4 photosynthetic pathway, it also outcrosses and is highly polymorphic.
Virginia Polytechnic Institute and State University - 2004 - Dissertation en ligne : SWITCHGRASS AS AN ENERGY CROP: FERTILIZATIO
ARS USDA - Switchgrass (Panicum virgatum) Toxicity in Rodents, Sheep, Goats and Horses
Journal of Nematology 34(2):98–105. 2002. Effects of Switchgrass (Panicum virgatum) Rotations with Peanut (Arachis hypogaea L.)
MAAP - AVRIL 2009 - LES IMPACTS ENVIRONNEMENTAUX ET PAYSAGERS DES NOUVELLES PRODUCTIONS ÉNERGÉTIQUES SUR LES PARCELLES ET BATIME
Switchgrass as an Alternative Energy Crop
ARS USDA - Panicum virgatum
Journal of Hazardous Substance Research - 1998 - PHYSIOLOGICAL RESPONSES OF SWITCHGRASS (PANICUM VIRGATUM L.) TO ORGANIC AND INO
USDA - SWITCHGRASS - Panicum virgatum L.
PHYSORG 17/03/10 First parasitic nematodes reported in biofuel crops
Nov 03, Biology/Biotechnology Mosaic symptoms on leaves of switchgrass associated with the marafivirus.
PHYSORG 03/11/10 Researchers discover potential new virus in switchgrassUniversity of Illinois researchers have confirmed the fi