SWITCHGRASS (Panicum virgatum)
AUTHOR MAPPER - Sélection d'études et d'acteurs traitant de SWITCHGRASS. Showing 1 to 10 of 889 matching Articles Results per page: Export (CSV) Advances in biotechnology and genomics of switchgrass Biotechnology for Biofuels (2013) 6: 1-15 , May 12, 2013 By Nageswara-Rao, Madhugiri; Soneji, Jaya R; Kwit, Charles; Stewart, C Neal, Jr Show all (4) Download PDF |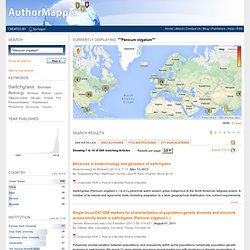 Ecological Applications, 22(1), 2012, pp. 3–7 Gene flow matters in switchgrass (Panicum virgatum L.), a potential widespread bio. FRANCE AGRICOLE 08/01/08 Le panic raide paraît prometteur pour produire de l'éthanol (étude américaine) "Panicum virgatum", encore appelée panic raide, est une herbe haute de couleur bleu vert, brillante qui paraît très prometteuse pour produire de l'éthanol à moindre coût, selon des travaux publiés lundi par des biochimistes de l'Université du Nebraska (Etats-Unis).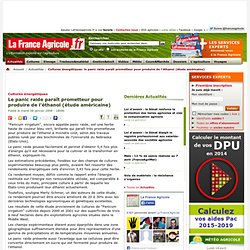 Le panic raide pousse facilement et permet d'obtenir 5,4 fois plus d'énergie qu'il est nécessaire pour la cultiver et la transformer en éthanol, expliquent-ils. Les estimations précédentes, fondées sur des champs de cultures expérimentales beaucoup plus petits, avaient fait ressortir des rendements énergétiques nets d'environ 3,43 fois pour cette herbe. Ce rendement moyen, défini comme le rapport entre l'énergie restituée sur l'énergie non renouvelable utilisée, est comparable à ceux tirés du maïs, principale culture à partir de laquelle les Etats-Unis produisent leur éthanol actuellement. Panicum virgatum. Un article de Wikipédia, l'encyclopédie libre.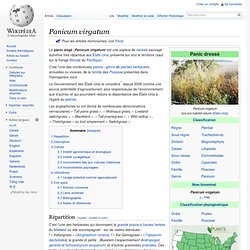 Pour les articles homonymes, voir Panic. Le panic érigé (Panicum virgatum) est une espèce de céréale sauvage autrefois très répandue aux États-Unis, présente sur tout le territoire (sauf sur la frange littorale du Pacifique). Le Gouvernement des États-Unis la considère[1] depuis 2006 comme une source potentielle d'agrocarburant, plus respectueuse de l'environnement que d'autres, et qui pourraient réduire la dépendance des États-Unis à l'égard du pétrole. NEMATROPICA - 2005, VOL 35; NUMB 1, pages 1-10 - PLANT-PARASITIC NEMATODES ASSOCIATED WITH SWITCHGRASS (PANICUM VIRGATUM L.) GRO. IUCN - PRESENTATION - Risks of invasion from biofuel feedstocks: terrestrial, freshwater and marineWorkshop on biofuel productio.
TSEC-Biosys: Plant Crops Bioenergy Research UK - Switchgrass. Switchgrass (Panicum virgatum L.) a perennial warm season grass is native to North America and a dominant species of the tall grass prairies.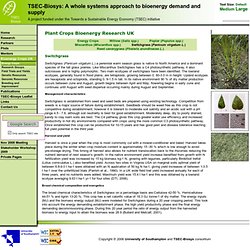 Like Miscanthus Switchgrass has a C4 photosynthetic pathway, it also outcrosses and is highly polymorphic. Two main ecotypes of switchgrass have been identified. The lowland ecotypes, generally found in flood plains, are tetraploids, growing between 0. 60-3.0 m in height. Upland ecotypes are hexaploids and octoploids, standing 0. 9-1.5 m tall. In its native environment 90 % of dry matter production occurs between June and August, growth begins between April and May; flowering begins in early June and continues until August with seed dispersal occurring mainly during August and September. Virginia Polytechnic Institute and State University - 2004 - Dissertation en ligne : SWITCHGRASS AS AN ENERGY CROP: FERTILIZATIO.
ARS USDA - Switchgrass (Panicum virgatum) Toxicity in Rodents, Sheep, Goats and Horses. Journal of Nematology 34(2):98–105. 2002. Effects of Switchgrass (Panicum virgatum) Rotations with Peanut (Arachis hypogaea L.) MAAP - AVRIL 2009 - LES IMPACTS ENVIRONNEMENTAUX ET PAYSAGERS DES NOUVELLES PRODUCTIONS ÉNERGÉTIQUES SUR LES PARCELLES ET BATIME. Switchgrass as an Alternative Energy Crop. ARS USDA - Panicum virgatum. Journal of Hazardous Substance Research - 1998 - PHYSIOLOGICAL RESPONSES OF SWITCHGRASS (PANICUM VIRGATUM L.) TO ORGANIC AND INO. USDA - SWITCHGRASS - Panicum virgatum L. PHYSORG 17/03/10 First parasitic nematodes reported in biofuel crops. PHYSORG 03/11/10 Researchers discover potential new virus in switchgrassUniversity of Illinois researchers have confirmed the fi. University of Illinois researchers have confirmed the first report of a potential new virus belonging to the genus Marafivirus in switchgrass, a biomass crop being evaluated for commercial cellulosic ethanol production.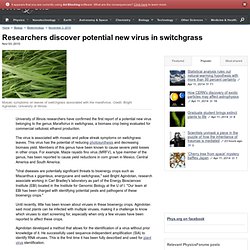 The virus is associated with mosaic and yellow streak symptoms on switchgrass leaves. This virus has the potential of reducing photosynthesis and decreasing biomass yield. Members of this genus have been known to cause severe yield losses in other crops. For example, Maize rayado fino virus (MRFV), a type member of the genus, has been reported to cause yield reductions in corn grown in Mexico, Central America and South America.
"Viral diseases are potentially significant threats to bioenergy crops such as Miscanthus x giganteus, energycane and switchgrass," said Bright Agindotan, research associate working in Carl Bradley's laboratory as part of the Energy Biosciences Institute (EBI) located in the Institute for Genomic Biology at the U of I.
---