Sustainable social enterprises
Social Enterprise Works | Providing guidance and practical business development assistance to prospective, newly formed and established social enterprises during critical periods of their start up and development. BRASS - The Centre for Business Relationships, Accountability, Sustainability and Society.
Small Business Administration. Grants.gov. Farm projects. The Trusteeship Institute. Master Publication List: ATTRA - National Sustainable Agricultur. Home >ATTRA's Master Publication List The following list contains more than 300 easy-to-read titles covering organic production, livestock, horticultural crops, business and marketing, farm energy, water and pest management and more.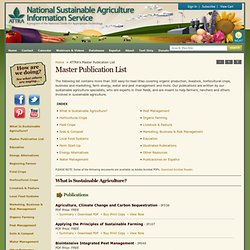 Our publications are written by our sustainable agriculture specialists, who are experts in their fields, and are meant to help farmers, ranchers and others involved in sustainable agriculture. PLEASE NOTE: Some of the following documents are available as Adobe Acrobat PDFs. Download Acrobat Reader. What is Sustainable Agriculture? Sustainable Industries. Sustainable Living on a Budget » Welcome. SAGE.
---