Sustainable social enterprises
Social Enterprise Works | Providing guidance and practical business development assistance to prospective, newly formed and established social enterprises during critical periods of their start up and development.
BRASS - The Centre for Business Relationships, Accountability, Sustainability and Society
Small Business Administration
Grants.gov
GRANTS.GOV System Enhancement: Production System Outage May 10-12, 2014 Release 12.3.4-SAM Integration & Minor Enhancements For more information on scheduled maintenance outages and status updates, please visit the following: Grants.gov Calendar » Grants.gov Blog » Did you know that Grants.gov must receive verification of registration from SAM electronically before AORs can submit applications on Grants.gov? Please allow 24-48 hours from the date of the SAM email notification to complete the electronic process.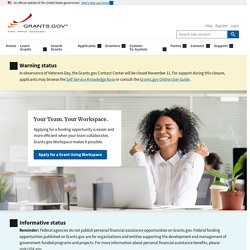 Terry Mollner, since 1973 Founder, Chair, and Executive Director of Trusteeship Institute, Inc., views the tent city activity of the Occupy Wall Street Movement around the world as an effort to demonstrate both for themselves and others that we are ready for a post-capitalism-socialist era. What is this new era Edward O.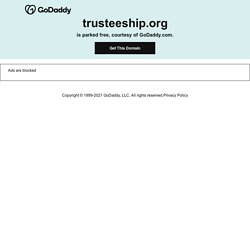 The Trusteeship Institute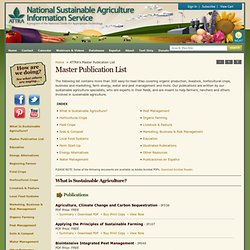 Master Publication List: ATTRA - National Sustainable Agricultur
Home >ATTRA's Master Publication List The following list contains more than 300 easy-to-read titles covering organic production, livestock, horticultural crops, business and marketing, farm energy, water and pest management and more. Our publications are written by our sustainable agriculture specialists, who are experts in their fields, and are meant to help farmers, ranchers and others involved in sustainable agriculture. PLEASE NOTE: Some of the following documents are available as Adobe Acrobat PDFs. Download Acrobat Reader. What is Sustainable Agriculture?
Sustainable Industries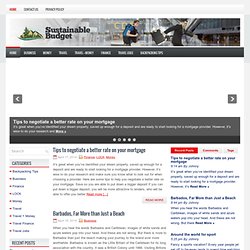 Sustainable Living on a Budget » Welcome
Tips to negotiate a better rate on your mortgage It's great when you've identified your dream property, saved up enough for a deposit and are ready to start looking for a mortgage provider. However, it's wise to do your research and make sure you know what to look out for when choosing a provider. Here are some tips to help you negotiate a better rate on your mortgage: Save so you are able to put down a bigger deposit If you can put down a bigger deposit, you will be more attractive to lenders, who will be able to offer you better Read more [...] Barbados, Far More than Just a Beach When you hear the words Barbados and Caribbean, images of white sands and azure waters pop into your head.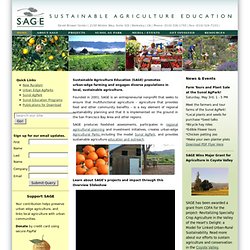 Sustainable Agriculture Education (SAGE) promotes urban-edge farming and engages diverse populations in local, sustainable agriculture. Founded in 2001, SAGE is an entrepreneurial nonprofit that seeks to ensure that multifunctional agriculture – agriculture that provides food and other community benefits – is a key element of regional sustainability planning and that it is implemented on the ground in the San Francisco Bay Area and other regions. SAGE produces foodshed assessments, participates in regional agricultural planning and investment initiatives, creates urban-edge Agricultural Parks including the model Sunol AgPark, and provides sustainable agriculture education and outreach. Learn about SAGE's projects and impact through thisOverview Slideshow
SAGE