Projects
Home | Arup | A global firm of consulting engineers, designers, planners and project managers. Building Performance Evaluation. The Technology Strategy Board has committed up to £8m to fund the costs of building performance evaluation studies on domestic and non-domestic buildings.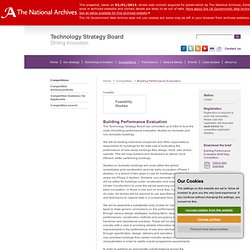 We will be funding individual companies and other organisations responsible for buildings for the total cost of evaluating the performance of case study buildings they design, build, own and/or operate. This will help builders and developers to deliver more efficient, better performing buildings. Studies on domestic buildings will cover either the period immediately post construction and into early occupation (Phase 1 studies), or a period of two years in-use for buildings less than 2 years old (Phase 2 studies). Similarly, non-domestic building studies will be either for buildings under construction and nearing completion (Under Construction) to cover the period spanning completion and early occupation, or those in use and no more than 3 years old (In-Use). EcoFlash Apps. Green Pro for iPhone, iPod touch, and iPad on the iTunes App Store.
Description The Green Pro App is a utility application developed to assist architects, engineers, owners, and contractors understand and work with the USGBC LEED guidelines for New Construction and Major Renovations.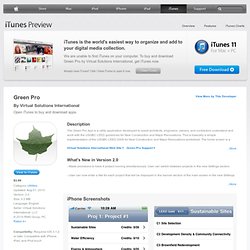 This is basically a simple implementation of the USGBC LEED 2009 for New Construction and Major Renovations worksheet. The home screen is a division of the major sections of the worksheet that the user can tap on to drill down into the respective Prerequisites and Credits. Once a user taps on the desired Prerequisite or Credit of interest, the App takes the user to a page that lists the Credit "Title", the "Intent" of the Credit as given in the documentation, and the "Potential Technologies and Strategies" as given in the documentation.
LEED GA Complete Study for iPhone, iPod touch, and iPad on the iTunes App Store. LEED GA Exam Overview for iPhone, iPod touch, and iPad on the iTunes App Store. LEED AP Operations + Maintenance for iPhone, iPod touch, and iPad on the iTunes App Store. LEED Green Associate Practice Exam & Flash Cards for iPhone, iPod touch, and iPad on the iTunes App Store. Construction Articles, News & Best Practices Guides | Construction Software Advice Blog. 5 Ways BIM Can Lower Costs, Speed Production and Delight Home Buyers Homebuilders are increasingly adopting building information modeling (BIM) for use in their design and planning processes.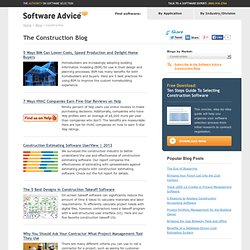 BIM has many benefits for both homebuilders and buyers. OPOWER. Startup: Lucid Design Group, Network Effect on Energy Use. Lucid Design Group - Building Dashboard® - Making energy and water use visible in real time on the web. CASE Design, Inc. | BIM Consulting | LEED Consulting | BIM Coordination | New York, NY. Ecotect. Autodesk Ecotect.
Autodesk Homestyler - Free Online Home Design Software. AutodeskBuilding's Channel. Gehry Technologies. Labs: SustainabilityXpress. Understand and improve the environmental impact of your designs.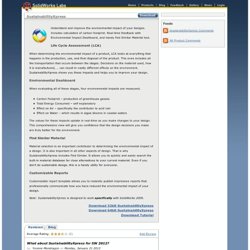 Includes calculation of carbon footprint. Real-time feedback with Environmental Impact Dashboard, and handy find Similar Material tool. Life Cycle Assessment (LCA) When determining the environmental impact of a product, LCA looks at everything that happens in the production, use, and final disposal of the product. SimaPro LCA software. SunRun Affordable Home Solar Financing - SunRun. About RenSMART. Is a private company set up to promote actions to mitigate accelerated climate change due to human factors.
RenSMART will help visitors to its web site by finding, analysing and supporting these activities and supplying traceable information to help decision makers implement these actions. All information supplied by.
---