Artist Supporting Freedom of Information
The Tunnel (2011) Official Teaser Trailer - www.thetunnelmovie.net. How Musicians Can Use Creative Commons. What is Creative Commons?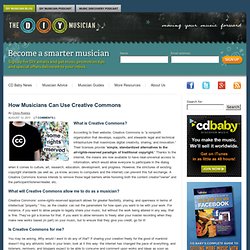 According to their website, Creative Commons is "a nonprofit organization that develops, supports, and stewards legal and technical infrastructure that maximizes digital creativity, sharing, and innovation." Their licenses provide "simple, standardized alternatives to the all-rights-reserved paradigm of traditional copyright."
Thanks to the internet, the means are now available to have near-universal access to information, which would allow everyone to participate in the dialog when it comes to culture, art, research, education, development, and progress. However, the strictures of existing copyright standards (as well as, ya know, access to computers and the internet) can prevent this full exchange. A Creative Commons license intends to remove those legal barriers while honoring both the content creator/"owner" and the participant/listener/reader, etc. CASH Music Platform by CASH Music. Update: COMP!!!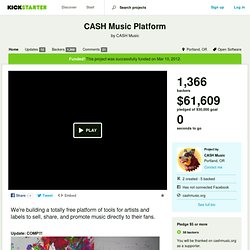 Okay we can finally start talking details on the digital comp that comes with all pledges $10 and over. It's only available until the Kickstarter campaign is over, and will only be given to backers. So don't miss out! Among the 58+ tracks are a never-before-heard version of Elliott Smith's "Needle In The Hay" featuring trumpet by Eric Matthews, an exclusive alternate version (with vocals) of the rare Deerhunter track Grayscale, and debuts or exclusives from Throwing Muses, The Night Marchers, Zoë Keating, Hurry Up, Hungry Ghost, Brute Heart and more. It's filled out with rarities and live tracks from folks like Andrew Bird, Marketa Irglova, Amanda Palmer, Xiu Xiu, The Cribs, and more. 28 Seeds by Liars & Believers & Broken Toys.
It's an apocalyptic, sci-fi, steampunk collaboration between experimental theater company Liars & Believers and the steamCRUNK band Walter Sickert & the ARmy of BRoken TOys. 28 Seeds tells the story of how greed and ignorance destroyed the world.
This is HP Lovecraft meets rock music and 1000 channels of cable TV; it's government conspiracy, burlesque, ray guns, and tentacles; it blends a live rock show, science fiction, dance, theatre, video and sound into an immersive performance experience. Over 25 Boston artists and performers are sharing in this unique collaboration. We're bringing together innovative theatre, with all its story-telling tools, and the wild music of a live steampunk band. We have musicians, actors, dancers, video artists, sound artists, graphic artists and more.
All are sharing in this wild collaborative work… and we invite you to join us! Iron Sky. Your favorite author, brought to you by a wealthy patron. A passage from Stephen Greenblatt's new book, "Swerve," on Renaissance book culture, has this to say about how writers paid their bills several centuries ago: Authors made nothing from the sale of their books; their profits derived from the wealthy patron to whom the work was dedicated.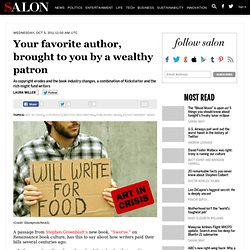 (The arrangement — which helps to account for the fulsome flattery of dedicatory epistles — seems odd to us, but it had an impressive stability, remaining in place until the invention of copyright in the 18th century.) We're so accustomed to thinking of copyright as the foundation of a writer's livelihood that it's difficult to imagine how authors could survive without it. Amanda Palmer: The new RECORD, ART BOOK, and TOUR by Amanda Palmer. Hi folks, it's AFP. this is my first BIG, LEGIT studio album undertaking since breaking from a major label. i've spent four years writing the songs for this record, and more recently, putting together the perfect band, The Grand Theft Orchestra, comprised of genius musicians/arrangers/programmers MICHAEL MCQUILKEN, CHAD RAINES, and JHEREK BISCHOFF. in march, we locked ourselves up in a studio in Australia and, with the help of producer/engineer John Congleton (who's worked with a zillion amazing people including St.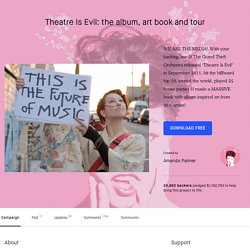 Vincent, Modest Mouse, and Xiu Xiu), we made what I believe is my best fucking album to date. it sounds...BEYOND EPIC. we laid down "The Bed Song", "Massachusetts Avenue", "The Killing Type", "Trout Heart Replica" and a slew of other tracks...some solo piano, but many featuring HORNS (locally sourced in Melbourne, Australia!)
DAVID LYNCH DOCUMENTARY (LYNCH THREE) by LYNCH THREE PROJECT. There's less than 1 hour left to lend your support towards the making of this unique and timely film about David Lynch!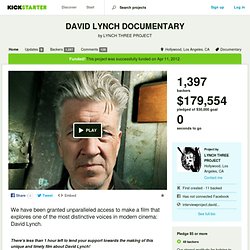 Our aim is to make a film that deeply explores the influences and experiences that have helped shape one of the most distinctive voices in modern cinema. We're in the process of making the film, but need your help in order to complete it. That's why we're reaching out to all David Lynch fans to lend a hand. Amanda Palmer + Neil Gaiman talk about the effect of twitter and the internet on music business.
Iron Sky Teaser 3 - We Come In Peace! Iron Sky: Watch the New Teaser! Dope Stars Inc. - Ultrawired - Pirate Ketaware for the TLC Gener. Dope Stars Inc. - Ultrawired - Pirate Ketaware for the TLC Gener Type: Audio > Music Files: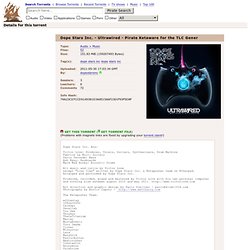 Amanda Palmer Interview: How To Get Rich On Twitter. Amanda Palmer MIDEM Interview. Kim Boekbinder and Amanda Palmer - "Such Great Heights" by Kim Boekbinder. In March 2011 Amanda Palmer and Kim Boekbinder sat on a couch in a warehouse in Melbourne, Australia and sang a song called "Such Great Heights," by The Postal Service.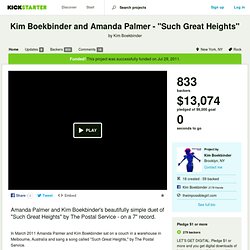 It was the end of the night at the end of the tour at the end of the world. The duet is simple and beautiful. It is a snapshot of a time when two busy musicians found quiet in a city at the end of the earth. The song will be released on a 7" record, along with an original song by Kim Boekbinder called, "On the Other Side of the World" which is a song about being in love with someone on the other side of the world, ie: Australia. Nina Paley's Blog. Nina Paley: My Decision To Turn Down Netflix Due To DRM. Sita Sings the Blues has a few Endorsed DVD distributors.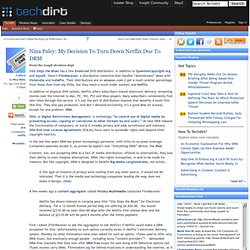 In addition to QuestionCopyright.org and myself, there's FilmKaravan, a distribution collective that handles "downstream" deals with VistaIndia and IndiePix. Their distributions are on amazon.com (I get a much smaller percentage from those than from my DVDs, but they reach a much wider market) and Netflix. In addition to physical DVD rentals, Netflix offers subscribers instant electronic delivery: streaming movies over the Internet to Mac, PC, Wii, PS3 and Xbox players. Many subscribers conveniently find new titles through this service. If This Is 'Piracy' Then I Support Piracy. One of the common refrains in the comments from some of Techdirt's biggest critics is that I'm a "piracy supporter.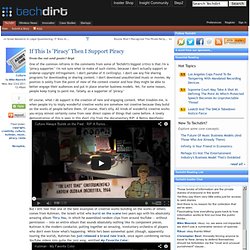 " I'm not sure what to make of such claims, because I don't actually support or endorse copyright infringement. I don't partake of it (willingly). I don't use any file sharing programs for downloading or sharing content. I don't download unauthorized music or movies. My position is solely from the point of view of the content creator and how they might be able to better engage their audiences and put in place smarter business models. Why music artists are encouraging a generation of freeloaders. With record deals no longer perceived as a revenue model by music artists, bands are dishing out their music free of cost through online downloads, even encouraging you to rip CDs to share with friends.
Bhairavi Jhaveri finds out why online piracy is the perfect strategy to expand fan base Delhi-based Pop-Rock group Them Clones encourage you to rip their CD and share it with friends. Support Online Piracy. The battle between online pirates and corporations is heating up. In the last few days both sides have had significant victories. The pirates have proven yet again that they have guts after a version of the newest X-Men film was released onto The Piratebay, the world's largest pirate website, before it was released in the theatres. But the corporations are fighting back in States such as France and Sweden which have passed laws that will, if unopposed, inaugurate the death of the internet dream.
No longer a wild frontier, unsettled and open to future possibilities, the fight against online piracy is justifying increasingly draconian measures that will put our online behavior under the corporate-capitalist microscope. Under the pretense of monitoring whether we are downloading pirated culture, corporations have engineered a symbolic coup in which the spirit of the internet has become inverted. How good/bad is the industrial music scene doing in the digital download/streaming market? We found it out for you. - Industrial Music Facebook news at SIDE.
---