Artist Supporting Freedom of Information
The Tunnel (2011) Official Teaser Trailer - www.thetunnelmovie.net
How Musicians Can Use Creative Commons
What is Creative Commons? According to their website, Creative Commons is "a nonprofit organization that develops, supports, and stewards legal and technical infrastructure that maximizes digital creativity, sharing, and innovation."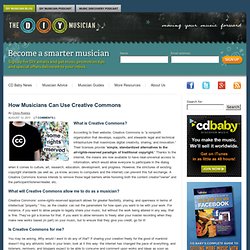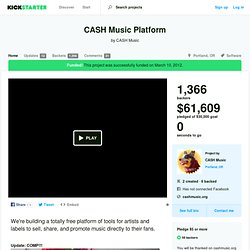 Update: COMP!!!
CASH Music Platform by CASH Music
28 Seeds by Liars & Believers & Broken Toys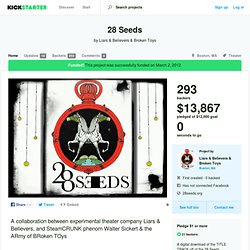 It's an apocalyptic, sci-fi, steampunk collaboration between experimental theater company Liars & Believers and the steamCRUNK band Walter Sickert & the ARmy of BRoken TOys. 28 Seeds tells the story of how greed and ignorance destroyed the world. This is HP Lovecraft meets rock music and 1000 channels of cable TV; it's government conspiracy, burlesque, ray guns, and tentacles; it blends a live rock show, science fiction, dance, theatre, video and sound into an immersive performance experience.
Iron Sky
Your favorite author, brought to you by a wealthy patron
David Byrne: "Do you really think people are going to keep putting time and effort into this, if no one is making any money?" The musical genius shares his songwriting secrets, opens up his finances and ponders the future of art and the Web David Daley Saturday, Dec 21, 2013 9:00 PM UTC Technology Music, Books, Talking Heads Dave Allen: Stop blaming the Internet! It has always been hard for musicians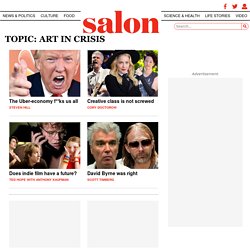 Amanda Palmer: The new RECORD, ART BOOK, and TOUR by Amanda Palmer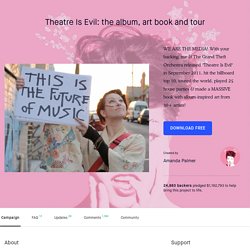 hi folks, it's AFP. this is my first BIG, LEGIT studio album undertaking since breaking from a major label. i've spent four years writing the songs for this record, and more recently, putting together the perfect band, The Grand Theft Orchestra, comprised of genius musicians/arrangers/programmers MICHAEL MCQUILKEN, CHAD RAINES, and JHEREK BISCHOFF. in march, we locked ourselves up in a studio in Australia and, with the help of producer/engineer John Congleton (who's worked with a zillion amazing people including St. Vincent, Modest Mouse, and Xiu Xiu), we made what I believe is my best fucking album to date. it sounds...BEYOND EPIC. we laid down "The Bed Song", "Massachusetts Avenue", "The Killing Type", "Trout Heart Replica" and a slew of other tracks...some solo piano, but many featuring HORNS (locally sourced in Melbourne, Australia!)
DAVID LYNCH DOCUMENTARY (LYNCH THREE) by LYNCH THREE PROJECT
There's less than 1 hour left to lend your support towards the making of this unique and timely film about David Lynch! Our aim is to make a film that deeply explores the influences and experiences that have helped shape one of the most distinctive voices in modern cinema.
Amanda Palmer + Neil Gaiman talk about the effect of twitter and the internet on music business
Iron Sky Teaser 3 - We Come In Peace!
Iron Sky: Watch the New Teaser!
Dope Stars Inc. - Ultrawired - Pirate Ketaware for the TLC Gener
Dope Stars Inc. - Ultrawired - Pirate Ketaware for the TLC Gener Type: Audio > Music Files: Size: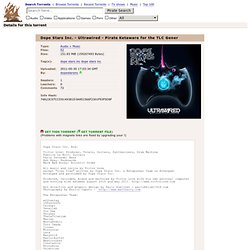 Amanda Palmer Interview: How To Get Rich On Twitter
Amanda Palmer MIDEM Interview
In March 2011 Amanda Palmer and Kim Boekbinder sat on a couch in a warehouse in Melbourne, Australia and sang a song called "Such Great Heights," by The Postal Service. It was the end of the night at the end of the tour at the end of the world. The duet is simple and beautiful.
Kim Boekbinder and Amanda Palmer - "Such Great Heights" by Kim Boekbinder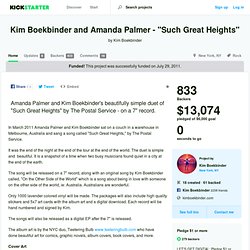 Nina Paley's Blog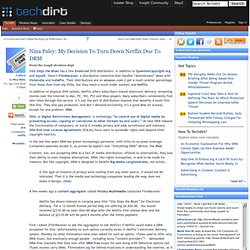 Nina Paley: My Decision To Turn Down Netflix Due To DRM
Sita Sings the Blues has a few Endorsed DVD distributors.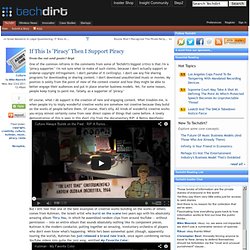 One of the common refrains in the comments from some of Techdirt's biggest critics is that I'm a "piracy supporter." I'm not sure what to make of such claims, because I don't actually support or endorse copyright infringement.
If This Is 'Piracy' Then I Support Piracy
With record deals no longer perceived as a revenue model by music artists, bands are dishing out their music free of cost through online downloads, even encouraging you to rip CDs to share with friends. Bhairavi Jhaveri finds out why online piracy is the perfect strategy to expand fan base Delhi-based Pop-Rock group Them Clones encourage you to rip their CD and share it with friends.
Why music artists are encouraging a generation of freeloaders
The battle between online pirates and corporations is heating up. In the last few days both sides have had significant victories. The pirates have proven yet again that they have guts after a version of the newest X-Men film was released onto The Piratebay, the world's largest pirate website, before it was released in the theatres. But the corporations are fighting back in States such as France and Sweden which have passed laws that will, if unopposed, inaugurate the death of the internet dream. No longer a wild frontier, unsettled and open to future possibilities, the fight against online piracy is justifying increasingly draconian measures that will put our online behavior under the corporate-capitalist microscope. Under the pretense of monitoring whether we are downloading pirated culture, corporations have engineered a symbolic coup in which the spirit of the internet has become inverted.
Support Online Piracy
How good/bad is the industrial music scene doing in the digital download/streaming market? We found it out for you. - Industrial Music Facebook news at SIDE