Cars
Misunderstanding | Chevy Cruze | Super Bowl Ads. Extended Cut - Mercedes-Benz "Welcome" -- Super Bowl Commercial 2011.
Bridgestone
Volkswagen Commercial: Black Beetle. Volkswagen Commercial: The Force. Darth Vader Super Bowl Commercial: Meet the 6-Year-Old Star (Video) - Live Feed. Visit msnbc.com for breaking news, world news, and news about the economy Max Page is the 6-year-old who plays Darth Vader in Volkswagen's Super Bowl commercial, which has been streamed more than 15 million times.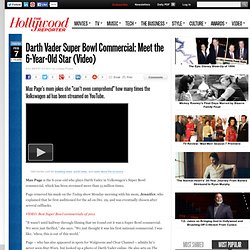 Page removed his mask on the Today show Monday morning with his mom, Jennifer, who explained that he first auditioned for the ad on Dec. 29, and was eventually chosen after several callbacks. VIDEO: Best Super Bowl commercials of 2011.
Hyundai. Suzuki Auto's Kizashi vs. Wicked Weather (30 second version) Chrysler Eminem Super Bowl Commercial - Imported From Detroit. Status | Chevy Cruze | Super Bowl Ads.
---