Sugata Mitra
Les nouvelles expériences de Sugata Mitra dans l'auto-apprentissage | Collective intelligence 2.0.
SOLE
Barefoot In the head. Sugata Mitra - Le Futur des communications - une vidéo High-tech et Science. Sugata Mitra shows how kids teach themselves. Sugata Mitra: The child-driven education. Sugata Mitra | Futur en Seine. Sugata Mitra. Sugata Mitra (born 12 February 1952) is Professor of Educational Technology at the School of Education, Communication and Language Sciences at Newcastle University, England.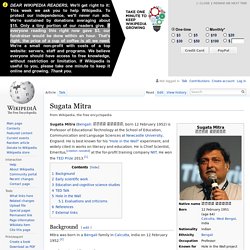 He is best known for his "Hole in the Wall" experiment, and widely cited in works on literacy and education. He is Chief Scientist, Emeritus, at NIIT. Sugata Mitra | Profile on TED.com.
---