Subdomains and subfolders
Putting an End to the Subdomains vs Subdirectories SEO Debate. When it comes to SEO in general, when should I use subdomains vs subdirectories (subfolders)?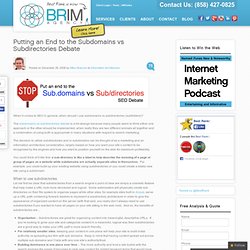 The subdomains vs subdirectories debate is a bit strange because many people seem to think either one approach or the other should be implemented, when really they are two different animals all together and a combination of using both is appropriate in many situations with respect to search marketing. The decision to utilize subdirectories and or subdomains can be thought of as a marketing and an information architecture consideration, largely based on how you want your site's content to be recognized by the engines and how you want to position yourself on the web for maximum profitability.
You could think of it like this: a sub directory is like a label to help describe the meaning of a page or group of pages on a website while subdomains are actually separate sites in themselves. Subfolders v/s Subdomains: Which one to choose for SEO? - SEO HAWK Blog. Domain per language, subdomains or language folders? | WPML. When you set up a multilingual WordPress site using WPML you can choose to have different languages in different domains, in sub-domains or in language folders.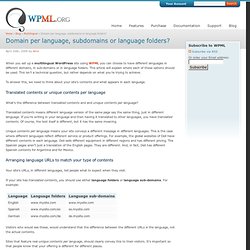 This article will explain where each of these options should be used. This isn't a technical question, but rather depends on what you're trying to achieve. How to start a multilingual site. Have you ever thought of creating one or several sites in different languages?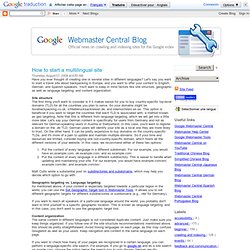 Let's say you want to start a travel site about backpacking in Europe, and you want to offer your content to English, German, and Spanish speakers. You'll want to keep in mind factors like site structure, geographic as well as language targeting, and content organization.Site structure The first thing you'll want to consider is if it makes sense for you to buy country-specific top-level domains (TLD) for all the countries you plan to serve. Making Geotargeted Content Findable For the Right Searchers - Nine By Blue. A few weeks ago, I organized and moderated several sessions at SMX London.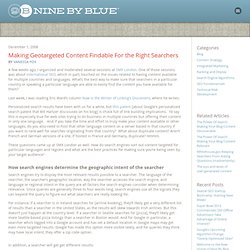 One of those sessions was about international SEO, which in part, touched on the issues related to having content available for multiple countries and languages. What's the best way to make sure that searchers in a particular country or speaking a particular language are able to easily find the content you have available for them? Last week, I was reading Eric Ward's column Now Is the Winter of Linking's Discontent, where he writes: Personalized search results have been with us for a while, but this patent [about Google's personalized search patent that Bill Hartzer discssuses on his blog] is chock full of link building implications.
I'd say this is especially true for web sites trying to do business in multiple countries but offering their content in only one language. International SEO and Geolocation: top 10 factors - Multilingual SEO | BE GLOBAL: SEO LOCAL | Davide Corradi. Written by Davide Corradi The Search Engines are providing more and more locally relevant results and in this "Era of mobile Internet" having a multilingual, localised online presence is becoming necessary.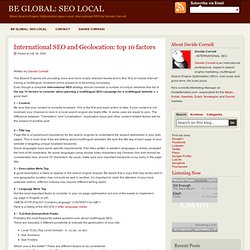 Even though a complete International SEO strategy should consider a number of unique variables this list of the top 10 factors to consider when planning a multilingual SEO campaign for a multilingual website is a good start. 1 – Content Be sure that your content is correctly localised. How to do Multilingual SEO? (1/2) The last session on day 1 of SMX London I attended was the "International SEO" session.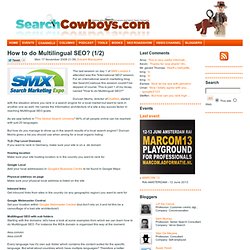 For an international search marketing blog like SearchCowboys this session couldn't be skipped of course. This is part 1 of my recap, named "How to do Multilingual SEO? " How Changes To The Way Google Handles Subdomains Impact SEO. At Pubcon last week, Matt Cutts mentioned a change in the way Google handles subdomains.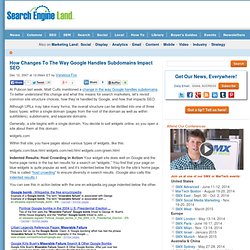 To better understand this change and what this means for search marketers, let's revisit common site structure choices, how they're handled by Google, and how that impacts SEO. Although URLs may take many forms, the overall structure can be distilled into one of three basic types: within a single domain (pages from the root of the domain as well as within subfolders), subdomains, and separate domains. Generally, a site begins with a single domain. You decide to sell widgets online, so you open a site about them at this domain: widgets.com. Multiple Domains vs Subdomains vs Folders in SEO. Usually the most important decisions in SEO are the ones that affect the structure of the website.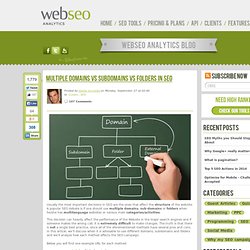 A popular SEO debate is if one should use multiple domains, sub-domains or folders when he/she has multilanguage websites or various main categories/activities. This decision can heavily affect the performance of the Website in the major search engines and if someone makes the wrong call, it is extremely difficult to make changes. Subdomains for SEO: Pros and Cons |SEO Sydney Blog | Search Engine Optimisation News & Jobs in Australia. If you are looking at building a large content-driven website, integrating a blog to your current domain or expanding the focus of your website with additional content, there are 3 options available to structure your site and format your URLs: - Folder Structure: - Sub domain Structure: - Separate domain or Top Level Domain (TLD):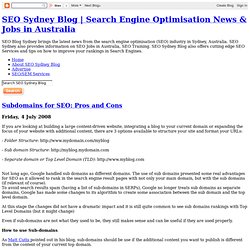 Do sub-domains hurt SEO. Site Redesign and SEO – Web Site Redesign and SEO. Taking on a complete site redesign can be scary as hell from an SEO perspective, but if it is well planned, well tested, and well executed then you can reap huge rewards.
SEO is equally as important as usability and aesthetic appeal when redesigning your web site. There is almost no better opportunity to fix SEO problems with an existing web site than when implementing a redesign. So if you have a pair of brass cajones and are confident in you skills then go for it! If not then read on. Hopefully by the end of the post you will have a much better idea of how to go about redesigning your web site with SEO in mind and what to expect along the way. SEO and Website redesign … how to keep your ranking? | Canadian Search Engine Marketing Firm | Magnet Search Marketing. Best practices for Country location and languages on Global Websites (was Language Picker) Jason, Did you read my mind I was just about to send out a similar post. My line of thought was about best practices on how users select countries and languages on global websites. A few questions... 6 Ways Local Domains Crush Dot Coms In International SEO. In 2003 I first began speaking on international SEO at conferences and seminars and have lost count of the number of times I've heard the question, "Is it better to use local domains or dot coms with a folder or sub-domain for my site?"
To me, the answer to this question was obvious even a decade ago but the debate has continued to rage. The next question in popularity is always "…and do I need local hosting?" I'll address the hosting issue in a future column. SEO For Regional Domains. Translation & Globalization - MarkTheGlobe.com. Multilingual SEO: Multilingual Search Engine Optimisation - WebCertain. International SEO International Search Engine Optimisation or Multilingual SEO is the backbone of any global search marketing campaign. Often referred to as "natural" or "organic" search, SEO is the process used to improve website rankings in the Search Engine Results Pages (SERPS). International SEO is especially complex in, with both language dependant and independent processes being employed to ensure that the relevant search engines can crawl and understand your website. Bilingual website structure | LinkedIn Answers.
Web strategy. To define your internet strategy, you need to identify the direction your company should follow so as to create and reinforce its online presence, while supporting the strategic objectives of your firm. So as to be effective, an internet strategy should understand the role of social media for your company and for your industry: what technologies are used, what makes people create, publish and share content, why do they connect and communicate with each other? Brand Control is more and more in the hands of consumers, not companies. Therefore, in the social web marketing has to be informative, educational, and fun to seduce user communities. At OpenValley, our creative process places a great deal of emphasis on not only learning about your company but also understanding the behaviour of your visitors. For your online presence to really count, your brand needs to exude credibility, confidence and efficiency through its website.
SEO for multilingual sites - SEO Best practices II. If you have been reading this blog for a while, you probably know that I always recommend doing good Keyword research before kicking off any SEO strategy. I'm going to change that premise and rephrase it to: Before deploying any SEO strategy for any given market you should do proper keyword research (here is how to do it). But what do we need to do when we plan to target different markets with different languages? SEO for international multilingual projects. Design Multilingual Website: A Beginner's Guide. Multi-Lingual SEO « Lexington eBusiness Consulting: Mark Sprague's Blog.
Working with multi-regional websites. Working with multilingual websites. SEO-friendly way of switching languages - Webmaster Central Help. SEO Solutions for Language/Region Selectors. Localization and SEO. How to build multi-regional or multilingual websites | Good SEO.
---