Entertaining
This branch of my pearl tree is used to categorize what I stumble on that I find entertaining.
Pearls that you will find in here will most likely have: short clips form youtube, trailers for up and comping movies, comics and books that I want to read or have found interesting to read and pearls that suggest ways to be entertained. Improve Your Google Search Skills [Infographic] - How-To Geek - StumbleUpon. Don't limit yourself to just plugging in simple search terms to Google; check out this infographic and learn a search string search or two.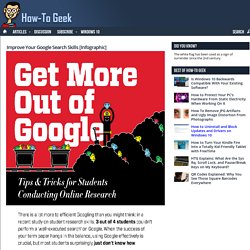 You don't need to limit yourself to searching just for simple strings; Google supports all manner of handy search tricks. If you want to search just HowToGeek.com's archive of XBMC articles, for example, you can plug in site:howtogeek.com XBMC to search our site. Get More Out of Google [HackCollege via Mashable] Effing Worms. The official Dilbert website with Scott Adams' color comic strips, animation, mashups and more! African Bull Frog ant crusher. Photoshop CS5 Content-Aware Fill Sneak Peek. GoComics. FoxTrot Comic Strip, July 13, 2008 on GoComics.com - Challenge - I Gave My Kids a Terrible Present.
Cryogenics. Tor.com - Science fiction & Fantasy Blog, Books, Stories, News, Forum. Ten Anime Films You Should See Before You Die. One of the most surprising, and gratifying, things that has happened since I started my blog, Tim Maughan Books, a year or so ago is the positive feedback I've had for the anime reviews—especially from people I know are far from being massive fanboys like myself.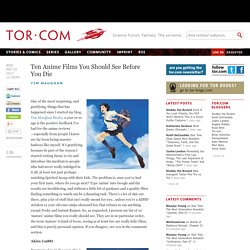 It's gratifying because its part of the reason I started writing them; to try and introduce the medium to people who had never really indulged in it all, at least not past perhaps watching Spirited Away with their kids. The problem is, once you've had your first taste, where do you go next? Chaîne de fuse. Fuse is your friendly neighborhood source for music news, artist interviews and original series.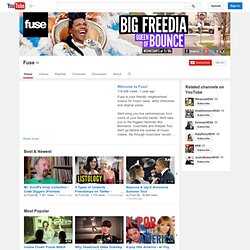 We'll bring you live performances from some of your favorite bands. We'll take you to the biggest festivals like Bonnaroo, Coachella and Warped Tour. We'll go behind the scenes of music videos, flip through musicians' record collections and, every now and again, we'll have the Insane Clown Posse watch Justin Bieber videos. Snow White and the Huntsman (2012. Xkcd.
---