Translation
Subtitling, Dubbing and Translation | Broadcast Text International
Pre-text käännöstoimisto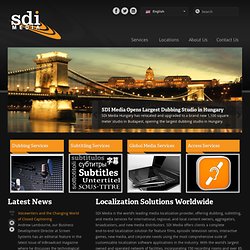 SDI Media is the world's leading media localization provider, offering dubbing, subtitling, and media services for international, regional, and local content owners, aggregators, broadcasters, and new media distributors. SDI Media offers clients a complete end-to-end localization solution for feature films, episodic television series, interactive games, new media, and corporate needs using the most comprehensive suite of customizable localization software applications in the industry. With the world's largest owned and operated network of facilities, incorporating 150 recording rooms and over 85 mixing rooms, SDI Media provides dubbing, subtitling, and other media solutions in more than 80 languages worldwide. Servicing 40 markets, in 37 countries across EMEA, Asia, and The Americas, SDI Media's global localization footprint provides the only one-stop media localization solution in the industry.
SDI MEDIA - Specializing in Language Dubbing, Translation, Voice Over, Subtitling and Closed Captioning
Käännöstoimisto Multidoc - Käännöspalvelut ja dokumentointi kustannustehokkaasti käännöstoimistosta
As an LSP and translation agency, you have the in-house professional skills and the specialist experience but your time is limited and resources are tight. You are looking to CAT tools to improve your productivity, ensure a quality output and enhance your earning potential and ultimately your profit margin. However, you need to be confident that technology you choose to work with will enhance your output, and add value, with a level of accuracy and quality that differentiates you from your competition.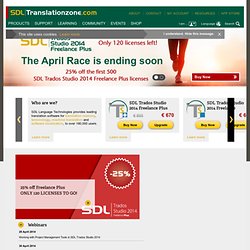 Welcome to Translationzone
Tervetuloa Suomen av-kääntäjien sivustolle! Nämä nettisivut syntyivät halusta kasvattaa av-kääntäjien ammattiylpeyttä ja edistää reilua peliä av-käännösalalla. Sivut ovat syntyneet vapaaehtoisvoimin kääntäjien omasta aloitteesta, ja niitä on ollut tekemässä iso joukko av-kääntäjiä. Sivujen perustajat uskovat, että reilun pelin käännöstoimintaa harjoittava av-käännösalan toimija sitoutuu työehtosopimukseen kunnioittaa sekä taloudellisia että moraalisia tekijänoikeuksia laatii oikeudenmukaisia ja yksiselitteisiä sopimuksia osoittaa kääntäjille arvostusta sekä rahallisesti että sanallisesti kehittää kääntäjien ammattitaitoa ja antaa rakentavaa palautetta edistää kääntäjien ammatillista järjestäytymistä tekee yhteistyötä ammattiliittojen kanssa pyrkii avoimeen yrityskulttuuriin ja kasvattaa kääntäjien me-henkeä tarjoaa mahdollisuuksiensa mukaan palkallisia ja kohtuullisen pituisia työharjoitteluita. Yhteiset säännöt, reilumpi meininki!
Av-kääntäjät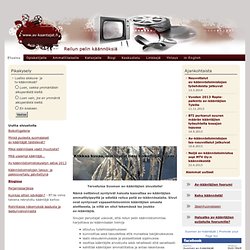 Freelance translators & Translation companies | ProZ.com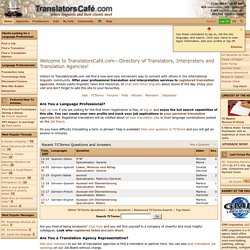 Visitors to TranslatorsCafé.com will find a new and very convenient way to connect with others in the international linguistic community. Offer your professional translation and interpretation services to registered translation agencies. Access useful linguistic news and resources. Or chat with other linguists about issues of the day.
a Place for Translators, Interpreters, Voice Talents, Other Language Professionals and Their Clients.
unnamed pearl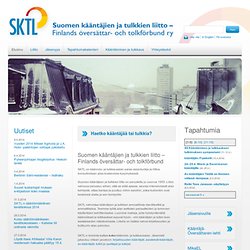 Suomen kääntäjien ja tulkkien liitto – Finlands översättar- och tolkförbund ry - Suomen kääntäjien ja tulkkien liitto
Suomen kääntäjien ja tulkkien liitto – Finlands översättar- och tolkförbund SKTL on käännös- ja tulkkausalan paras asiantuntija ja liittoa konsultoidaan alaa koskevissa kysymyksissä. Suomen kääntäjien ja tulkkien liitto on perustettu jo vuonna 1955.
Av-kääntäjät