Max Zorn
Max Zorn - Making of New York Eve
Mardi 3 janvier 2012 2 03 / 01 / Jan / 2012 18:00 Max Zorn est un artiste qui utilise des outils plus ou moins insolites : rubans adhésifs , scalpel , pinceau. Il modifie les traits de ses rubans avec brio, et nous montre sa vision du Street Art , à travers son Tape Art : Max à l'oeuvre : Street Art sur lampes en Espagne et au Portugal : Mais aussi :
Le Street Art vu par Max Zorn : Son Tape Art - InkBlooD, LE site/blog/C.V en ligne qui va te faire apprendre des tas de trucs !
Max Zorn Street Art Tape Art in Spain and Portugal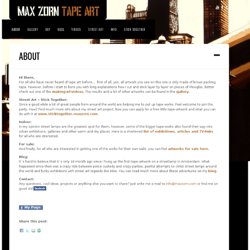 Hi there, For all who have never heard of tape art before… first of all, yes, all artwork you see on this site is only made of brown packing tape, however, before I start to bore you with long explanations how I cut and stick layer by layer on pieces of Plexiglas, better check out one of the making-of-videos . The results and a lot of other artworks can be found in the gallery . Street Art – Stick Together: Since a good while a lot of great people from around the world are helping me to put up tape-works. Feel welcome to join the party. How?