JR
TED Prize Winner JR & INSIDE OUT on Vimeo
Women Are Heroes - Making Of - une vidéo Cinéma
28 millimètres - une vidéo Art et Création
JR de A à Z (1-4) - une vidéo Art et Création
BERLIN WALL ACTION - JR - une vidéo Art et Création
FACE 2 FACE sur METROPOLIS - ARTE - une vidéo Art et Création
Kourtrajmé/JR 28 millimeters Project
JR: Women are Heroes / Ile Saint-Louis, Paris / Interview - a Art et Création video
Women are Hereos : expo monumentale de JR à l'île Saint Louis
Comment ai-je pu rater ça ? Peut-être en restant trop chez moi…sûrement ! Prace qu'il est en effet difficile de la rater cette expo…Au détour de l'île Saint Louis vous aurez surement la surprise de croiser le regard géant d'une des femmes que JR a collé sur les murs, les ponts, les contre-allées… En l'honneur des femmes du monde entier et en écho à un travail de streetart monumental que JR réalise dans de nombreuses villes du Tiers-monde, l'exposition parisienne Women are Hereos affiche les visages de femmes ordinaires croisées tous les jours dans les rues. Des femmes de rien qui sont pourtant pour beaucoup dans ce que le monde est et devient. Ne passez donc pas près de l'île sans vous y arrêter pour admirer le travail du streetartiste JR.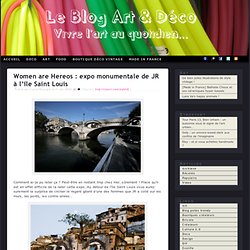 Face2Face Project
WOMEN ARE HEROES - un film de JR - au cinéma le 12 janvier 2011
JR was recently invited by the New York City Ballet to create a large-scale art installation, in collaboration with the dancers of the Company, for their 2014 Art Series. His work will be on view at three special New York City Ballet Art Series performances on January 23rd, February 7th and February 13th, where all tickets are priced at $29, and all audience members will receive a limited edition commemorative piece. Performances will go on sale to the public on January 6th, however, JR's friends and followers have access to a special allotment of seats (limit 4/performance) for advance purchase starting now, through this Sunday January 5th at 12PM (EST), using the special code 99PRINTS on nycballet.com/artseries .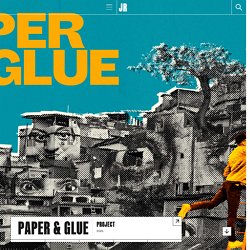 Jaipur, Inde (JR)
Rue Pablo-Picasso, cité des Bosquets, Montfermeil, Seine-Saint-Denis, France (JR)
Afficheur sauvage depuis dix ans, le Français se raconte en dix endroits de ce monde qu'il parcourt pour coller et/ou faire coller. Un peu partout, les actions locales de groupes se multiplient : à New York (Etats-Unis), Montevidéo (Uruguay), Lisbonne (Portugal) ou Tunis (Tunisie). En Australie centrale, des femmes indigènes s'affichent dans les rues de leur quartier.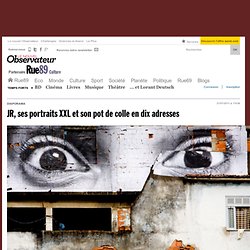 JR, ses portraits XXL et son pot de colle en dix adresses