Story Creator
Little Bird Tales is a storytelling and e-learning tool that can be implemented in hundreds of ways, and is great for kids of all ages, even for children who can't read and write! "Little bird tales is an exciting Web site...In the school setting the possibilities are endless." Lawrence Armstrong, DiscoveryEducation.com "Little Bird Tales is a brilliant option for digital storytelling in the primary classroom." iLearnTechnology.com "I love this site!! It is user friendly, ad-free, and will be great for fostering creativity in students!"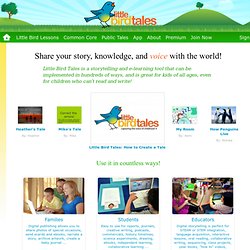 The Tale of Despereaux
Once upon a time... in the far away kingdom of Dor... lived a brave and virtuous mouse with comically oversized ears who dreamt of becoming a knight. Banished from his home for having such lofty ambitions, Despereaux sets off on an amazing adventure with his good-hearted rat friend Roscuro, who leads him, at long last, on a very noble quest to rescue an endangered princess and save an entire kingdom from darkness. Based on the heartwarming children's bestselling book and featuring the voice talents of an all-star cast, The Tale of Despereaux is a magical, modern fairytale that's destined to win the hearts of young and old alike.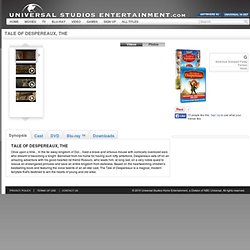 Storytron is currently in a medically-induced coma while we re-design the technology. We have retained some of the tutorial and explanatory material from the old website. This will permit you to explore what is still the most advanced technology for interactive storytelling ever built. Author's Guide to Storytron Tutorial A Storytron Wiki created by Bill Maya An explanation of what went wrong earlier Plans for future Storytron Contact me!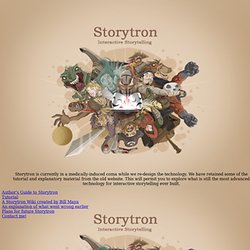 CBeebies - Painting Game
Starship - English - Story Plant
Reading is Fundamental | Reading Planet | Game Station
www.carnegielibrary.org/kids/storymaker/storymaker.swf
Only You Can Prevent Wildfires
Storybook Maker
Register your school for Story Creator
A cat was playing and having lots of fun, when it saw a mouse close by, run. The mouse ran much faster when it saw the cat, that tried to catch up to it, but couldn't, cause it was kinda fat. The mouse found a hole that was just big enough for it. It hid inside, and hoped the cat would soon quit, but the cat, simply, wasn't going to give up the snack, so it waited right by the hole, ready to attack. The mouse knew what was on the cat's mind, while the cat was trying to get it outside.
Children Bedtime Stories