Stockage en ligne
Cubby.com. Pogoplug: Unlimited Cloud Storage, Only $4.95/month. Take ownership of your personal data! — PortKnox - Free OwnCloud Hosting. Index. OwnCube - Finest Cloud Storage Service - Your Future with Us. GetFreeCloud - Services on ownCloud platform - Free Cloud Storage. 4sync - free online syncing tool. Sync & sharing access with cloud storage. Synchronization files. Drive.
Enterprise Cloud Storage - Nirvanix Public Hybrid Private Clouds. Sauvegardes en ligne et de sauvegarde de données du logiciel, des services, et solutions - EVault. Online Storage & Online Backup | Livedrive. Online File Storage, File Sharing, Document Hosting, FTP, Cloud Storage | FilesAnywhere.
Online Backup, Online File Storage - Simple, secure, & affordable online backup & storage. HubiC - Cloud NAS. Home | Dropmark® — Organize, collaborate, and share. Upload, sync, host, and share files for free - Uploadingit. My CloudApp - Log In. Une solution complète, sécurisée et simple à utiliser | www.ikeepincloud.com. Online Storage, Backup & Cloud Content Management. File Storage, Sync & Sharing Cloud Service | Mobile Document Access | File Management | Syncplicity.
Zero-Knowledge data backup, sync, access, storage and share from any device | SpiderOak.com. iCloud. Comodo Online Storage. Nimbus.IO. Online Backup - Memopal. Backify - Online Backup and Dropbox. Free Unlimited Backup. Inc | Products. Search personal cloud data Search across personal online content including selected cloud back-up data in a single operation.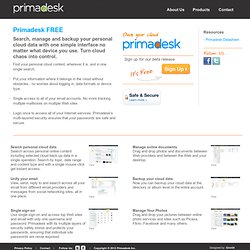 Search by topic, date range and content type and with a single mouse click get instant access. Unify your email. 10 GB of Free File Storage – Sync, Store, Share All In The Cloud at CX.com. OwnCloud gives you freedom and control over your own data. You're invited to join Minus!
Addie. AeroFS - File Sync Without Servers.
Transfert de fichiers
Pogoplug Software: Stream your photos, music and movies to the Web, your iPhone, iPad or Android. Tonido - Run your own Personal Cloud. Le partage simple et sûr pour les professionnels. SparkleShare - Sharing work made easy. Mozy – Sauvegarde en Ligne Sure, Sécurisée, Abordable. Online Backup – Data & File Backup Software | Carbonite. Etat des lieux du Cloud computing 2011 - Faits et enjeux (Analyse et Infographie)
La grande vague du cloud computing déferle furieusement depuis ce début d'année 2011.
Fini les incantations voire les discours évangélisateurs. Fini les controverses de principe. Fini les tâtonnements ou expérimentations pilotes. Stockage et sauvergade de fichiers en ligne avec humyo.com. Stockage en ligne sécurisé par DotSpirit. Simplifiez-vous la vie. OpenDrive | Online Storage, Backup & Cloud Content Management. ZumoDrive - Enjoy your media and documents from every device. Ubuntu One : Home. Online backup, file sync, for pad, PC, Android and iPhone - ASUS WebStorage.
Backup Online for PC, Mac and iPhone | IDrive. Compare Our Storage & Backup Plans. File Sync & Online Backup - Access and File Sharing from Any Device. Host and Share your Files. Ge.tt. Box.net | Online file sharing, content management, collaboration.
Stockage en ligne sécurisé. Sauvegardez. Synchronisez. Partagez. Accédez à vos données où que vous soyez. Syncany - Open-source file synchronization and filesharing application.
---