Stock
Learn the Basics about Stocks: Education Center. StockCharts.com - Simply the Web's Best Financial Charts. How To Read Stock Charts. Reading charts is an art form that can take years to fully master.
Why do we read charts? Because, by reading charts, we can determine what the "big money" is doing! You have to be able to analyze a chart and come to a conclusion about whether or not to risk your hard earned money on a trade. That is really the bottom line. Practice Stock Trading using Candlestick Charts and Candlestick Patterns. Practice Stock Trading - important advice to novices to the stock market.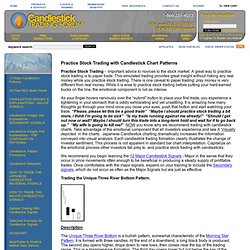 A great way to practice stock trading is to paper trade. This simulated trading provides great insight without risking any real money while you practice stock trading. There is one caveat to paper trading; play money is very different from real money. While it is wise to practice stock trading before putting your hard-earned bucks on the line, the emotional component is not as intense.
The 10 + 4 ... Golden Commandments! Stocks, Investing and Investments: The 10 + 4 Golden Commandments!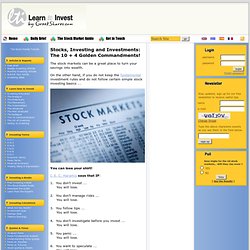 The stock markets can be a great place to turn your savings into wealth. On the other hand, if you do not keep the fundamental investment rules and do not follow certain simple stock investing basics ... You can lose your shirt! I. E. Direct Investing. As of July 1, 2013 ThinkQuest has been discontinued.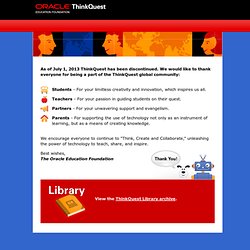 We would like to thank everyone for being a part of the ThinkQuest global community: Students - For your limitless creativity and innovation, which inspires us all. Teachers - For your passion in guiding students on their quest. Partners - For your unwavering support and evangelism. Parents - For supporting the use of technology not only as an instrument of learning, but as a means of creating knowledge. Learn the Stock Market - Learn to Trade Stock - Learn Stock Trading. How to buy stocks Stock tips spill from everywhere: on television, at parties, in the gym.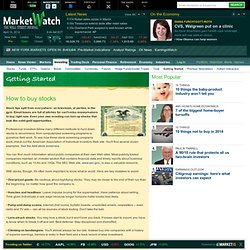 Email boxes are full of pitches for can't-miss moneymakers to buy right now. Even your own scouting can turn up stocks that look like solid-gold opportunities. Professional investors follow many different methods to hunt down stocks to recommend, from computerized screening programs to gumshoe field work. OTC Fire | Just another WordPress site.
---