Steve Jobs
Steve Jobs: From Garage to World's Most Valuable Company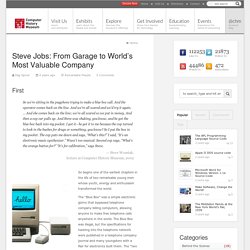 First So we're sitting in the payphone trying to make a blue box call. And the operator comes back on the line. And we're all scared and we'd try it again. … And she comes back on the line; we're all scared so we put in money. And then a cop car pulls up.
[Steve Jobs is the most consequential figure in the history of design. So I've been taking it slow with Walter Isaacson's definitive biography of the man, hoping for insights into how Jobs's personality, timing, and influences managed to produce so much innovation--and what the rest of us might learn from his example. I wanted to share those thoughts with you, in a regular series. I hope you enjoy, and, if you're reading the book as well, I hope you'll add your own thoughts in the comments below.
Reading "Steve Jobs": The Upside Of Unreasonable Demands | Co. Design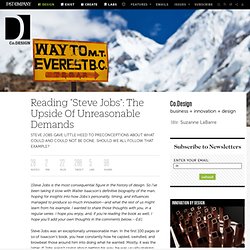 50 Graphic tributes to Steve Jobs
With the passing of Steve Jobs this month, designers around the world are creating tributes. Considering the impact Jobs had on the technology and design fields, it's not surprising to see the number of creative designs created to pay homage to his legacy. A great collection of these tributes have been recently posted to Behance.net. Below, we've collected fifty of these designs, all inspired by the life of Jobs and the impact he had on the world. Feel free to share other designs that we may have missed and let us know which ones you like best in the comments…. Dan Malarkey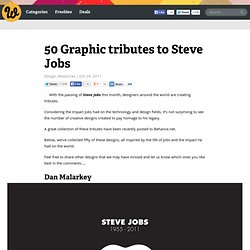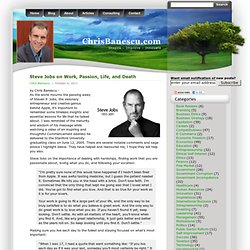 by Chris Banescu - As the world mourns the passing away of Steven P. Jobs, the visionary entrepreneur and creative genius behind Apple, it's important to remember some timeless insights and essential lessons for life that he talked about. I was reminded of the maturity and wisdom of his message while watching a video of an inspiring and thoughtful Commencement address he delivered to the Stanford University graduating class on June 12, 2005. There are several notable comments and sage advice I highlight below.
Steve Jobs on Work, Passion, Life, and Death | ChrisBanescu.com
Steve Jobs Day
jonathan mak
Steven Paul "Steve" Jobs (/ˈdʒɒbz/; February 24, 1955 – October 5, 2011)[3][4] was an American entrepreneur,[5] marketer,[6] and inventor,[7] who was the co-founder, chairman, and CEO of Apple Inc. Through Apple, he is widely recognized as a charismatic pioneer of the personal computer revolution[8][9] and for his influential career in the computer and consumer electronics fields, transforming "one industry after another, from computers and smartphones to music and movies".[10] Jobs also co-founded and served as chief executive of Pixar Animation Studios; he became a member of the board of directors of The Walt Disney Company in 2006, when Disney acquired Pixar. Jobs was among the first to see the commercial potential of Xerox PARC's mouse-driven graphical user interface, which led to the creation of the Apple Lisa and, a year later, the Macintosh.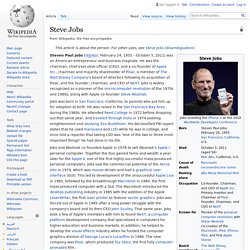 Steve Jobs was the ultimate showman. Fortunately, as web video technology improved over the years, this meant his audience could grow to global proportions as the Apple-loving masses flocked online to see what magic he would unveil next. (Unfortunately for the corporate world, productivity dropped and networks clogged with each keynote as everyone tuned into livestreams to see Apple's latest innovation.) With the news of Jobs' resignation from Apple, we've collected of some of his best presentations, caught on video for the ages to us to appreciate (and learn from). Steve Jobs Introduces the iPod: Steve Jobs Introduces the iPhone:
Encore: Steve Jobs in video — Apple News, Tips and Reviews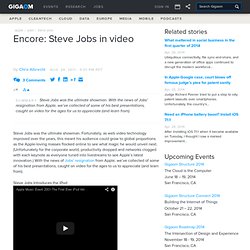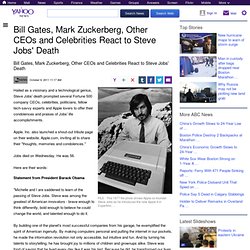 Bill Gates, Mark Zuckerberg, Other CEOs and Celebrities React to Steve Jobs' Death
Hailed as a visionary and a technological genius, Steve Jobs' death prompted several Fortune 500 company CEOs, celebrities, politicians, fellow tech-savvy experts and Apple lovers to offer their condolences and praises of Jobs' life accomplishments. Apple, Inc. also launched a shout-out tribute page on their website, Apple.com, inviting all to share their "thoughts, memories and condolences." Jobs died on Wednesday. He was 56. Here are their words: Statement from President Barack Obama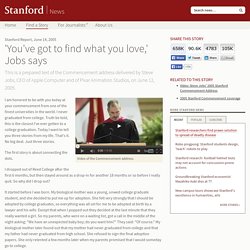 Video of the Commencement address. I am honored to be with you today at your commencement from one of the finest universities in the world. I never graduated from college.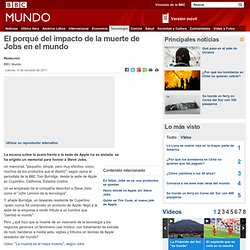 BBC Mundo - Noticias - El por qué del impacto de la muerte de Jobs en el mundo
La escena sobre la acera frente a la sede de Apple no es aislada: se ha erigido un memorial para honrar a Steve Jobs. Un memorial, "pequeño, simple, pero muy efectivo, como muchos de los productos que él diseñó", según opina el periodista de la BBC Tom Burridge, desde la sede de Apple en Cupertino, California, Estados Unidos. Un ex empleado de la compañía describió a Steve Jobs como el "John Lennon de la tecnología". Y, añade Burridge, un taiwanés residente de Cupertino -quien nunca ha comprado un producto de Apple- llegó a la sede de la empresa a rendir tributo a un hombre que "cambió el mundo".